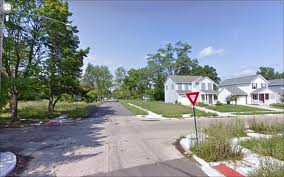 Once Upon a time, the American dream for most American's was to buy a piece of land and erect a house to provide shelter for themselves and their families.  As years went on, that dream didn't die, but rather grew.  Americans continued to believe in the dream of home ownership.  At first that dream was a modest home, maybe one with 3 bedrooms. a bathroom, kitchen, and living room.  As more and more attained that dream of a modest dwelling to call their own, the dream of the type of home and where it was located, grew.  As more people wanted homes, they started wanting larger homes with more amenities; maybe a 2nd bathroom, dining room, garage, etc.  the demand for homes grew, builders built larger homes and more people bought starter homes and sold them, making a modest profit and moved into larger more luxurious  homes.  It started a cycle.
The system seemed to be working.  Yet, there was a catch, most people couldn't buy these homes outright with cash, they needed to get a loan (a mortgage) in order to make this dream possible.  Lending institutions, specifically banks were more than willing to help provide would be home owners with the necessary money, IF they could make a profit.
This was a win-win situation for all concerned.  The individual bought a home and after 15, 20 or 30 years paid off the bank.  By using the money which would have been used to pay monthly rent for shelter, they were able to pay that money to the bank toward their dream of home ownership. The banks charged interest on the loans, and they made money.  They held the home as collateral and to be sure the borrowers were vested in the transaction, they required a down payment of 20% of the value of the home and they would lend the other 80%.  Mortgage interest rates rose and fell predicated on lending conditions and market situations, based on the prime interest rate provided to the banks by the Federal Reserve, but in general, rates were high enough to make it profitable for the banks but low enough that most responsible people could get a loan and pay the bank back so long as they stayed within their budget. Again, the system was working.  Everything was good.
Then some interesting things started to happen, people started noticing, especially in certain "high" demand areas, that they could make more money selling their homes than what was once normal.  The areas in high demand were boom areas, where many people had been moving for better jobs, as the country was changing and people were moving to areas that had more opportunity.  "Wonderful" thought the owners of homes in these areas.  They sold their homes for significant profit and then went on and built new larger more luxurious houses.  But instead of just buying the new house outright with the money they made from the sale, they bought the new larger more luxurious houses, often with new larger mortgages.   Lenders were more than willing to accommodate as this gave them more customers and thus more money.   Life was good!
While this was going on, others started noticing, "Hey, houses in my neighborhood are increasing in value, isn't that great!"  "But, I don't want to sell my house, I like where I live, perhaps I can go to the bank and get a loan to make improvements on my house, maybe I will put in a new kitchen and an addition or take a vacation".  So off to the bank they went, and of course banks were more than willing to accommodate these new customers, so long as their credit was good and they had enough "equity" in their homes. So the banks lent the owners of these houses, money based on their equity so that the owners could use that money for what they wanted today, instead of having to wait until they could sell the house.  (Weren't those lenders so nice?)    The banks had more customers, thus were making more money and the people had money to spend on whatever they wanted.  Every one was happy.
Now, other would be home owners, lenders, developers and real estate agents, as well as policy makers, and others…who would later be know as mortgage brokers, were noticing all these happy people and businesses and of course they wanted in on all that happiness, so they all started trying to figure out ways they could get in on the action.   Policy makers decided they wanted to make home ownership possible for everyone.  Rules were changed and new government programs instituted, and interest rates were lowered to encourage lending.  Banks and other would be lenders, decided they would start actively advertising and selling these wonderful new services.   Mortgage broker started springing up and working with lenders and real estate agents.  Real estate agents brought in prospective home buyers and introduced them to mortgage brokers, who knew all the different types of mortgage products available from all different lenders.  They ALL worked together to bring in business for ALL.  Everyone was working making money, people were getting their dream of home ownership and everyone was happy.
During this time, it was thought that more people owning homes was a good thing, it helped increase demand and helped society as a whole.  It increased property tax income for municipalities, increased income for real estate agents, lenders and mortgage brokers and brought new jobs in construction and related industries as well as increased jobs in the financial sector, too.
So different types of mortgages were created, rather than the standard, traditional 20% down mortgage, with an interest rate based on 1-2% of the prime rate, to accommodate customers who didn't have the necessary down payment, well of course the interests rates for these products would be higher because there was a greater risk, besides it was thought, when the housing values increased (which of course, they always would) these higher rate mortgages could be refinanced to lower rates when the borrower built some equity.
Well as it is with everything, lenders and mortgage brokers, developers, kept finding new potential customers (home owners) with more and more difficult needs and as such they kept coming up with new ways to help finance these people's "dreams".  Everything was good.
Now as the new financing products became riskier, many of the banks and lenders who were providing this money, started to think about the prospect that maybe lending money "willy nilly" might be a little dangerous and they might end up "holding the bag" if these risky loans weren't paid back…"Ah, they thought, I know….we will bundle up these loans and sell them as "bonds" to other investor's who are willing to take higher risks…hey those guys like to gamble…so, they would be happy to buy these up…" and they did.   Well, now with the risk off THEIR direct shoulders, it seemed like a good idea to make the loans even open to even less credit worthy people and even people without verifiable income!  EVERYONE can get a loan!   Some could get even get a loan with low payments in the beginning, some where the interest would adjust over time…"hey, they can always refinance later when the house value rises and they have more equity, and they qualify for a traditional loan, that will surely happen before the interest rate resets…because of course housing values will always go up."  Yeah…everyone was happy.
Of course, while all these people were buying homes, many were busy building their real "dream" homes, houses were popping up everywhere!  Of course, all these new houses wouldn't possibly cause an overstock of housing stock…"nah…they thought….housing prices ALWAYS go up…right?"
New potential first time buyers were encouraged to buy "before they were priced out of the market".   "Buy now before you won't be able to buy, ever", they were warned.   So of course, being afraid that they might miss out on the "dream" many bought more than they could afford, but the mortgage broker was sure they could get a loan.  "Congratulations" the mortgage broker says as he calls the young family…"I had to pull a lot of strings, and work real hard, but the bank approved your loan".   Everyone is happy!
That is until, one day, houses stopped selling.  Then, housing values started to fall.  Next, the interest rates on the adjustable rate mortgages started to reset at the higher rates and the owners of these mortgages discovered they couldn't refinance as their house wasn't worth as much as it did when they bought the house.  All of a sudden, people started to stop paying their mortgages, because they simply couldn't afford to; next came the foreclosures and then housing values fell more.  It wouldn't stop, as more houses went into foreclosure, housing values fell more; while more interests rates were resetting, more stopped paying and more went into foreclosure…it became a vicious cycle…as the housing market burst, it started to take down the lenders, the investors who bought the bonds, and the related industries, leading to businesses going bankrupt, jobs disappearing, layoffs being announced; wall street becoming skittish and panicked….leading to a crash, causing more businesses to layoff more workers, thus more people unable to pay their mortgages and more foreclosures.  What a mess!
Sadly, much of this mess could have been averted if anyone had bothered to really think it through.  While there were warning and there were those who stood up and tried to warn the masses of the fallacy of the reasoning, many refused to listen.  As far back as 2004 there were economists and experts warning that this wasn't sustainable.
I chose to tell the above in a simplistic, almost elementary way, as I might to a youngster, because when looked at and told in such a way, it does seem rather amazing that the situation was allowed to get so out of control.   It does seem to me, that basic laws of supply and demand were ignored.  As well as, accurate assessments of consumer behavior and consumer choice, market equilibrium and well just about everything mentioned in any economics textbook. It appears that everyone was "asleep at the wheel" and all are complacent in allowing this to happen.  The market was being manipulated, by unscrupulous charlatans, government policies were partly to blame, regulations were inadequate and/or ignored.   Consumers were irrational, uninformed and ignorant.  Each party involved ignored the consequences of their actions and behaved as if this market wasn't subject to basic economic and social concepts.
So many mistakes and so many false premises led to this failure, it's hard to know where to start assessing the problems.  While the market is correcting itself, there will be much damage left in its wake, as it was so out of control, it was so irrational it stands to reason it had to fail and fail hard.
Let's start with the most obvious, over the last 10 years, incomes and actual purchasing power for most Americans actually was stagnant and in many cases, fell.  Thus people really could not afford the housing they were buying or leveraging.   Many were simply using credit to finance their housing purchases and other consumables, in many cases that credit came from taking loans against their equity with the false premise that the value of their largest investment, their home, would continue to increase.
This is obviously a false concept, because like anything there is only so much supply and so much demand.  Eventually the supply was going to overtake demand and bring down the price buyers were willing to pay for the product.  With stagnant incomes and less purchasing power it was only a matter of time, to when the market could no longer support raising home prices.
The predatory and sub prime lending issue was another false set of premises.  How this made sense to anyone is beyond me.  I can't for the life of me find a logical explanation for this, other than pure greed and preying upon the least able to defend themselves.  Some of the stories I read and watched on TV, on this subject which I've reserached, showed lenders completely outright lying to people…in one case, the borrowers were illiterate and told the mortgage broker they couldn't read.  How could these people possibly be aware they of what they were getting them selves into, let alone understand the fine print?
As to the interest rates, the prime rate was too low for too long.  While it made sense to keep the rate low as a temporary measure during difficult times, it became normal and the rates were not adjusted as they should have to have kept lending and borrowing more in check.  It became more economical for people and business to borrow than to save or to pay back.   How is that a logical long term economical policy?  I can't even fathom that concept as being viable long term strategy.
Next government policies encouraging lax lending standards while in some ways admirable, in the sense, that there were those being unfairly denied access to loans due to "streamlining" policies and such, didn't mean lenders had to throw all caution to the wind.  However, since the lenders knew they would be selling those risks to others they weren't kept in check by the "invisible hand" as the risk was no longer theirs and as such they didn't have anything to lose.  Couple that with inappropriate regulations which did not ensure that the lenders were being honest with both their customers and those they sold the investments to, further added to the problems.
While I do not pretend to know the solutions to this mess, it doesn't appear that the crisis is over yet.  Many are still struggling and with unemployment as high as it is, it appears many more will continue to lose their homes.  There does not appear to be a quick or easy solution.
Hopefully, the appropriate lessons were learned and as the years pass, the markets will finish correcting themselves and the housing and mortgage markets will become sustainable once again.
As that happens, it would be well advised,  regardless of whether government regulations are used as a manner to create long term changes in those markets or if market principles cause the changes, that neither market should return to the way they operated the last ten years.
Bibliography
WSJ, Staff. (2010). Economists' views on interest rates, housing bubble. The Wall Street Journal, Retrieved from http://blogs.wsj.com/economics/2010/01/12/economists-views-on-interest-rates-housing-bubble/
Irwin , Neil. "Aughts were a lost decade for U.S. economy, workers." The Washington Post. 02 01 20101. The Washington Post, Web. 10 Jan 2010. http://www.washingtonpost.com/wp-dyn/content/article/2010/01/01/AR2010010101196.html?hpid=topnews
United States of America. Bush Administration's Failed Economic and Fiscal Record. Washington, D.C.: , 2008. Web. 10 Jan 2010. http://budget.house.gov/doc-library/fy2009/7.31.08_Bush%20economic_%20and%20fiscal_%20record.pdf
Lim, Paul. "U.S. News and World Report.", Housing bubble correction could be severe. 13 06 2006. U.S. News and World Report, Web. 10 Jan 2010. http://www.usnews.com/usnews/biztech/articles/060613/13housing_bubble.htm>.
Guha, Krishna. "Greenspan alert on US house prices." Financial Times.com 16.09 (2007): n. pag. Web. 18 Jan 2010. http://www.ft.com/cms/s/0/31207860-647f-11dc-90ea-0000779fd2ac.html?nclick_check=1>.
Ip, Greg. "Wall Street Journal." Did Greenspan Add to Subprime Woes? . 09 06 2007. The Wall Street Journal, Web. 19 Jan 2010. http://online.wsj.com/article/SB118134111823129555.html?mod=todays_us_money_and_investing>.