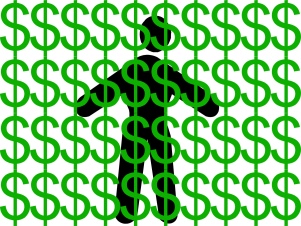 BudgetPOV is a proposed series on making ends meet in these troubled times (especially since the "ends" seem to be hacked off and cauterized).

This, the first article in the series, is concerned with the most important facet of living frugally: a person's attitudes about having to live this way.

Thank you for your forebearance.
Hello, me. This is me speaking.
As I embark on beginning a series of articles about surviving this economic travesty, I find myself writing a few things that it is important to discuss with you. I hope you have the sense to listen.
You are not a failure. You did not cause this mess. You did not work for Wells Fargo for very long, and even if you had, you wouldn't have influenced corporate decisions from your position.
It isn't your fault. No matter how much injustice and inequality you see, you want to take responsibility for things beyond your control. I admire how you try to take responsibility for helping to change things for the better, but you can not have responsibility for the cause. You never had that authority.
You are not a pessimist, you are an idealist, and there is nothing wrong with that. You are not cynical, you are wounded. It hurts you to see your ideals and principles violated on a daily basis.
But that which does not kill you makes you stronger.
Now is not the time to give up, as you have often contemplated. You have people who depend on you, and far more who value your existence and presence. You have dreams, although you joke about them having you arrested for stalking, and they are worthwhile. You have fans eagerly awaiting the release of yoru novels.
At one time, you had dreams; don't let them go! I know, you set yourself a goal of getting a Hugo or Nebula Award before you reached 30. That has passed you by, but you still have years left ahead of you.
And you have hard times ahead of you. I know that it seems that every time things get a little better, something goes wrong. Stop waiting for things to go wrong! They will whether or not you wat for it. Just lead your life and let the bad times take care of themselves.
There are those who will tell you that it is not possible to be too proud, but they have never been too broke or too hungry. They have never lived in the back of a van, shivering in a desert winter morning chill. They have never had to drive pell-mell to find out where the hospital transferred their partner. They have never stood and cried at the injustice done to a close friend or family member, an injustice that could not be corrected in any way.
But enough of that.
You have hard choices to make, and pride is not going to let you make those choices. You have to balance the needs of two family members who have important health issues to keep track of, keeping a roof over their heads, keeping them fed with food that won't make things worse, and continuing to fight for those dreams.
You are going to have to make hard choices over which food items to forego, which errands to run with limited gas, which necessities are really luxuries according to the current budget, etc. You are going to contemplate going without health care and prescriptions. You are going to consider walking, even as far as five miles away or more, to save money.  You will contemplate crime. You will wonder if prison is all that bad, and you will tell yourself that you won't get caught. And then you will admit you know better.
You are going to worry incessantly about leaving them alone while you work out of town. You are going to worry about their somewhat fragile emotional states conflicting with each other, arguments, complaints, gripes, and ultimatums. You will worry about bills, causes, issues, emergencies, crises, upsets…
You are going to wonder if the van can go another month without new brakes or transmission work. Every creak, groan, squeal, grind, or revving sound is going to leave you wondering how much longer until it falls apart. You are going to try to figure out a way to keep driving on expired plates and registration, and wonder if it is safe to cancel the insurance. And you know you're not that stupid.
You are going to lay awake nights wondering what you did to deserve this. You are going to wonder if giving up as a writer is the best thing to do. You are going to picture packing up all that material and shoving it into storage. You're not that stupid, either.
You will get past this.
You will make the best decisions you can make, with the resources at hand. You will do everything in your power to make sure your family survives intact.
And it will get better. This economy can not last forever like this. A lot of things will change, and the economy will as well, and the standard of living in this country will improve.
You might make choices you are not proud of. You may make sacrifices that make you feel small and useless.
But you are the head of your household, and there are things you need to do. And you will do them, because your family is the most important thing in the world to you.
Before you is an opportunity. You believe that leading by example is the most effective method of leadership. Your experiences, your tolerance, your acceptance, and your compassion will help others to get through this as well.
You can show others in this situation that it is okay to survive. That while other people judge them as being too poor or making the wrong choices, those choices still have to be made. This is not a case of the ends justifying the means, as you (and others like you) fear, but a case of the ends (in other words, this economy) forcing the means to survive.
Yes, it sucks. Yes, it is not fair, just, or equitable.
It just is.
So get on with it.
Note: The next item in this series will be regarding feeding your family. I may have to break it up for publication.