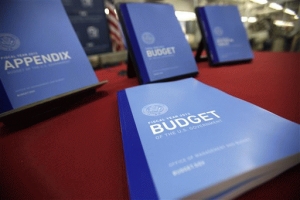 If one was to only get their news from The Huffington Post (a wholly owned subsidiary of AOrweLlian Corp), one would be left with a black and white description of Obama's budget plan that falls just short of wanting to kill your granny.
For the world of the corporate MSM, profits are generated from Republican power and generating conflict to stir up greater viewership. Both of these are antithetical to our coming together to solving our economic problems as a nation. They don't want a solution, they want the status quo to continue because it will keep elevating them at the expense of 99% of Americans. And that "running America off a cliff" thing? No need to worry about falling until you hit the bottom.
So, even though the thrust of the Obama budget is across the board cuts AND tax increases on corporations and the wealthy, the game this time with Obama's budget is to scream bloody murder only at the cuts to the social programs that impact those with moderate to lower incomes. And to damn the tax increases with the faint praise of "modest tax increases".
The same "modesty" could be applied to some of these social cuts as well but the manipulation is to try and drive a wedge between those who support Obama and Obama, getting hysterical about the cuts affecting likely Obama supporters and playing down the cuts and taxes that affect Republicans.
It is very cynical and folks had better get used to it because this is what we'll see a lot more of as 2012 rolls around.
Now we know how HP and other conservative outlets want us to view the President and his financial agenda. Meanwhile, witness an AP article from Yahoo which describes a whole different Planet Earth we're living on (is HP actually just Bizarro World?):
Obama budget resurrects rejected tax increases

By STEPHEN OHLEMACHER, Associated Press

WASHINGTON – President Barack Obama's budget proposal resurrects a series of tax increases on certain corporations and the wealthy that were largely ignored by Congress when Democrats controlled both chambers. Republicans, who now control the House, are signaling they will be even less receptive.

The plan unveiled Monday includes tax increases for oil, gas and coal producers, investment managers and U.S.-based multinational corporations. The plan would allow Bush-era tax cuts to expire at the end of 2012 for individuals making more than $200,000 and married couples making more than $250,000. Wealthy taxpayers would have their itemized deductions limited, including deductions for mortgage interest, charitable contributions and state and local taxes.

Obama's proposal would extend tax credits for college expenses and expand them for child care. A more generous Earned Income Tax Credit for families with three or more children would be made permanent.

The plan would enhance and make permanent a popular business tax credit for research and development, and would provide tax breaks for investing in manufacturing and for making commercial buildings more energy efficient.

In all, the budget proposal would impose about $730 billion in new taxes on businesses and wealthy individuals over the next decade, while cutting about $400 billion in taxes on middle-income families, the working poor and other businesses, for a net tax increase of about $330 billion.

House Majority Leader Eric Cantor, R-Va., called Obama's proposal a missed opportunity to address the nation's fiscal problems.

"We need a government that finally does what every other American has to do in their households and their businesses, and that's to live within our means," Cantor said in a statement. "Instead, President Obama's budget doubles down on the bad habits of the past four years by calling for more taxes, spending and borrowing of money that we simply do not have."
http://news.yahoo.com/s/ap/20110214/ap_on_re_us/us_obama_taxes
Now let's get this straight, top Republicans oppose Obama's economic agenda because it allows too much spending on social programs and other government spending. And HP also opposes it? Ain't hard to figure out who's going home with whom after last call.
This is why it is so hard for America to ever solve it's profound problems. When someone tries to do what's needed, when sacrifice is needed for us to prevail, you have the wealthy who demonize sacrifice, the MSM who exploit the outrage over it for profit and the ordinary American who is fine with sacrifice and is frustrated with why it's taking others so long to sacrifice instead of them.
There is the same mentality here that blew up our economy. There is a day of reckoning somewhere down the line where our deficit spending will reach a point of no return. Instead of putting down the money vacuums for enough time to assure stability, corporations turn them on at double strength to get all they can before the house collapses. Which of course, hastens the collapse.
It is this sociopathy, this utter lack of conscience and responsibility for how they are ruining the nation and the lives of most Americans in their pursuit of greed that needs to be confronted and attacked on a daily basis.
We have met our domestic enemies, and they are US corporations. Not all corporations but those that undermine our economy, press and democracy to satisfy their insatiable greed.
Al Qaeda destroyed the Twin Towers and thousands of innocent lives. Corporate America has destroyed thousands of neighborhoods and Main Streets all across America and destroyed millions of lives.
It is an undeclared war with a great deal of camouflage, subterfuge, sabotage, false flags, fragging and of course propaganda. This is the true war we're in, the others pale in comparison and in some cases, are intended to be distractions ("The War on Terror?" How about "The War on Bad Dreams?").
Corporate America is fighting with everything they've got to win this war against the American People and the politicians that represent them. It's our duty as Americans to accept that challenge and come together to defeat it.