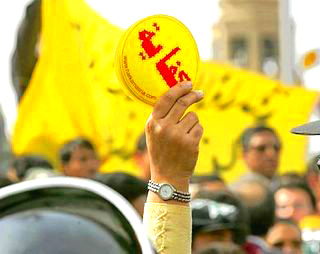 Like most Americans I know very little of Middle Eastern languages, culture and politics that hasn't be filtered through the eye of the main stream media.  Kifaya (كفاية) has been loosely translated as Arabic for enough, but even that word standing alone can define a movement.  Enough food, enough money, enough pain, enough love, enough of this?  We live in a world where that word's positive connotation has been all but exorcised from public consciousness.  When the Egyptian protesters shout "Kifaya" they are not trying to say they are satisfied, they mean "No more!"
President Obama echoed yesterday, "This is not the end to Egypt's transition, it is a beginning," and somehow it feels more like Frodo saying "… and you want me to take the ring where?"
Most have already seen this Bill Maher's New Rules segment that brings the sad truth home for all of us and we are left to laugh uncomfortably if only to stave off paralyzing depression.
The Middle East has shown the world that with enough will, demonstrators and activists can achieve a voice that cannot be ignored or outlasted.   In one sobering sense this was a people's coup, however without the support active participation of the Egyptian armed forces one can only envision Tiananmen Square.  Cautious optimism was the tone from our administration for good reasons and we have seen where elections are not a panacea for social justice and peace in the region, [sic] Tehran.
So what do these changes mean for US?  The imperial line has always been to divide and conquer in regional politics and as one blogger here reminded me that abandoning our old "friends" would have been schizophrenic (got to love that word.)  I would suggest that our country needs to collectively refill its Thorazine prescription as US foreign policy has been nothing but schizophrenic over the past 30 years and most recently downright delusional.  We look at Egyptian secularist government, education and culture and see a positive reflection of western Id.  As CNN's Mark Tutton writes, " TV soap stars are the favorite subject of the region's celebrity magazines. While celebrity culture may not be as all pervasive in the Middle East as in, say, the United States or India, Egyptian entertainers appear on magazine covers and fill column inches and TV air time throughout the region."
We must ask at what cost, not only in US aid dollars comingled with munitions and arms contracts to the point much of it ended into the bank accounts of General Dynamics Corporation or GM, but also to the Egyptian people.  MSM seems to have a single voice; Mubarak severely oppressed only the Islamists, a small minority.  Egyptians tell a more complex story and the sooner the US acknowledges its role or errors in supporting the repression the closer we come to being allies of the people not just the state.  How much oppression is enough to keep us safe, should not be an acceptable way to frame the question for Egypt or the US.
Are we witnessing a peaceful revolution or merely a changing of the guard?  Noah Webster when defining revolution as;  rev·ō·lū′tion, n.  8. overthrow of a government, form of government, or social system, with another taking its place, he wisely places our relevant meaning at the bottom of the list as to add the emphasis of 'last but not least.'  When Obama emphasized "the Egyptians hunger for change," and used the Egyptians as qualifiers, I couldn't help but cringe slightly not just to his words or meaning, but my belief that it is much easier long for enough of the "good stuff" than it is to be satisfied.