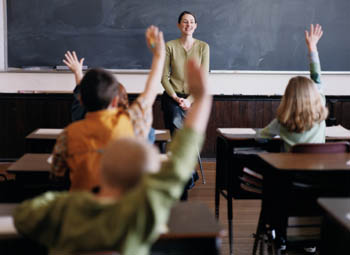 This is my first attempt at actually writing a blog instead of just being a commenter. But this blog will cover one of my pet peeves. Education in a country that should be leading the world.
I read three different articles in the past two days that made me really sad for what is happening to education in our country.
This one on huffpo
http://www.huffingtonpost.com/2011/02/09/the-10-states-running-out_n_820472.html
It is is basically a piece on how bad some states are doing in keeping their people educated. While some of the 10 were a little surprising eg Colorado, most weren't eg Texas.
The fact that Texas was in this list didn't surprise me, after all they are constantly trying to change the text books that are used country wide. They don't make good changes, they make very scary changes, like trying to write Thomas Jefferson out of our history or promoting creationism over evolution. While I won't agree or disagree on the intelligent design thing (not creationism, I see these as 2 different things, though the creationists probably don't,) the jury is still out as far as I am concerned, there is no way you can't tell me evolution isn't where we came from.  The galaxy is some 14 billion years old, our solar system is approximately 6 billion years old and our planet is over 4 billion years old. How can anybody possibly believe we have only been around for 6,000 years when fossil records show man has been around for more than 100,000 years.
But I digress.
Back to my point about this article. While it made some good points it basically stated that education is a local thing not a national thing. HUH? As long as you allow education to be controlled locally instead of being controlled by standards set nationally, and I don't mean "No student left behind," what a joke and a whole different blog, you will constantly have this kind of state discrepancy in quality of education. I am talking about what courses should be taught at what level. Evaluating every student and deciding whether they should be left behind or not. Just because they may not be ready is not a bad thing. Spending the money necessary to have the right supplies for our schools. Reducing class size and empowering our teachers to teach our children. These kinds of items should be at the forefront of of all education benefits. The priority should not be where can we cut next.
Currently the only children getting that kind of education are the kids who have parents that can afford it.  But, we are constantly told how everybody has the opportunity to be rich and successful. How does a poor student from an inner city who received an education from an underfunded public school compete with some privileged kid who got an education from some well funded private school? The whole belief that everybody has the same chances is a fallacy.
The second article was on newshounds, if you don't know this site you should check it out.
http://www.newshounds.us/2011/02/09/gretchen_carlsons_propaganda_that_wasnt_.php
This was about a Texas community that decided to offer an elective course that taught Arabic studies. I know, can you believe that was in Texas?  Of course Fox jumped on that because apparently it was reported as being mandatory. Gretchen Carlson was all over it on how a school was making Arabic studies mandatory. But what a surprise, it was actually something that this school had decided to do as an elective for their students. Shamefully it is now on hold. The Arabic community has a lot to offer, after all our numeric system is based on Arabic numbers. Not to mention a lot of our astronomical knowledge and a shitload of physics come from the Persians. But you know how that goes, say Arabic and all anybody can think is Muslim terrorist. Of course this total nut job David Horowitz added his two bits worth.
( http://www.rightwingwatch.org/content/horowitz-teachers-unions-leading-infiltration-islamic-jihadist-doctrines-our-k-12-school-sys)
I really don't know who he is, but after reading this article I'm glad I don't know him.
One of his quotes "What has the Arab world contributed except terror?" Hey David, didn't you learn any history? Historically the Persion world has contributed a lot to the advancement and history of the world. Don't forget that according to the Bible Persia is also part of the world where the whole human race started 6,000 years ago. Oh, you didn't know Persia was the precurrser to Arabia? Anyway this guy sounds like a Beck, Hannity, O'Rielly club member. Spout hate with little facts. Just enough knowledge to incite your followers and keep the insanity in the country going. He supposedly was all up in arms because it was mandatory. Actually it was an elective. He spouted on and on about how this country is all about choice and not mandatory education. So based on his way of believing I guess we shouldn't make English, Math, Science etc mandatory, we should just make it a free for all? You know that isn't what he meant, it was all about the word Arabic, whether he wants to admit it or not.
I feel sad for my country. I graduated from a public school in 1975. I received a great education. They taught me to think critically. They taught me to question everything and to develop my own opinion based on the facts. It's too bad this county doesn't do this anymore in its' public schools. I scored in the high 1400's on my SATs but decided not to go on to college. I scored high enough on the military recruiting exams to be hounded by the Air Force for months. But, I was too busy making money, was tired of school and had no interest in going back.
However, at 27 I went back to school while working full time and 7 years later received a BS degree in Computer Science with a 3.75 average. I thank the PUBLIC education I received for being able to do that. Do I think I could do that if I was stuck with today's public education? In one word, NO!  That is the type of things this country should be ashamed of, along with our current unemployed/underemployed poplulation. For some reason in this country today being well educated is viewed as a bad thing. When did this happen to us?
All I can say is continue to vote. Continue to speak out.  Like the Tea Party says, some day maybe we will get our county back.  And I certainly don't mean the Tea Party version of our country.