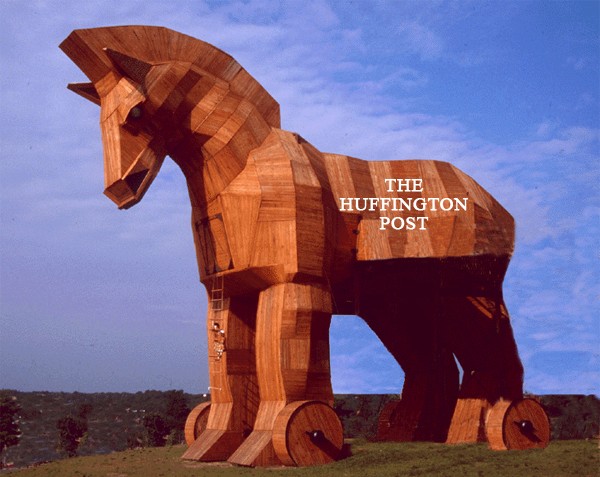 We all know the story of the Trojan Horse. The Greeks cleverly concocted a plan to present to the Trojans, a valuable gift that in fact concealed those who would attack them from within.
Submitted for your consideration, two of today's headlines about Obama from the valuable gift the Greek-heritaged Arianna Huffington has wheeled out in front of the Progressive's castle, The Huffington Post:
"IS HE TRYING TO LOSE THE MIDTERMS?"
"THE EXPECTATION, I THINK, WAS AUDACITY – STEWART PRESSES OBAMA ON 'TIMID' POLICIES"
Unfortunately, I just blew the monthly PlanetPOV budget for huge red fonts but I thought an accurate representation would be most illustrative.
We are five days away and that Trojan Horse of a website co-founded by Andrew Breitbart, that bastian of Progressive thought, sounds the charge for Progressives to ATTACK…their own president and party. At the same time President Obama, President Clinton, Michelle Obama, Joe Biden and so many others in the Democratic Party are working tirelessly to get the vote out this upcoming Tuesday, Huffington Post is blaring headlines to discourage Progressives from turning out to vote.
One could argue, "Why should they support Obama and Dems, they are just trying to present fair and balanced news."
One could reply, "I thought Fox News already has a web site."
As we've discussed previously, there is a strain of Dems sometimes referred to as Purists, those who are angry towards and attack Obama for giving them only 90% of the ice cream that they wanted on their cone. Such short-sighted whiners would rather throw a tantrum and let the rich white kids steal all that ice cream from them while they kick and scream. However, that self-centered, instant-gratification-addicted segment of the Progressive community appears to those who oppose the Progressive agenda, as a nicely crafted, large and hollow wooden horse that would make a lovely gift for the Democratic Party.
And Arianna continues "proselytuting" her Third World America book on every media outlet (including Animal Planet) at the same time…an unrelenting assault on Obama and the Dems which supports a kind of the Reagan/Bush trickle-down economics.
And yet, people keep towing this Trojan Horsington Post  across their internet threshold into their Progressive homes where its anti-progressive contents sneak out to accomplish their goals.
There are many solid Progressives who write articles and blog at that site, which is what helps make that Trojan Horse so attractive. However, the editorial policy of constantly attacking Obama, his administration and Dems is undeniable. It is no secret that for financial gain, their headlines are often tabloid quality, sensationalistic and dishonest, just to get you to read an article and spend more time there (which translates into higher ad rates they can charge).  The question is, why can't they exploit Progressives to make more money and yet still support their causes and elected representatives?
There is of course a very obvious conclusion to that…because they choose not to do so. And there is of course a very obvious motivation to that as well…because they don't see it in their best interest.
There's a name for someone who calls themself a Democrat and yet opposes the Democratic Party, their President and their agenda. "Ben Nelson"…or "Disingenuous" (if there's a difference).
In this era of groups called, "Citizens United" which were all about handing control of our democracy away from citizens to corporations, it is fitting that a blog that positions itself as the premiere Progressive blog frequently runs anti-Progressive headlines that match those of Drudge Report and Fox News instead of moderate outlets like Yahoo News or legit progressive outlets like DailyKos.
And yet, because this Trojan Horse has been plastered in "Go Progressives!" bumper stickers, it is accepted without much critical thought that it's contents naturally match its facade (Who ya goin' ta believe, your critical thinkin' or my bumper stickers?!"). Hosting articles by Progressives, having many thoughtful Progressives as bloggers and self-describing itself as Progressive helps insulate it from criticism and from being seen for having the agenda its editorial choices pursue.
It is not a site to be ignored, it is a site though that deserves just as much scrutiny as it aims at our Progressive president, officials, candidates and agenda. The belly of this beast needs to be opened up to sunlight as often as possible so that what's hiding in it's belly can be exposed to the light of day and disarmed.