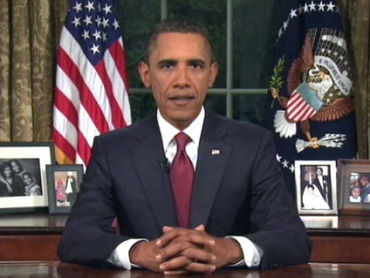 As a follow up to our post on writing a speech for Obama on confronting the hatred and racism that has become so mainstream in our politics, I've composed the following draft for your review and comments.
One note before you read it: Many folks wrote inspired comments which I initially tried to work together as the speech but since there was a wide variety of focuses, it was very challenging to get a cohesiveness.
So, I instead I started over and tried to draft a speech that incorporated the gist of many of the comments and present it as a draft for members to suggest specific changes or additions. Hope that's cool.
I'll firm up a final draft after everyone has offered their thoughts and suggestions and will then post it on the site where it can be signed online by members then sent to President Obama.
So, here's my first draft of it, please don't hesitate to suggest any changes that you would like to see, I'm looking forward to getting as much input as possible:
Good evening.

On June 16, 1858, when anger was boiling over in this nation, pitting more and more Americans against each other, Abraham Lincoln stood before the Republican Party that had just nominated him for Senator and stated, "A house divided against itself cannot stand."

For President Lincoln, the pursuit of political power was a mission to bring this country together, to protect and preserve this great nation.

Things are tough right now in our country for many of our fellow citizens who are justifiably upset. Many Americans are unemployed, many are struggling to pay their bills and keep their homes and pay for their children's education.

However, as we see on a near daily basis, there are those out there who seek to inflame and exploit that frustration, to harness it and redirect it to personally benefit themselves and advance their own self-serving agendas.

This cynical game that such people are playing is destructive and dangerous. We have seen before what happens in society when prejudice, hatred and intolerance are condoned and packaged with deniability so they can be practiced openly.

The dynamics of a marketplace of ideas is what makes a democracy strong, it benefits us to have different voices and different parties that can debate and propose a variety of approaches to the American Public for solving the challenges that we face as a nation.

People of good faith can disagree on how best to keep our country and all of its people moving in the right direction towards better times.

Unfortunately, there are also those who see this as an ideal time to exploit the distress of their fellow Americans for their own personal gain and agenda.

Such opportunists, who hide their greed for power and wealth behind the façade of populism, have preyed on this nation before during difficult times. They seek to whip up the worst in people, hatred, prejudice and fear, in order to manipulate people into rallying behind them and their deceptive and self-serving pursuits. The only way to gather the power needed to push forward their interests is to divide Americans, to set us against each other, to divide our house so that it is too weak to stand against them.

Our history has shown us time and time again, that giving into the forces that seek to divide us, ultimately brings great suffering and robs us of our power as Americans to determine our own destiny. We are faced with such times that now test our generation.

We have also witnessed on a regular basis in the media and on the internet, an ongoing presentation of hostile, polarizing and extremist people, incendiary and insulting statements and rumors, no matter how preposterous or unsubstantiated because, frankly, such exploitation attracts more viewers which can translate into more profits. There is then a financial incentive to fan the flames of intolerance.

I ask those in the media to always remember their responsibility to the American public and their powerful and influential role in affecting the tone and conversation in this nation. Thomas Jefferson viewed the press as the unofficial fourth branch of government, the safety net of our democracy. That is a formidable position to hold in this country and I hope that as we move forward, their duty to fully inform the American people and fairly and responsibly present the truth to them will always be their top priority.

And so, at this crucial moment in the history of this nation, we must stand strong and refuse others the power to further turn us against one another. We face many daunting challenges and decisions to get this country up to full speed and working for every one of us, it's a difficult job that requires us to all pull together as Americans and use all of our differences as all of our strengths.

For that reason, I am calling out those who wish to divide us and telling them, you will not succeed. And I am calling on the American people to reject the rabid voices sowing suspicion, resentment and hostility towards your fellow Americans because they worship different religions, belong to a different political party, have a different heritage or skin color or differ from you in any way. That is un-American, that is the path of division and destruction, that will not lead us to brighter days but to darker times.

Disagreeing is very American, hating though, is not.

Any American whose opinion opposes yours is just as American as you are. However, any opinion that is tainted with hatred or prejudice against fellow Americans, deserves to be immediately rejected along with the legitimacy of whoever is promoting it.

We must come together, standing against the few but powerful who wish to use our differences and emotions to divide us and empower themselves. By working together, we keep control to decide our own future and we can accomplish remarkable things as generations before us have done so.

We are the United States of America, we are many that stand together as one and because we do, we are the most powerful nation on this planet. A house united can stand against any adversity, let us appreciate and respect our differences in who we are and how we think, reject those who seek to exploit our differences for personal gain and never forget that in the end, we are all Americans.

Thank you, God bless you and God bless America.
Looking forward to your thoughts and suggestions!