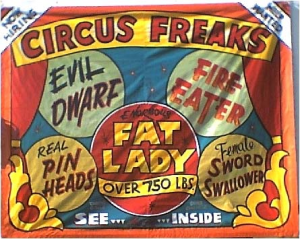 Remember the circus sideshow? Where people were entertained by watching those described as "freaks"?
Where an unending parade of clowns followed each other one after another from a unbelievable vehicle?
Where the spotlight was on a loud host who would try to whip up the audience as he hyped the next outrageous exhibition?
Who woulda thunk the old three ring circus was the formula for success in the news industry in 2010?
We've seen all the coverage the freaks and clowns Palin, Bachmann and Beck get but they have lots of company as the craziest inmates in the asylum become the biggest celebrities.
Just this morning, I saw MSNBC air a live speech from the Florida pastor, Terry Jones ("And Now For Something Completely Deranged") who is intent on burning Qurans while juggling Bibles and riding a unicycle. Okay, maybe he's just going to be burning Qurans but he is just another otherwise irrelevant freak show being passed off as something important that demands our attention.
A wackjob with a minuscule 50 member cult-type church who insults true Christians by calling himself one and branding all others who follow other religions as "of the Devil", has become so elevated by "news" entities. By simply announcing this offensive stunt, this crack pot, given aid and comfort from the MSM, has brought President Obama, SoS Hillary Clinton, The Pope and Gen. Petraeus to have to weigh in on urging this lone nutman not to do so.
FWIW, this loony hatebag's justification for burning Qurans is that, allegedly, one Green Beret who was in Bosnia agrees with him and claims that Muslims burned Bibles and Christian Churches there. He is right, only dirtbags would burn something belonging to another religion out of religious hatred and intolerance. Is the irony really not so obvious to this American Taliban?
But should we even go so far as to respond to any the claims of the lunatic fringe out there? Why should we have to? Doesn't that work to validate their insanity? Would there have been so many Birthers, Kill Granny HCR opponents, Muslim Cultural Center adversaries, etc. if the news channels didn't promote the voices of liars and extremists and if high profile people didn't debate them?
Through most of American history, providing the news was seen as a social responsibility. The Founders saw journalism as the unspoken Fourth Branch of Government, the safety net that would protect the American people if the three official branches of government failed them. That is specifically who the First Amendment was intended to protect and that is why they made it the First Amendment and not the tenth (no offense Tenth!).
Networks always used to view the news segment of their business as acceptable to be in the red, part of the price of using the public's airwaves.
Then one by one, thanks to deregulation, networks were all swallowed up by corporate whales and providing a quarterly profit greater than the previous quarter became the sole priority. Corporations have no soul and legally are protected from having social responsibility.
I don't think there is a more prescient or brilliant film than "Network" on how the corporations were (and now have) taking over the news business. This sequence is especially remarkable, considering that this film was financed and produced by a corporation:
The real question is how much news organizations are responsible for the insanity in this nation. If they didn't provide a massive megaphone to the most hateful and extremist lunatics out there, wouldn't we have a more sane conversation in this nation about real issues and how to solve them?
In other words, if a raving bigot rambles in the forest and there's no one there to interview him, would his insanity really exist among us?