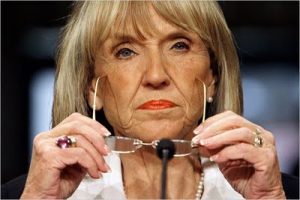 One of Arizona's most famous son's is Barry Goldwater, a five term Senator known as "Mr. Conservative".
Republican Senator Goldwater launched a bid for President of the United States against Lyndon B. Johnson in 1964, and Goldwater was portrayed as reactionary, too right-wing and bat-shit crazy for his fights against the New Deal, unions and liberalism.
He lost the election to Johnson by one of the largest landslides in history, taking down several Republicans with him.
Goldwater was known as a 'libertarian' way back when, and in the 80's when he saw the religious right's influence with Reagan, Goldwater predicted that there would come a day when he would be labeled a "LIBERAL."
Then there was Republican Evan Mecham, who owned a car dealership, and he won the election for governor of Arizona in 1986 and is famous for his recollections of folks calling African American children 'pickaninny' meant in an affectionate way.
Governor Mecham is also known for overturning the Martin Luther King Holiday and blaming working women for high divorce rates.
Governor Mecham was impeached by the voters of Arizona in April of 1988 for obstruction of justice and misuse of government funds, which he was later acquitted.
Then there was Republican Jane Hull, who bankrupted the state of Arizona with the alt-fuel fiasco, and perhaps lesser known, was that Governor Hull launched the bid of Texas Governor George Bush Jr. for President.
Democratic Governor Janet Napolitano was elected after Hull's reign of errors, and in her first term as governor of Arizona, Governor Napolitano balanced the budget and got the state out of debt and into the black.
Governor Napolitano even managed to setup a "rainy day" fund, which has since been raided and decimated.
To be fair, midway though Governor Napolitano's 2nd term, she did play with the numbers and credit and did leave her successor with massive debt, since no one in power saw the collapse of the housing market, which was Arizona's main economic source.
Arizona's State Legislature has always been Republican majority and Governor Napolitano did work with them and they would vociferously complain about her vetoes, yet she managed to get the job done.
President Obama scooped Governor Napolitano from Arizona by offering her the job as head of Homeland Security, and there were Republicans rejoicing that Janet was gone, and others saddened that she left, and others angered because she left Arizona in such dire straits.
Jan Brewer slipped into the position of Governor, as Arizona does not have a lieutenant governor, and Jan Brewer is a Republican that held the position of Secretary of State.
Governor Brewer is the fourth woman, the third consecutive woman to hold the title of governor in Arizona.
Governor Brewer, an unelected governor, has not been able to work with the Republican majority in the state's legislature.
Following former President GW Bush's example, the Republicans shut out the Democrats from all legislative meetings, Governor Brewer only calling on the Democrats to sign her bills when the Republican majority refused.
The Arizona Democrats refused to support the legislation, since they had no voice in forming the bills, and Governor Brewer led the Republican charge that the reason the state could not balance the budget was due to the Democrats and obstruction.
The Arizona Legislature under Governor Brewer have managed to pass some of the most liberal gun laws in the country, and once again to be fair, Vermont has similar laws.
Governor Brewer was very unpopular for being unable to work within her own Republican Party, but all that changed once Governor Brewer signed the anti-immigration SB1070 into law.
I do not need to share last night's debate between the unelected Governor Brewer and the Democratic candidate Terry Goddard as it has gone viral on the Internet.
Due to Arizona's 'Clean Election Law' voted in by voters in 1996, Governor Brewer was forced to do one debate and of course, the Republican legislature has been working hard on overturning the 'Clean Election Law'.
Last night, the local CBS station did a story on Governor Brewer's ties to private prisons in the state, and the money they are giving to her campaign for governor.
Governor Brewer was silent when 3 dangerous criminals escaped from a private prison in Kingman and when a woman tossed wire cutters over the fence, and then two of the escapees killed a couple from Oklahoma while they were camping New Mexico.
Governor Brewer is not happy with that expose and has pulled all her ads for governor from the local CBS channel 5 in Phoenix.
On another update of Arizona news is that the Department of Justice has issued fines against Sheriff Joe due to his non-compliance with 2 subpoenas for his records regarding a DOJ investigation into abuse of power and civil rights abuse in his jails.
I've researched subpoenas and what it means when a person refuses to comply and it is normal for 2 warnings to be given.
This is rare, as a sheriff's office has never refused to cooperate with a DOJ and Grand Jury investigation since Mississippi in the 1960's.
Isn't it amazing that Sheriff Joe is refusing to "show his papers"?