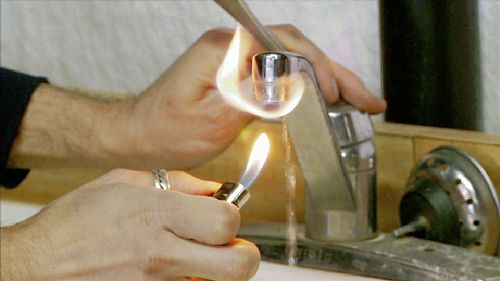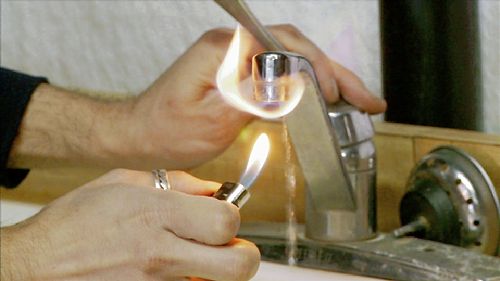 It has been hailed as America's most sensible solution for breaking our dependency on foreign oil and reducing the potential environmental destruction oil drilling can cause, such as the ongoing catastrophe in the gulf.
It has been marketed and promoted by such trustworthy sources as T. Boone Pickens, oil industy megabillionaire and former financier of the fraudulent Swift Boat Veterans for Truth.
Natural gas will save America. And hey, it's natural!
Of course, so is benzine and many other cancer-causing chemicals which are now polluting our nation's water supply like an epidemic because of the process used to get natural gas out of the ground.
The lie is that natural gas is better for the environment than oil. The truth is that while the exhaust from vehicles and generators that use processed natural gas is less polluting than oil, extracting natural gas from the Earth is a horribly destructive process to our environment.
The trade off is, our drinkable water for fuel. Does this make any sense?
It is in fact a kind of shell game, all that is promoted to the public is the final product, cleaner burning fuel. What is hidden is that the destruction to the environment to get that fuel.
There is a remarkable documentary now airing on HBO titled "Gasland" that keenly exposes this deceit and the fraud of "natural" gas.  Here is the trailer for this eye opening film:
What is at the root of the catastrophe that is natural gas production is the method of extraction that is called Hydraulic Fracturing (referred to as "Frac" or "Fracking").  In essence, it consists of high pressure drilling of holes which create many fractures in the Earth's crust then forcing huge amounts water bearing over 596 toxic chemicals in to free the trapped natural gas and force it to the surface.
What this is accomplishing is destroying ground water, rivers and lakes across America. If it continues at the current pace, we may have plenty of cleaner burning fuel for our cars and reduce some of our dependency on foreign oil but we may instead become dependent on importing our drinking water from foreign countries. And there is no alternative to pursue for our reliance on water.
The process of mining and refining natural gas actually produces an enormous amount of hydrocarbons and toxic chemicals into the atmosphere.
In Gasland, filmmaker Josh Fox documents how severely polluted the water table is becoming. In the trailer above, you will witness one of many cases presented in the film of people lighting their tap water on fire.  River water bubbles with natural gas and lights on fire. Water wells at people's homes have exploded. People who have lived on ground water have become ill and have died. Many now have to cart in huge amounts of water on a weekly basis to fill plastic cisterns on their property so they can have water to drink, do laundry and water plants. Animals and vegetation have become poisoned and killed. Cattle, chickens, etc. drinking contaminated water enter the nation's food supply.
A few pieces of information from Gasland that are interesting:
The 2005 Energy Policy Act (nicknamed "The Haliburton Loophole"), drafted via Dick Cheney and his Energy Task Force that included the CEOs of most major oil and gas corporations in the U.S., exempted oil and gas companies from The Safe Water Drinking Act, The Clean Air Act and The Clean Water Act. They are permitted by law to put any chemicals they unilaterally choose to use, no matter how toxic or cancer causing, into the Earth and water that people drink and bathe in. The passage of this bill unleashed a stampede of companies to drill and the frenzy continues today.
Despite the conclusion in 2004 by the EPA that Hydraulic Fracturing was causing water contamination, the industry-stocked panel that the Bush Admin put in place rejected the report, simultaneously acknowledging that this process was putting toxic, cancer-causing chemicals into water but declaring that there was no reason to investigate and it wasn't a risk. Five of the seven members on Bush's panels appeared to have had conflicts of interest due to their involvement in the oil and gas industries and would appear to benefit from the EPA not pursuing this matter.
Each well, from drilling to the first flooding with Frac water (water that is contaminated with hundreds of toxic chemicals), requires 1,150 truck trips, often to distant, remote areas.  Out of all of the 400 to 600 tankers of Frac water that is injected in the drill holes, only about half of that amount comes back up and is removed…to open pits that allow for the Frac water to seep into the ground and some even have evaporation sprayers that spray Frac water up to evaporate into the air we breathe.  More problematic, the refining process for natural gas evaporates unwanted Frac moisture out of the gas and also releases it into the atmosphere. Ozone and pollutants in the air around such communities where such facilities are located are elevated and in some cases, far above EPA acceptable levels.
There are approximately 450,000 natural gas wells around the U.S. at this time. For the Frac process, each well initially requires between 1 million and 7 million gallons of water. Wells are re-Fracked up to 18 times, each time another 1 million to 7 million gallons of water are used. The math looks like this, 450,000 wells times 18 times 1-7 million gallons is in the ballpark of 40 trillion gallons of water…all of it polluted with the 596 chemicals and undrinkable in the future (how long can this be sustained without severely and permanently depleting our nation's potable water supply?).
The Natural Gas industry is in the process of drilling and pursuing hundreds of thousands of more Frac wells across the country. The northern portion of the watershed area that supplies New York and the Delaware river basin, the largest unfiltered water supply in the world which supplies 15.6 million people with water (in NY, DE, PA and NJ),  is slated for natural gas drilling.  Around 50,000 gas wells are expected to be drilled in this area if drilling is not prevented (no NG wells have yet been drilled).
As with the Gulf state Governors who howl about the moritorium on deep sea oil drilling because of how it impacts the short term economy, this small minded ignorance of killing the golden goose to get its golden eggs today is reflective of the battle over a transition to clean energy.
The only way to make a transition is to reduce one element while increasing others. The problem here is that many states and corporations make a lot of money off of fossil fuels and will fight a real transition with everything they've got. Bobby Jindal, Mary Landrieu, Haley Barbour and other oil-company-owned pols in the Gulf will mindlessly campaign for more oil drilling even if it destroys their fishing industry and their wetlands…which will make another hurricane's destruction of New Orleans more likely.  So, in order to save the Gulf, we must make destroying it more likely.
And the Natural Gas industry is smiling glibly at offering natural gas as a transitional fuel to get us to renewable energy but the more money they make and the bigger portion of the energy marketplace they hold is only a testament to the battle they will mount against ever moving off of natural gas to renewable energy.
The industry push for natural gas is the equivilent of a crack dealer offering their drug to help you get off of that nasty meth. It is not an answer, it is more quicksand for any pursuit of renewable and nonpolluting fuels. Unfortunately, many progressives (including me) and Dem politicians all the way up to Pres. Obama have been convinced along the way by the propaganda of natural gas and have supported it in the past.
As it was a wake up call for me, I hope policy makers and the President see "Gasland" and recognize that the terribly polluting process of obtaining natural gas is not outweighed by its cleaner burning properties and conversion should not proceed any further. At some point, there must be a somewhat bumpy change of course offroad from the Fossil Fuels Highway to the Renewable Fuels Highway. There will always be those that protest at the loss of jobs and business that fossil fuels "fuels" but that loss must occur at some time if we are to end our dependency on it.
Progress is painful but it is necessary. Avoiding pain in the short term at the cost of sacrificing necessary progress in the long term is short sighted and in the big picture, self-destructive.
After all, what jobs will left in the oil and natural gas industries anyway if there's not enough water left for Americans to drink?