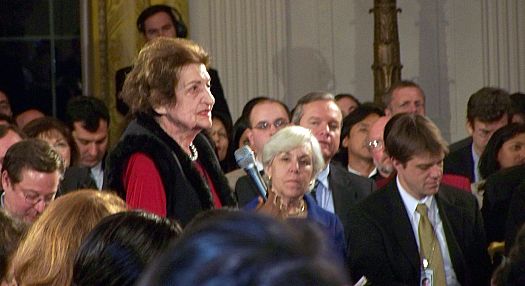 Helen Thomas, a revered journalist, the Grand Dame of the White House Press Corps…said all Israeli Jews should simply leave Israel and go back to where they came from, Germany, Poland, America, etc.
Urging people to go back where they came from is not only unrealistic but has been a sentiment employed by people far less thoughtful and far more intolerant than Thomas.
I do not believe that this betrays Thomas as antisemitic, it would seem more anti-Zionist. Though this is a very divisive position to take, Thomas is exercising her Freedom of Speech by expressing this. And the response? She is attacked by the White House, Ari Fleisher (yes, he is cornering the market on gall), many mainstream, conservative and religious entities and a chant rose for her to resign, be fired and/or have her career obliterated…which has occurred.
Meanwhile, back at the Fox ranch, their "journalists" can call the POTUS a racist, marxist, Nazi/Hitler, Granny Killer, terrorist, anti-christ…and they get paid millions for it.
I totally disagree with Helen Thomas but she absolutely has a right to have and express any opinion she has on political matters. As the old saying goes, Freedom of Speech means protecting the right of others to say things you disagree with or find offensive.
So what does this say about freedom of expression in America? You can say traitorous things about our President but don't dare speak in public if you have an unpopular opinion about Israel?
We watch an SC Republican refer to a fellow Republican of Indian descent as "a raghead". Does he resign? No. Glenn Beck declared that Obama hates white people and is a nazi. Is he forced to resign? Of course not.
Remember right after 9/11, a number of journalists were fired by their papers for criticizing Bush and or his actions (like the Patriot Act, TIPS, buying plastic sheeting a duct tape, etc.)?
Remember, Bill Maher's "Politically Incorrect" was canceled due to White House anger at Maher for saying that they were wrong calling the terrorists cowards because it took guts to fly the planes into the buildings and kill themselves for their cause (though here too, I don't agree with Maher's facile conclusion)? Ari Fleisher, our new conscience of America, said back then in response to Maher's show at a press conference:
And that's why—there was an earlier question about has the President said anything to people in his own party—they're reminders to all Americans that they need to watch what they say, watch what they do. This is not a time for remarks like that; there never is.
So…maybe "Freedom of Expression" in today's America only applies to right wingers? Palin, Rush, Beck, Hannity, O'Reilly, Boehner, McConnell, Cantor, Tea Party racists, etc. can say the most offensive and horrible things about our nation, our president, an entire political party and all must sit on their hands to respect their freedom to do so.
Yet, when someone who is not Right Wing says something that might offend someone, they need to be condemned, lose their job and have their reputation damaged.
What is hugely disappointing is the WH not condemning Israel's attack on the flotilla which unnecessarily killed real human beings but instead, Gibbs comes out harshly to attack Helen Thomas merely for expressing an unpopular opinion.
During the Bush Admin, we saw our rights chopped down under the guise of protection. Though I have been very vocal about Dem purists criticizing Obama, I have to ask on this issue, how is this behavior by Gibbs any different than Fleischer's under Bush?