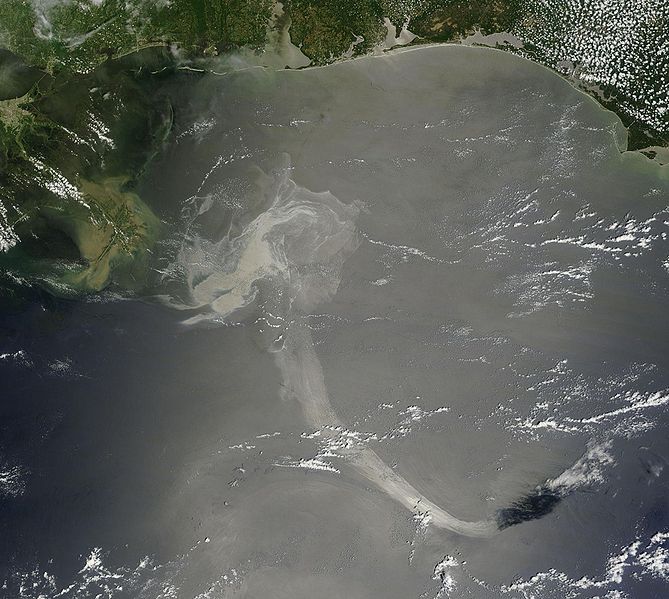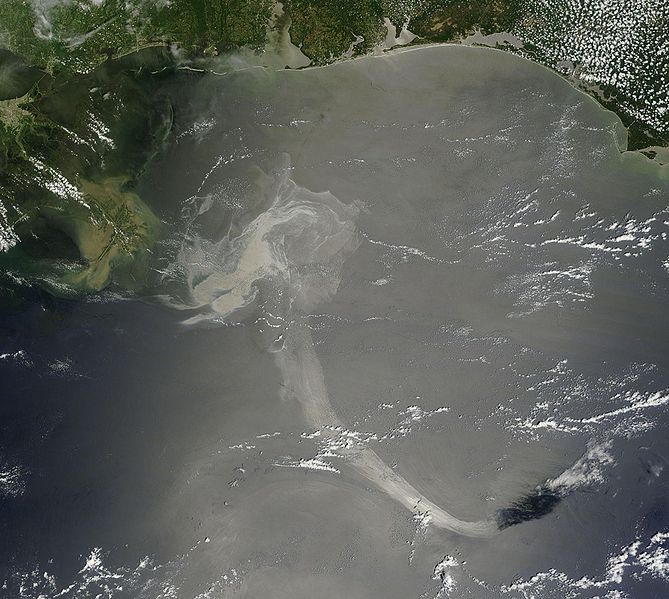 We've all become familiar with the Repub/Fox routine of instantly responding to everything that happens while Obama is president (record snowfalls, children singing support of their president in school, American Idol inequities, etc.) as being his fault. If McCain had won, the snow wouldn't have fallen, that guy in the Escalade wouldn't have cut you off on the freeway and Lost would have had a way better ending.
As part of this "jerk's knee jerk" reaction, a disaster caused by the action or inaction of Bush is applied. "This looks like Obama's WMD's in Iraq!", "Will this be Obama's, 'Heckuva job, Brownie'?", "This is Obama's Harriet Myers!",  etc.
Jon Stewart did  a great piece on this, showing a montage of such BS spewing from those slappingly snide mouths of RW pundits. As Stewart pointed out, isn't it interesting that  Fox and the RW  aggressively defended and promoted Bush for eight years while he destroyed our country and economy…but now that common sense among the majority of Americans prevails that Fox, the RW and Bush were wrong, constantly making comparisons between Obama and Bush is now their tool of choice to denigrate Obama.
Consider this for a moment, Fox and Repubs are presenting their president who they supported religiously as the high watermark (sorry New Orleans!) of failure. To be bad as a president is to be like Bush, they are saying. So vote out the Dems and Obama because they're too much like us and replace them with us, the genuine article when it comes to failure?
Huh? Are the majority of Americans buying this or seeing right through it, as the admission it is of Fox's and Repub's own failure and deceit?
Now, however, comes a tough one. As much as I find these comparisons to Bush ridiculous, along with the accurate self-confessions by the GOP and Fox that they are what's worst for this country…Obama's handling of the oil spill does raise concerns and is leaving him open to claims of Katrina-like inaction, claims that could indeed stick…and might need a dispersant to break them up.
First, Obama is not Bush. Bush is white and can't properly pronounce "nuclear". Obama is half white and half black (defined in the Cracker Dictionary as "black") and understands the science that makes the word "nuclear" apply to something.
So, putting any direct comparison aside, the performance of the Obama Admin on the oil spill crisis at the very least, does not come off very pro-active. BP, a corporation, continues to take the lead on all efforts to stop this disaster from growing even larger and they apparently are being allowed to mislead and censor the news and coverage about it (journalists have been prevented from taking video and seeing what's going on with their own eyes). In fact, in preparation for their latest attempt to "top kill" the well, they are shutting off the camera showing the leak. Why? How does the public benefit from allowing them to mislead the public? Why are they given the power by our government to make such a decision? Sadly, all the interviews I've seen with Obama Admin officials have been touting the great working relationship they have with BP and how BP is working diligently.
It does not seem appropriate that a corporation should be in charge of a national disaster but in fact, BP is our de facto leader on this crisis. This seems a bit similar to the financial crisis, when those who caused the mess were put in charge of stopping it and cleaning it up.
The problem is that BP, as a corporation, has a primary duty to its shareholders, not the citizens of this nation. Yesterday it was reported that BP is refusing to reduce the amount of toxic dispersal chemicals they are pouring into the gulf. So, if the chemicals they are using lessen the financial impact on BP in terms of financial damages and clean up but greatly increase the death of sea life and shoots up cancer rates for those in the vicinity or those consuming gulf seafood anywhere in the country, that's just fine with them (proving a link would be very difficult…who has ever been sued for all the mercury that's now in fish?).
Another issue, there may be many innovative ideas on how to stop this oil but BP would likely not be interested in any that would end the spill but shut down the well for good. They need the well preserved to make back the billions and more than it is going to cost them. So, it seems clear as a non-Gulf part of the ocean that BP could be prolonging this spill because all options that shut it down for good would be unacceptable to them.
On the other hand, the government does not have the same priority, their primary duty is to protect citizens. Accordingly, it seems to make more sense for The Obama Admin to take over ALL operations in closing this well, they need to order BP to take action as directed. Let's face it, BP not only deceived the government in assuring that such a disaster is not likely to ever happen, their pathetic efforts to stop it only confirm that they have not wasted any time or research into stopping such a catastrophe. So if they are no better prepared than the government, let the government be the organizer and the clearing house for ideas on how to stop this with zero regard for whether is allows BP to continue to profit off of this well in the future.
Obama should appoint a  Crisis Czar to head up efforts, someone with a solid scientific background that would be appropriate for this situation.
There is a concern though about why our good friend Rahm and others in the admin might advise Obama not to do so, not to take action. As long as Obama and the government present BP as the one in charge, they are supposedly off the hook. The moment they appoint a czar or declare that they are taking over the decision making from BP, they "own" stopping this disaster…and could be harmed politically if they aren't swiftly successful.
I am not thrilled about providing any ammo to the Dem purists out there who look for any excuse to attack Obama alongside Baggers and the rest of the RW but it is a legit possibility that the spill could end up continuing longer because of the concern that Obama and the Dems could be "tarred" by taking charge. Even though this cynical assessment could be very correct, it should not take precedence over halting the destruction underway.
Again, there is no evidence that the Obama Admin is deferring to BP for political reasons, right or wrong, they may indeed feel that BP is in a far more experienced position to address this than government could be. Still, a month goes by with no progress. The Obama admin along with BP are saying that this could continue for two or three months until relief wells are drilled.  As for the next attempt to cork the well, according to the AP:
BP's next effort to stop the gushing oil will, perhaps Wednesday, is to involve a procedure called a "top kill," in which heavy mud and cement are to be shot into the well to plug it up. The procedure has never been tried a mile beneath the sea, and company executives estimate its chances of success at 60 to 70 percent.
Who knows, maybe this will work, I hope it does. If it doesn't, how long will BP be permitted to be in control of a national catastrophe in this country?
And when are they up for re-election?