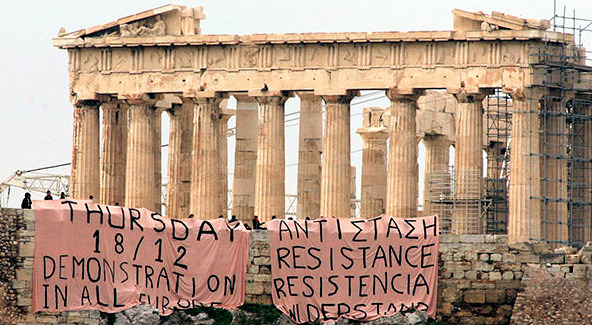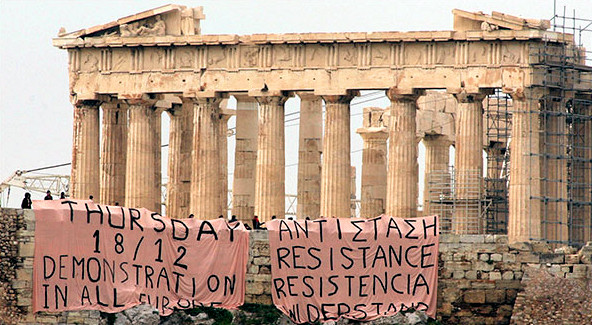 There is something sadly symbolic in the birthplace of democracy being destroyed by banks. The domination of corporatism over democracy across the world, using the freedom of democracy against itself, is a sad, terrorist type strategy that has unfortunately succeeded to date.
a. Greece created the roots of democracy.
b. Goldman Sachs helped destroy Greece's economy.
c. Goldman Sachs has helped to destroy the roots of democracy.
Okay, it may be a bit of a reach but you get the symbolism here.
In a nutshell, what GS did was conspire with the corrupt government in Greece to fraudulently hide debt. Then, being the slime covered weasels that they are, GS turned around and bought into credit default swaps against Greece, meaning, they bet against Greece ever being able to pay off their debts which they helped Greece hide.
An allegory would be like a mechanic helping someone hide that their transmission is about to go out so they can sell their car to an unsuspecting person, then the mechanic announces publicly that he is betting against the car being in good running order.
When banks do these credit default swaps, it is publicly known in the financial world. It can be and was in the case of Greece, a fait d'accompli, causing the failure it's betting will happen. With the financial world, including those with the most intimate knowledge of Greece's finances, betting that Greece would fail to pay their debts, they insured that Greece would indeed fail. Naturally, the public knowledge of this chased away money from investing in Greece, preventing Greece from being able to pay towards its debt.
So Greece went bankrupt. And Goldman Sachs made an enormous sum for helping Greece try to hide its debt then made an enormous sum betting against Greece being able to pay all of its debt.
Greece had been operating irresponsibly, deficit spending enormously for many years with no regard for a day of reckoning but Goldman saw them as an easy mark and juiced them dry, coming and going, laughing and bonusing to themselves as Greece collapsed.
There are many differences between Greece's situation and America's but what's happening there should be seen as a warning of what could happen here.
Primarily, since Greece is on the Euro, they couldn't do what America did to address a lack of money, that is, just print more. Other than that, read this description below about Greece and consider how it may apply to the U.S.:
Greece has been living beyond its means in recent years, and its rising level of debt has placed a huge strain on the country's economy.

The Greek government borrowed heavily and went on something of a spending spree during the past decade.

Public spending soared and public sector wages practically doubled during that time.

However, as the money flowed out of the government's coffers, tax income was hit because of widespread tax evasion.

When the global financial downturn hit, Greece was ill-prepared to cope.
http://news.bbc.co.uk/2/hi/business/8508136.stm
Greece, now at the mercy of the banks and the EU and IMF for survival has had to apply severe austerity plans to its nation, as demanded by them. The cuts of services and huge rises in taxes have destabilized their nation and society. As reported today:
By DEREK GATOPOULOS and ELENA BECATOROS, Associated Press Writer Derek Gatopoulos And Elena Becatoros, Associated Press Writer – 59 mins ago

ATHENS, Greece – Riots over harsh new austerity measures left three bank workers dead and engulfed the streets of Athens on Wednesday, as angry protesters tried to storm parliament, hurled Molotov cocktails at police and torched buildings. Police responded with barrages of tear gas.

Tens of thousands of people took to the streets in a nationwide strike to protest new taxes and government spending cuts demanded by the International Monetary Fund and other European nations before heavily indebted Greece gets a euro110 billion ($141 billion) loan package to keep it from defaulting.

The three bank workers — a man and two women — died after demonstrators set their bank on fire along the main demonstration route in central Athens.

On the streets of Athens, demonstrators chanted "Thieves, thieves!" as they attempted to break through a riot police cordon guarding Parliament and chased ceremonial guards away from the Tomb of the Unknown Soldier in front of the building.

Tear gas drifted across the city center as rioters hurled paving stones and fire bombs at police. Firefighters extinguished blazes at least two buildings — the bank and a branch of the Finance Ministry — while protesters set up burning barricades and torched cars and a fire truck.

The marches came amid a 24-hour nationwide general strike that grounded all flights to and from Greece, shut down ports, schools and government services, and left hospitals working with emergency medical staff. The Acropolis and all other ancient sites were closed and journalists also walked off the job, suspending television and radio news broadcasts.

Violence also broke out in the northern city of Thessaloniki, where another 20,000 people marched through the city center and some youths smashed store windows.

Some fear the austerity measures insisted upon by the EU and IMF could make prospects for growth even worse.

"These people are losing their rights, they are losing their future," said Yiannis Panagopoulos, head of GSEE, one of the two largest unions. "The country cannot surrender without a fight."
Again, Greece is not innocent in this economic disaster, the government did dig a massive financial hole for itself on its own…Goldman Sachs just took a bundle from them to spread a blanket over the hole to hide it then took out accident insurance on Greece before pushing Greece into the hole. Ain't capitalism grand?
The mercenary, corporate plundering of societies and nations around the world must either be reigned in or the fate of Greece may be the eventual fate of most nations and people. Banks and corporations will dictate how society operates and how people must live if most become financially beholden to them.
It would be ironic if the birthplace of democracy was ground zero for the death of it. In the U.S., democracy can be rescued by releasing it from the choke-hold of banks and corporations. Supporting a strong financial reforms bill and contacting your congresspeople to do the same would be something meaningful that could be done in the short term.
In the long term, corporate control in our political system needs to be broken. Addressing the SCOTUS/Citizens United decision, campaign finance reform and restricting lobbying should all be on the plate.
And enforcing the law against these crime lords running Wall Street wouldn't exactly hurt either.