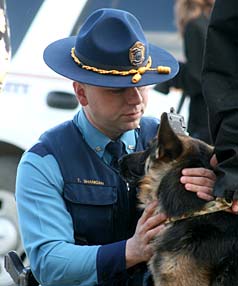 From The Daily Tail
Buddy the German Shepherd is the impersonation of canine hero Rin Tin Tin.

A fire broke out on April 4, when the heater ignited chemicals at a workshop in Caswell Lake, Alaska. The workshop owner, 23-year-old Ben Heinrichs, told his dog, Buddy, they needed to get help. Buddy dashed into the dark.

Alaska State Trooper Terrence Shanigan was struggling to find the fire in the area, which has approximately 75 miles of back roads. Neighbors of the Henrichs had just left a frantic phone message calling for help. Shanigan's global positioning device froze up on him and dispatch was trying to pinpoint the address among the maze of roads covered in snow.

A videocamera from the Alaska State Troopers shows Buddy running to meet the vehicle. Then he leads the car through winding back roads, racing to the house.

Buddy and Heinrichs are fine. The hero dog got an engraved silver-plated dog bowl as an award from the troopers. Way to go, Buddy!