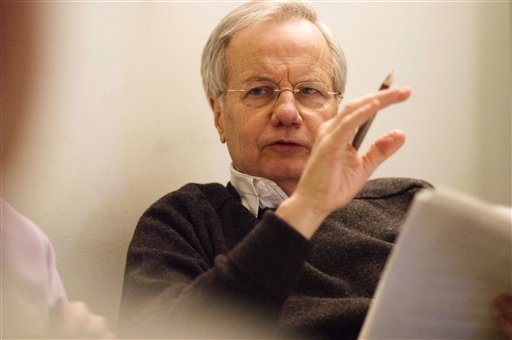 Every Friday night, my Tivo fires up to save what is one of the best arguments for the existence of television, Bill Moyers Journal. As a human being and a journalist, Bill exudes the kind of  integrity that has all but disappeared from the practice of television journalism today.
This may explain my genuine shock to hear on his show this week that he is retiring as of the end of this month. His show will end then on PBS though he mentioned it will continue online.
He is too classy and too much of a gentleman to ever mention if this wasn't his idea (there's no indication it wasn't as far as I am aware).
I have so many fond memories of his shows and discussions, he has been a voice of calm, reason, compassion and reality during difficult times. And he has never failed to astonish me with his even handedness especially when he's had discussions with people who I find distasteful…I still don't know how he does it!
One of my more recent favorite memories was when a Bill O'Reilly troll tried ambushing Moyers at a media conference in 2008. Using calm demeanor, his razor sharp mind and his unshakable persistence, Moyers took that little weasel to school and the journalists witnessing this followed the weasel hounding him as he had Moyers…of course the weasel could dish it out but not take it.
As far as my favorite interviews he's hosted…it would be virtually impossible to choose one gem over another. So, I'll just focus on his most recent show from last week, his penultimate episode, which presented a brilliant exploration into the reality of the banking and corporate domination of our nation, the machinations of Goldman Sachs in their fraud and other insights into the mercenary nature of our corporate system. One of his two guests, Simon Johnson, conclusively described America as no longer a democracy but an oligarchy. I can't embed from PBS here so you can follow this link to view this enlightening and brilliant episode:
http://www.pbs.org/moyers/journal/04162010/watch.html
With the passage of time, so much is gained and so much is lost. In the case of Bill Moyers, what is lost is a little bit of what's best in this democracy and this nation.