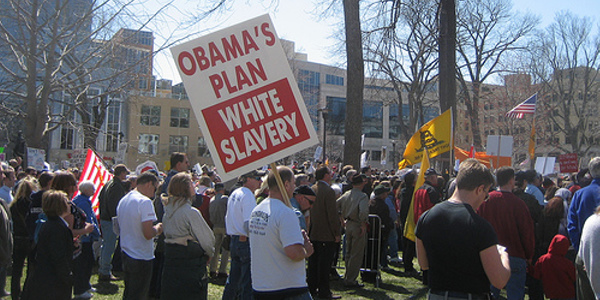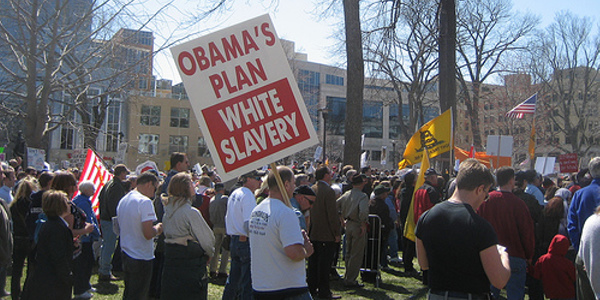 A poll has finally come out which provides a bit of demographics on Tea Partiers. The MSM is spinning it as, "They're actually not poor and ignorant, they're better off than average Americans!" because of course, the contrary to what we've all witnessed is news and they want the conflict to continue by further legitimizing these nutballs. The truth is, they're better off than most Americans BECAUSE most of them are retired and receiving Social Security and Medicare.
This is a case of, "Who are you going to believe, your lying eyes and ears or the MSM?" The core Tea Partiers are now verified in this poll to be older, hateful, prejudiced white males, many of whom are on Social Security and Medicare.
Here are details from the NYT article on the poll that the rest of the MSM will gloss over in their stampede to brand these loons mainstream:
The 18 percent of Americans who identify themselves as Tea Party supporters tend to be Republican, white, male, married and older than 45.

And while most Republicans say they are "dissatisfied" with Washington, Tea Party supporters are more likely to classify themselves as "angry."

…despite their push for smaller government, they think that Social Security and Medicare are worth the cost to taxpayers.
Of course they think SS and Medicare are good socialist programs the government should pay for, these hypocrites are getting both at the same time they wail about "socialism" and giving entitlements that other Americans who aren't them might receive.
Tea Party supporters' fierce animosity toward Washington, and the president in particular, is rooted in deep pessimism about the direction of the country and the conviction that the policies of the Obama administration are disproportionately directed at helping the poor rather than the middle class or the rich.
Yep, you read that correctly, these idiots think the real problem is that the government isn't continuing to give everything to the wealthy!
More than half say the policies of the administration favor the poor, and 25 percent think that the administration favors blacks over whites — compared with 11 percent of the general public.

They are more likely than the general public, and Republicans, to say that too much has been made of the problems facing black people.
Wonder why they hate our president so much? Need anyone argue further about the racist mentality of Tea Partiers?
"The only way they will stop the spending is to have a revolt on their hands," Elwin Thrasher, a 66-year-old semiretired lawyer in Florida, said in an interview after the poll. "I'm sick and tired of them wasting money and doing what our founders never intended to be done with the federal government."

"I just feel he's getting away from what America is," said Kathy Mayhugh, 67, a retired medical transcriber in Jacksonville. "He's a socialist. And to tell you the truth, I think he's a Muslim and trying to head us in that direction, I don't care what he says. He's been in office over a year and can't find a church to go to. That doesn't say much for him."
Note the ages of these people…they are retired and collecting SS and on Medicare, their mentality is, "Fuck everyone else, I got mine now and I don't want money spent on other people…especially them black people!" And just as we might script her, the second old, white racist…er, "Christian"…displays her "Christian" values by attacking and hating and stereotyping a black man then nastily attacks his practices as a Christian…to infer that she is clearly a "real" Christian.
But while most Americans blame the Bush administration or Wall Street for the current state of the American economy, the greatest number of Tea Party supporters blame Congress.

They do not want a third party and say they usually or almost always vote Republican. The percentage holding a favorable opinion of former President George W. Bush, at 57 percent, almost exactly matches the percentage in the general public that holds an unfavorable view of him.
Uh…yep. They give Bush a 57% favorable. Here too, we can close the book on these idiots being anything other than unprincipled, hateful Republicans who are hiding behind "deficits" and "smaller government" to hate an American democracy that elected a black president. Bush destroyed the economy and the nation's integrity but since he was white, Republican and patronized the Religious Right, his reckless tax-cutting, deficit spending and rape of the nation not only didn't deserve Tea Party protests, he is seen by them as a great president. The question is answered, Tea Partiers are total frauds.
But in follow-up interviews, Tea Party supporters said they did not want to cut Medicare or Social Security — the biggest domestic programs, suggesting instead a focus on "waste."

Some defended being on Social Security while fighting big government by saying that since they had paid into the system, they deserved the benefits.

Others could not explain the contradiction.

"That's a conundrum, isn't it?" asked Jodine White, 62, of Rocklin, Calif. "I don't know what to say. Maybe I don't want smaller government. I guess I want smaller government and my Social Security." She added, "I didn't look at it from the perspective of losing things I need. I think I've changed my mind."
Hmm…they couldn't find a Tea Partier who wasn't even literally "White" and under the age of 62? And look at her idiocy. "Well, I'm supposed to say I want smaller government to mask my fear of black people and my selfishness…but being selfish, how can I stand on a principle of limited government when I want government giving me a lot? Hmm…maybe I should just say I'm for limited government for everyone who isn't me! Yeah, even I can understand that!"
I hate to say it but the MSM continues to try and portray the Tea Partiers as "more normal than you think!", helped immensely by the naked GOP propaganda machine, Fox News. We will continue to be told they speak for the average American, that they really just care about deficits and smaller government but these are flat out lies.
The Tea Party movement is hugely funded by FreedomWorks which is hugely funded by wealthy Republicans and despicable people like Koch. It is a fraud that roped in hateful and spiteful and racist people and cloaked them in contrived legitimacy. If you've ever seen interviews with Tea Partiers at protests, they don't seem to have a clue about the economy, Obama's actual policies or even basic facts about The Constitution and history.
The conclusion is simple. If someone is hateful but has no meaningful knowledge about the things they claim are the causes of their rage, they are Tea Partiers who haplessly hold up a mask to hide behind it their selfishness and racism.