There is such a wealth of information on the Family that it is almost impossible to condense it all down to a single article. There are so many twists and turns that I don't believe anyone will ever know the full measure of whatever good or harm they have perputrated around the for mainstream Americans. I will do my best to give you some history and information about their relationships in this post. It is, however, something I believe will be exposed more and more as Americans become more aware of the happenings around them. We are coming out of a long period of "misinformation" by our own government, however most Americans have a desire to seek knowledge and truth and that is a good thing.
Fellowship Foundation, AKA The Family, also known as the prayer breakfast groups, is an international organization founded in 1935 by Dr. Abraham Vereide in Seattle, Washington . He incorporated in Chicago, Illinois as Fellowship Foundation Inc. acquired the names International Christian Leadership, ICL, Fellowship House and International Foundation as venues of global outreach ministry expanded. Participants include ranking government officials, corporate executives, heads of religious and humanitarian aid organizations, and ambassadors, from around the world. It has been described as one of the most well-connected ministries in the US. The names of identified members is like a who's who of the beltway.
The claim by The Family or Doug Coe, their current leader, is that this group is in operation to provide a fellowship forum for decision makers to share in Bible Studies, prayer meetings, worship experiences and to experience spiritual affirmation and support. It should be noted here that Dick Foth a well known evangelical in the Beltway may be named as the new leader when Coe retires completely. Dick Foth has an interesting background all on his own. Jeff Sharlet has documented their activities and intentions in his book, The Family. Max Blumenthal also covers the Family in his book, Republican Gomorrah.
The group is most widely known for facilitating supportive prayer groups throughout the United States and around the world, including the Presidential Prayer Breakfast, later known as the National Prayer Breakfast. Every sitting United States president since 1953 has participated in the national breakfast. However, they have, most recently been identified for carrying out a lot more than Prayer Breakfasts. The group treasures confidentiality above everything else and it urges members to avoid gossip.

Prominent evangelical Christians, have described it as one of the most politically well-connected ministries in the world. Charles "Chuck" Colson of Watergate fame described the group as a "veritable underground of Christ's men all through the US government." The Family also has relationships with numerous non-US government leaders. It has been reported that it "has relationships with pretty much every world leader— good and bad." David Kuo, former special assistant to George W Bush's Office of Faith Based Iniatives has said "The Fellowship's reach into governments around the world is almost impossible to overstate or even grasp."

Fellowship Foundation traces its roots to Dr.Abraham Vereide, a Methodist clergyman and social innovator, and a month of prayer meetings he convened in 1934 in San Francisco and Seattle. Vereide himself was a Norwegian immigrant who, in 1916, founded Goodwill Industries in Seattle to encourage and lift up the city's unemployed and distraught Scandinavian immigrant population. His Goodwill Industries soon occupied a whole city block, where they repaired & processed discarded clothing and furniture and converted "waste to wages", inspired a "dedicated head, heart, and hand" and developed citizens of God's kingdom on Heaven and earth. His work spread down the West coast and eventually to Boston.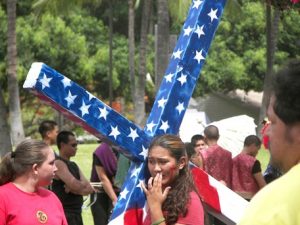 The Family and others on the religious right believe in Rousas John Rushdoony's Christian Reconstructionism and praise his works, for reasons which will become obvious. He famously maintained that Calvinistic Christianity provided the intellectual roots for the American Revolution and had always had an influentual impact in American History. The Revolution, according to Rushdoony was a "conservative counterrevolution" to preserve American liberties from British usurpation and it owed nothing to the Enlightenment. He also argued that the US Constitution was a secular document in appearance only, it did not need to establish Christianity as an official religion since the states were already Christian establishments. Therefore, the separation of church and state was not a legal amendment and should be abolished. Is the Texas school board decision coming to mind right about now? Rushdoony wrote the 1894 page opus, The Institutes of Biblical Law, which was a roadmap to establish religious law in the United States. Rushdoony is also the founder of the home school movement.

A Timeline of Their History


1935 – Vereide held the first breakfast meeting in San Francisco with Major JF Douglas
1942 – 60 breakfast groups in major cities around the country, that same year Vereide started holding the same for both houses of congress, he also started newsletters to facilitate these meetings
1947 – a conference in Washington led to the formation of the International Council for Christian Leadership (ICCL), an umbrella group for the national fellowship groups in the United States, Canada, Great Britain, Norway, Hungary, Egypt, and China. Fellowship House was established in a building on Massachusetts Ave in DC.
1953 – President Eisenhower attended the first Senate Prayer Breakfast Group. It was renamed the Presidential Prayer Breakfast setting the stage for other world leaders to be invited. Core members at that time were Senators Frank Carlson, Karl Mundt, Everett Dirkson and Strom Thurmond.
1957 – ICCL had established 125 groups in 100 cities, with 16 groups in Washington, D.C.. Around the world, it had set up another 125 groups in Canada, Britain, Germany, France, Northern Ireland, Netherlands, Belgium, Norway, Sweden, Denmark, Finland, Switzerland, Italy, Greece, Turkey, Lebanon, Ethiopia, India, South Vietnam, Hong Kong, Taiwan, South Korea, Japan, Philippines, Australia, New Zealand, Guatemala, Cuba, Costa Rica, Mexico, and Bermuda. During this time, future Fellowship Leader, Douglas Coe joined Vereide as assistant executive director of ICL in Washington, D.C. Richard Halverson became executive director. They now had global outreach to every corner of the world.
They are all about secrecy as you can tell in some of the following quotes:

In 1985, President Ronald Reagan said about the Fellowship, "I wish I could say more about it, but it's working precisely because it is private."
Former Republican Senator William Armstrong said the group has "made a fetish of being invisible."
At the 1990 National Prayer Breakfast, President George H.W. Bush praised Doug Coe for what he described as "quiet diplomacy, I wouldn't say secret diplomacy."
In 2009, Reverend Chris Halverson, a son of the now deceased former executive associate director Dr. Richard C. Halverson, speaking about the culture of pastoral confidentiality and it's necessity to the ministry: "If you talked about it, you would destroy that fellowship."

Author Jeff Sharlet describes the decision for The Family to shift to global operations as:
"Thereafter, the Family would avoid at all costs any appearance of an organization… Business would be conducted on the letterhead of public men, who would testify that Family initiatives were their own. Finances would be more 'man-to-man,' which is to say, off the books."
Senate Prayer Group member, Senator Sam Brownback has described the group members' method of operation: "Typically, one person grows desirous of pursuing an action"—-a piece of legislation, a diplomatic strategy—-"and the others pull in behind." Indeed, Brownback has often joined with fellow Family members in pursuing legislation. For example, in 1999 he joined together with fellow Family members, Senators Strom Thurmond and Don Nickles to demand a criminal investigation of Americans United for the Separation of Church and State, and in 2005 Brownback joined with Family member Sen. Tom Coburn to promote the Houses of Worship Act.
Jeff Sharlet has described, The Family leader Doug Coe as preaching a leadership model, and a personal commitment to Jesus Christ, comparable to the blind devotion that Adolf Hitler, Joseph Stalin, Chairman Mao, and Pol Pot demanded from their followers. In one videotaped 1989 lecture series, Coe said:

"Hitler, Goebbels and Himmler were three men. Think of the immense power these three men had…But they bound themselves together in an agreement…Two years before they moved into Poland, these three men had…systematically a plan drawn out…to annihilate the entire Polish population and destroy by numbers every single house…every single building in Warsaw and then to start on the rest of Poland." Coe adds that it worked; they killed six and a half million "Polish people." Though he calls Nazis "these enemies of ours," he compares their commitment to Jesus' demands: "Jesus said, 'You have to put me before other people. And you have to put me before yourself.' Hitler, that was the demand to be in the Nazi party. You have to put the Nazi party and its objectives ahead of your own life and ahead of other people."

I do have to ask here, Polish people? Does Coe really believe the Holocaust only involved Polish People? Did Coe read the same history books that the rest of us read? It would seem he did not if he can make a statement like that.
Later in the video, Coe also contrasts Jesus' teachings with the Red Guard during the Chinese Cultural Revolution:

"I've seen pictures of young men in the Red Guard of China…they would bring in this young man's mother and father, lay her on the table with a basket on the end, he would take an axe and cut her head off….They have to put the purposes of the Red Guard ahead of the mother-father-brother-sister — their own life! That was a covenant. A pledge. That was what Jesus said."

Members try to explain this away as teaching metaphors, however it seems like the Religious Right and this group have a very odd fascination with Fascism. Much of the Family work in Europe after WWII was guided by ex-Nazi personnel.
The Family does not conduct public fundraising, I would assume with the contacts they have generated all over the world, fundraising would be the least of their efforts. They have supporters from all walks of life, Congress, World Leaders, Huge Corporations, Evangelical billionaires like Howard Ahmanson, Phillip Anschutz(owner of AEG, The LA Lakers, Walden Media, Shareholder(major) The Weekly Standard, Paul Temple, former executive of Exxon, The Kingdom Fund (Kingdom Oil Christian Foundation t/a Twin Cities Christian Foundation). Reading about Howard Ahmanson and Phillip Anschutz is a monumental project on its own. They are very wealthy men who have devoted themselves and their billions to religious right causes. Phillip Anshutz is a recluse and has not given an interview since 1974. Ahmanson does not talk publicly much either, however his wife was a religious reporter for the Orange County Register. In March 2009, he left the Republican party and is now registered as a Democrat. Not sure how that bodes for the party. I have included a link below regarding his switch to the Dems. I, for one, am not sure the Democrats in California or the nation should be too thrilled with this change of heart.
Doug Coe has said that The Family through the National Prayer Breakfast(NPB) does not help foreign dignitaries gain access to U.S. officials. "We never make any commitment, ever, to arrange special meetings with the president, vice president or secretary of State," Coe said. "We would never do it."
If that is the case, why would Sen Bill Nelson(D-FL) complain at a 2001 Senate Foreign Relations Committee confirmation hearings for State Department officials, that the State Department had blocked then-President Bush from meeting with four foreign heads of state (Rwanda, Macedonia, Congo and Slovakia) at the NPB that year? And why should heads of state or any other officials be able to wander in and compel the President to meet with him because they are at the same function? Meetings with the President are always vetted, no foreign leader should be talking with the President without having been vetted. And what power would a single person have that could arrange such a meeting?
The Family's Role in International Conflicts and Diplomacy


Jeff Sharlet has criticized the Fellowship's influence on US foreign policy. He argues that Doug Coe and the Family's "networking" (or formation of prayer cells) between foreign dictators and US politicians, defense contractors, and industry leaders has facilitated military aid for repressive foreign regimes. Sharlet did intensive research in the Family's archives, kept at the Billy Graham Center, before the Family archives were closed to the public. Sharlet covers much more than I do here on their International affairs but for space reasons, I will cover a few that peaked my curiosity and gave me pause as to their "real agenda" in their dealings with General Suharto of Indonesia in the 1970s, and with Siad Barre of Somalia in the 1980s. Also, in the Family's archives, there are at least two nearly full boxes of documents describing the Family's relationship with Brazil's long dictatorship of the Generals. Coe claims he never invites these people, they come to him. I am sure out of a sense that he will be friendly. Coe claims he does not turn his back on anyone, after "the Bible was full of mass murderers"
The LA Times examined the Fellowship's archives (before they were sealed) as well as documents obtained from several presidential libraries and found that the Family has had extraordinary access and significant influence over U.S. foreign affairs for the last 50 years.
The Fellowship has funded the travel expenses of members of Congress to various hot spots throughout the globe, including Rep. Robert Aderholt (R-Al.) to Darfur, Sen. Tom Coburn (R-Ok.) to Lebanon, Rep. Aderholt to The Balkans, and Reps John Carter (R-Tex.) and Joseph Pitts (R.-Pa.) to Belarus.
In 2002, Reps. Frank Wolf (R-Va.), Tony P. Hall (D-Ohio) and Joe Pitts (R-Pa.) traveled to Afghanistan and Pakistan on a fact-finding congressional trip, meeting with the leaders of both Muslim countries.
According to Pitts, "The first thing we did when we met with President Karzai and President Musharraf was to say, 'We're here officially representing the Congress; we'll report back to the speaker, our leaders, our committees, our government. But we're here also because we're best friends…. We're members of the same prayer group'". In addition, Doug Coe has been dispatched to foreign governments with the blessing of congressional representatives and has helped arrange meetings overseas for U.S. officials and members of Congress.
The Family has brought controversial international figures to Washington to meet with US officials. Among them are former Salvadoran Gen. Carlos Eugenio Vides Casanova, who in 2002 was found liable by a civil jury in Florida for the torture of thousands of civilians in the 1980s. He was invited to the 1984 prayer breakfast, along with Gen. Gustavo Alvarez Martinez, then head of the Honduran armed forces who was linked to a death squad. Siad Barre, the dictator over Somalia was a member of the Family. As of 1991 when he fled to Nigeria, his regime had one of the worst human rights records in Africa, not to mention the 100's of thousands who fled to Ethiopia to escape the dictator rule and are said to have compounded the famine there. Jeff Sharlet had this to say about Coe and the Family's relationship with Somalia:

"He is not looking to democracy, but this model of absolute strength and that leads the Family into relationships with men like Museveni in Uganda. Before him, their key man for Africa was a guy named Siad Barre of Somalia, for who Chuck Grassley became a kind of defacto lobbyist as the United States pumped up his military, which he then used to absolutely destroy his country to such an effect that Somalia has never recovered and today is a haven for al-Queda, for terrorism, for piracy. It is a lawless nation. The Family says that is part of God's plan"

Jeff Sharlet has also said that Sam Brownback leads a secret cell of leading members of Congress to influence US Foreign policy. He reports the group has stamped much of that policy through a Value Actions Team(VAT). One victory for this group was Sam Brownback's "Northern Korea Human Rights Act", which establishes a confrontational stance toward North Korea and shifts the funds for humanitarian aid from the UN to Christian organizations.
The Family, through Representative Joe Pitts (R.-Pa.), redirected millions in US aid to Uganda from sex education programs to abstinence programs, sparking an evangelical revival, which included burning of condom. Following the American intervention, the Ugandan HIV incidence rate, once dropping, jumped from 70,000 in 2003 to 130,000 in 2005. So, unique way to spark an AIDs epidemic, Mr. Coe. It should also be noted that Pope Benedict XVI did not help matters when he proclaimed to Africans on his first visit there that condoms could make the AIDs crisis worse. What a unique way of ministering to the people.
In a November 2009 NPR interview(provided below), Jeff Sharlet alleged that Ugandan Fellowship associates David Bahati and Nsaba Buturo were behind the recent proposed bill in Uganda that called for the death penalty for gays. Sharlet reveals that David Bahati, the Uganda legislator backing the bill, reportedly first floated the idea of executing gays during The Family's Uganda National Prayer Breakfast in 2008. Jeff Sharlet says Mr. Bahati as a "rising star" in the Family who has attended the National Prayer Breakfast in the United States and, until the news over the gay execution law broke, was scheduled to attend this year's U.S. National Prayer Breakfast was cancelled.
Family member Bob Hunter gave an interview to NPR in December in which he acknowledged Bahati's connection but argued that no American associates support the bill. Rick Warren would probably say the same thing, but it is curious with all the attention paid to Uganda by the religious right that this bill has now come up for legislation. What do you suppose these same people would do if Uganda had come to our country and tried to impose their religious beliefs on people here? Somehow I believe you would have heard an uproar worse than we have seen this past week over HealthCare Reform.
There are so many details and stories and people who have been involved in the Family that it would be impossible to cover it all here. I would encourage you to read some of the books I referenced in this series. While Republican Gomorrah by Max Blumenthal was probably the best and easiest read, it covered the Family, GOP and the Religious Right, Jeff Sharlett's book will provide an more in-depth look at the Family and their "friends".
Last in this series will be The Consequences of the religious right's influence on our society and what we can do to counter that influence.
Jeff Sharlett's 2009 interview with NPR

Howard Ahmanson's announcement to leave the GOP and become a Democrat