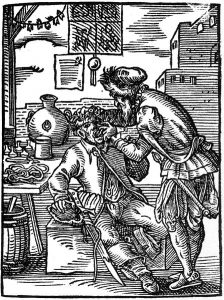 Since I got laid off from a regular job about two years ago, I have been uninsured. I would really prefer to remain a contractor and work my own hours, but insurance is a big problem. I tried to purchase insurance but was turned down by three companies before I just gave up (I have a history of back problems). I looked into a high risk pool offered by the state but the premiums, deductible and co-payments were so high, and the coverage so limited, it wasn't worth bothering with.
I've seen a doctor only once in the past few years, when my back started acting up and I had to at least get some prescriptions filled. Luckily, by now I have a pretty good arsenal of self-treatments and I was able to fend off another major episode. That was a few months ago.
I have made a point, however, of getting my teeth cleaned often. At one of these cleanings, my dentist informed me that I have "deep pockets," which has to be the most ironic name in the dental universe. I had to go have a periodontist look at my gums. He wanted to do some work on three of my teeth, at $2,000 each. He charged me $200 to tell me that.
That's when I started looking at dental tourism. I have friends who live in Mexico and I did quite a bit of research on periodontists in Guadalajara. I found some success stories and some horror stories. Unfortunately, I couldn't find any solid recommendations so I didn't pursue it for the time being. I can say, however, that I could buy a plane ticket, hotel, and get all three teeth done for less than the cost of one tooth here. One problem, of course, would be follow-up checks.
During my research, I found a lot of information about medical and dental tourism. New agencies are springing up all the time that cater to this growing industry for Americans who can't afford the amazingly expensive prices we pay for medical and dental services here. I recently found this very interesting chart on a medical tourism website. If you click on the chart, you'll be able to read the numbers (it's too big to display full-sized in the column here):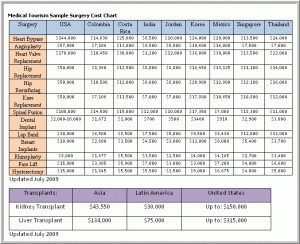 Some of the numbers on this chart are stunning. What the chart doesn't explain is why there are such astronomical gaps in prices. Why does a heart valve replacement cost $170,000 in the USA while it costs $1,200 in India and $13,500 in Singapore? Do we do ten times as many tests? Do our doctors have to pay that much more in liability insurance? Do doctors in other nations sew people up with old string? Is it because of all the unpaid emergency room bills in the USA? Despite closely following the HCR debates over the past year, I still don't have a good idea of why we pay so much more here for drugs and procedures.