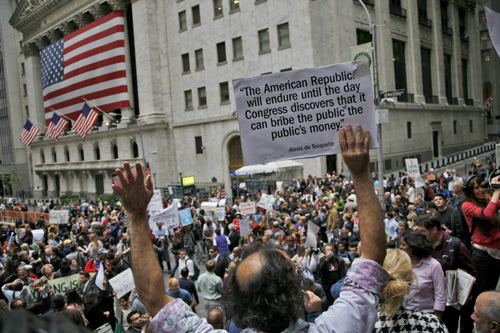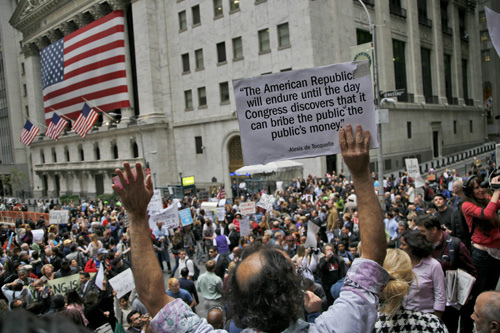 Joe Stack had reached the end of his sanity. He was not a hero, he was not a martyr. He was an American who was driven into mental illness by despair.
According to the letter he left behind, he saw the American Dream as a cunning deception that Americans are brainwashed to believe when they're young, meant to pacify them throughout their lives while the wealthy and powerful plundered the nation's wealth and power. He felt helpless to combat the inequity and harm that such corruption wreaked upon him.
Joe Stack had lost everything else and he had now lost his mind.
The letter he left behind (you can read it here: http://www.thesmokinggun.com/archive/years/2010/0218102stack1.html), reflects a familiar and sympathetic story of a man who felt victimized by the corruption of America. What is striking is how he could be so rational in describing what had led him to deciding to commit an irrational act.
There are more than a few Americans that are on the verge of giving up in the face of such intractable and only increasing corruption of this nation, its government and its society. For some, giving up means disengaging, not even trying to make a difference any more because, "What's it going to change?". For a very few however, it means venting that frustration and hatred of all that's wrong on society, its symbols and people who represent a corrupt society to them.
The suicide plane crash into the IRS for ideological reasons is not so different from what happened on 9/11. No matter how upset or frustrated anyone becomes, committing an act that could kill innocent people is not justified. Joe Stack committed an act of domestic terrorism and should be condemned for it.
At the same time, an American flying a plane into an American government building out of desperation is unfortunately symbolic of the futility that many Americans feel about trying to fix and change their government. In an era when our SCOTUS selects the president and hands our democracy to corporations, when the MSM functions as an agenda-driven propaganda machine of major corporations, when one of the only two parties governing our nation blocks progress and helping Americans who are otherwise dying just to help their prospects to regain power…it is not surprising that some feel our democracy has become so diseased and unrecognizable from what it started out to be, it is now their enemy.
Consider the Teabaggers, Anti-Abortion groups, racists, religious extremists, etc. Now consider Activist Progressives,  anti-corporation people, Dem Obama critics, pro-single-payer supporters, etc.  What do ALL of them have in common? From their own perspectives and using different issues, all see government and our democracy as corrupt.
80% of Americans oppose the SCOTUS handing our democracy to the corporations. 80%. Think about that. There's got to be Republicans, Independents, Democrats, Libertarians, even some Teabaggers to get to that percentage.
Though they may not be protesting in the streets as they should be, if a majority of Americans still feel that more and more each day, our society and government is becoming increasingly corrupted and dominated by the wealthy and powerful…even if they are only privately thinking  that our society and democracy are failing, the decline of this nation and more terrible acts in response likely lay ahead of us.
There is only so far the rubber band can be stretched until it breaks…and those stretching the rubber band are so greedy, their mindset is that when the rubber band is reaching the end, the most profitable thing to do is stretch it faster and harder to get as much as they can before it breaks. They do not fear the outcome of their destruction. They are "too big to fail" and the government MUST always support them or they will drag the whole nation down with them.
Joe Stack may have committed a terrorist act by flying his plane into a building but what about the corporations who kamikazed into our state and local governments, the businesses we work for, our jobs and salaries, our home equity and life savings, our schools and hospitals, our police and fire departments and our life-sustaining health care? Who has truly conducted the most destructive terrorist attacks on the American people?
With all this in mind, any terrorism is wrong. The only way to improve society is to be constructive, not destructive. And as with Joe Stack, things may not improve in time to help us but it may help the next generation. So we can't give up, we have to step up. We don't have to give our lives to the cause of rescuing our democracy from the hands that now hold it, we just have to give a bit of time and energy. We have to be willing to write letters and make calls to our representatives, we have to be willing to attend meetings and protest in person, we have to be willing to invest at least a small share of our life to salvage the America we believe in.
Many Americans join the military for the same basic reason, to protect America from its enemies. Thousands of them have died in just the last several years…they have died, they have willingly accepted the loss of their life if necessary to protect this nation.
If we respect the huge sacrifices other Americans make each day in the pursuit of protecting us and our democracy and the many who came before them, the least we can do to honor them is to sacrifice a small amount of time and comfort to be active in fighting for the return of democracy to all Americans, including those overseas risking their lives for our nation.
We have started down the path of forming an activist group here and I hope the enthusiasm to organize and take action to try and right our democracy is profound and enduring. We can do something meaningful and constructive, there are many others out there doing so in their own way. It is not far-fetched to see a convergence somewhere down the line of many of these groups and people, a potential tidal wave of Americans demanding change that would not be held off by corporate propaganda or corrupt politicians.
There was an exchange in the movie Gandhi, I don't know that it was from an actual quote of his but when it comes to the concerns of futility in taking action to take back our democracy from the wealthy and corporations, I do find it appropriate:
Brigadier: You don't think we're just going to walk out of India!
Gandhi: Yes. In the end, you will walk out. Because 100,000 Englishmen simply cannot control 350 million Indians, if those Indians refuse to cooperate.
This is the one and only thing that the wealthy and corporations fear. That we will come together in numbers to oppose their rule. They know that is the only way they can be defeated and that they simply can't combat that. So, of course, they happily participate in trying to split us up and divide us against each other.
Because if 330 million Americans refused to cooperate with the Fortune 500, they know full well who would win that confrontation.