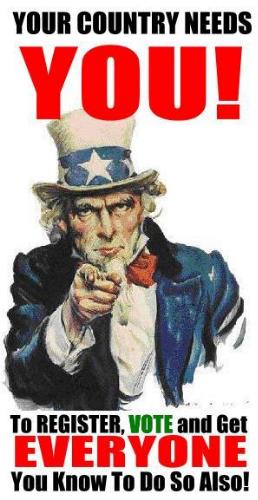 With huge kudos to javaz for conceiving of and inspiring this, SueInCA for organizing, Chernynkaya for writing the Mission Statement and all the other members contributing, following is a list of all names suggested for a new populist organization that would truly represent those wanting to promote the rights of the American people over those of corporations and other powerful interests.
Since there are so many great names to chose between, you may vote for up to 10. We will then present the top 10 vote-getters for a final vote. In case a tie would cause more than 10 finalists, we may include one or two more but if it would mean adding more than that, we will just have to flip a coin.  Any names that are slight variations of each other that make it into the top 10 will be narrowed to just one entry, the one with the most votes.
Before presenting the poll, here is the Mission Statement drafted by Chernynkaya:
"We are a group of citizens united to ensure the continuation of democracy, which is imperiled by the corporate takeover of our government.

We stand united against the corrupting power of corporate money – money that mutes our voices.

We insist that the voice of Main Street be heard.

Our mission is to unite our country against the threat to our nation – the rise of corporate influence and the consolidation of the media.

We urge all Americans of any political party to join us in this one goal: "A government of the people, by the people and for the people."
Below is the list of all names submitted (tongue-in-cheek ones excluded), in alphabetical order. You may select up to 10 favorites.
A few hopefully helpful suggestions that may help you narrow down your choices (there are so many good ones!):
a. Look for names that best describe to you the mission and/or attitude of the group as clearly and concisely as possible.
b. Consider all possible nicknames that could result from a selection, especially the worst ones that detractors could use to demean it.
c. Names with acronyms that have some descriptiveness are a plus but brief names that have no real acronym are just as strong and just as easy to say.
d. Say the name out loud, sometimes a name on paper can come across differently when spoken. Imagine telling a friend the name as a group you belong to or a newscaster announcing the name. Does it sound strong or does it sound quirky? Does it sound like a populist group or a fringe group?There can sometimes be a thin line between noble and silly, as The Teabaggers found out.
And now, the poll:
[poll id= "28"]