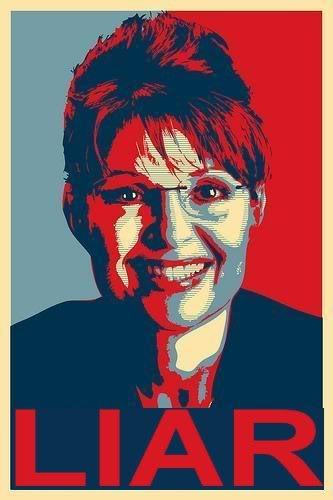 "Ms. Palin represents a new breed of unelected public figures operating in an environment in which politics, news media and celebrity are fused as never before. Whether she ever runs for anything else, Ms. Palin has already achieved a status that has become an end in itself: access to an electronic bully pulpit, a staff to guide her, an enormous income and none of the bother or accountability of having to govern or campaign for office."
That was the New York Times's assessment of the woman otherwise known as Caribou Barbie, who gave a mating call to Beefcake Ken in her keynote speech at last night's Teabaggers' Ball.
From what I could stomach listening to, she reckoned that the underpants bomber shouldn't have been read his Miranda, and tacitly all but winked that maybe, just maybe he should have been dealt with specially … euphemism for torture. Oh, and we don't need a Law Professor offering 'hopey-changey' things, we need a real Commander-in-Chief.
For ALL of the Progressive base who have at one time called for Obama to be more like Bush, and at another, been appalled that they thought he acted as such, here's a wake-up call.
HELLLLLOOOOOOOOOOOOOOOOOOOOOOOO!
Flirt with Grover Norquist. Carp, snipe, call-out Obama gratuitously. Throw the Blue Dogs under the bus.
Do all of the above, and you'll get President Palin pickin' and a-grinnin' and a-winkin' her way through her Inaugural speech in 2012. You'll also get the semi-literate First Dude ('their' for 'there', amongst other things) calling the shots and sitting in on Cabinet meetings.
Are you satisfied with the Wasilla version of the Beverly Hillbillies holding court at the White House? Do you want your children taught creationism? Do you want contraceptives outlawed in favour of abstinence? Do you want a woman to pay for her rape kit and be forced to give birth to a child conceived that way?
Because if the Progressives carry on listening to people who are sowing discontent and disfavour purposely, who are doing anything other than urging you to support this Presidency and this administration, you're playing right into the GOP's hands.
Some asshole on the take reported a private conversation held by Rahm Emanuel in the White House where he referred to Leftwing Progressives, in a moment of exasperation, as being retarded. No doub, he was talking about those who advocated some sort of unholy alliance with the teabaggers in order to defeat the present healthcare bill, hoping that the already-overloaded Congressional docket would somehow afford another discussion of the same.
Well, Rahm was right. That was pretty retarded.
But it was a private conversation and shouldn't have been leaked to the press or the public, and much less, to someone of Palin's ilk. Look what she did with an amendment to healthcare that actually came from a Republican Senator. It became the ubiquitous Death Panel controversy. Now she's calling for Rahm's resignation.
Shortly, thereafter, in a broadcast deriding Emanuel's subsequent and unnecessary apology, Rush Limbaugh peppered a rant about retarded people going to the White House so Rahm Emanuel could apologise to them for being retarded.
Palin was force to issue a guarded and lame response through a spokesperson in reaction to this, only to call Boss Rush afterwards and assure him that she didn't name him by name in her remarks.
So, it's OK for Rush to use the word 'retarded' when speaking of mentally-challenged people, but it's an affront for Rahm Emanuel to use the same word in an off-the-cuff remark about the Progressive section of his own party.
Double standards, much?
All I know is this: This woman might be intellectually bereft, but she's media savvy, and she didn't quit the governor's job for nothing. She's building on her celebrity base in a push for 2012, and she knows exactly what to say to whatever kinds of people she addresses. She's not afraid to play the sexy beauty queen card, for all those lecherous old men who might want to fuck her or all those youngish GOP wimps who fancy a MILF. Equally, she's the average WalMart hockey mom, when she's meeting with the women of the party.
She might be an empty suit, but she's got a bevy or advisors, calling the shots on foreign and domestic policy. She's grooming herself for the big stage, and if we don't wise up as a party, she'll be 45 in 2012 – and that's not telling a lie about her age either.