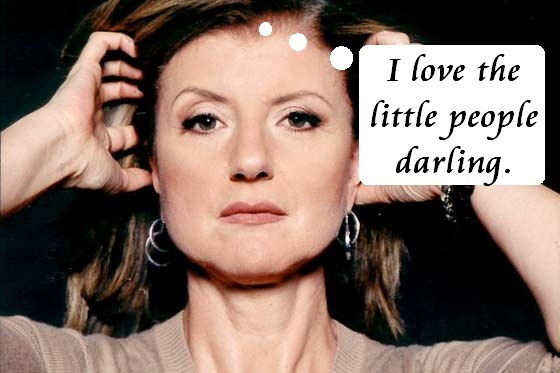 http://www.huffingtonpost.com/arianna-huffington/state-of-the-union-is-oba_b_436045.html
It seems Whoreanna has become the self-appointed spokesperson on the plight of the middle class in our country. As if. She's an ueber-right idealogue, who married a fortune and sucked up a mega divorce deal (along with a lot of other things along the way) and suddenly converted from slightly Right of the Teabag Party to saintly Progressive overnight in November 2004 … for a price. (No surprise there).
She's second-guessing and threatening this President again. No doubt tomorrow she'll be all over MSNBC, causing Ed's blood pressure to rise, eliciting more syllable-strangling mixed metaphors from Keith, or else she'll be over on The Situation Room, causing Wolf Blitzer to cream his knickers.
She is a corporate whore doing the job of the corporations and people are stupid enough to drink her toxic koolaid. And for someone who's championing freedom of speech, she sure as hell doesn't practice it.
I would love to issue her the challenge of living for a MONTH on an average middle class salary and living in an average middle class home, juggling bills, mortgage payments, car expenses etc. She simply couldn't do it. She'd be out of that house so fast, the front door wouldn't hit her feta-cheesed ass. I don't know what makes me angrier – idiots like Huffington getting kudos and credits for being clever or the dumbasses who follow her religiously.
Right … I'm going to the dark room now.