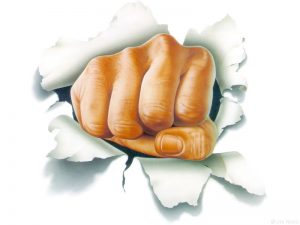 We just had a 1-2-3-4 combination of punches and we're reeling.
1. The election of Brown and the loss of a Dem 60 vote majority in The Senate.
2. The concession that HCR will not be passed.
3. Pres. Obama's choosing "bipartisanship" over fighting for Progressive values.
4. The Supreme Court nakedly handing our political system to corporations.
It's overwhelming, a bit much to deal with in the span of a couple of days. But as usual, once I have the chance to fully process everything, I want to turn my outrage into action.
From the beginning, PlanetPOV was intended to become a citizen's think tank, a blog for substantive discussions  and a place to organize initiatives.
That is, a place for talk and action.
We have begun our first comprehensive project, ProjectPOV, under Nellie's fine leadership. If you haven't already, may I suggest clicking over to it to check it out. Also, I'd suggest that all members wishing to participate leave a brief comment and check the box to receive email notifications on new comments so you can stay updated.
With the events that have recently unfolded, I would like to propose adding one more activist project to our plate (which will dovetail with ProjectPOV).
Consider the four setbacks listed above and let's discuss here what action, if any, a majority here would be interested in pursuing.
Some suggestions to start the ball rolling:
1. Should PlanetPOV join petition drives with other, bigger organizations for Congressional action on reversing the SC decision?
2. Should we draft a letter that can be co-signed by members and sent to The White House and Dem Congresspeople demanding bold action, commitment and/or exercising the Nuclear Option to accomplish true HCR and other items on the Progressive Agenda or else be seen as failures and unworthy of enthusiastic support?
3. Should we draft a petition calling on Pres. Obama to abandon this quest for bipartisanship in favor of being a bold, tough leader fighting for Progressive values with no holds barred?
4.  Should we research the logistics of getting Propositions on state ballots that could reign in corporations, later seeking collaborations with other entities on moving such propositions forward if viable?
5. Should we draft Letters to Editors for members to send to their local papers, co-signed by all members in agreement?
What else could or should we do to step up to these challenges to our nation's future?
Please add your suggestions and do mention which others you may support. I will then create a poll that lists them for members to vote on and thus chart our course of action.
I can't stand sitting around and feeling screwed, it's time for action.