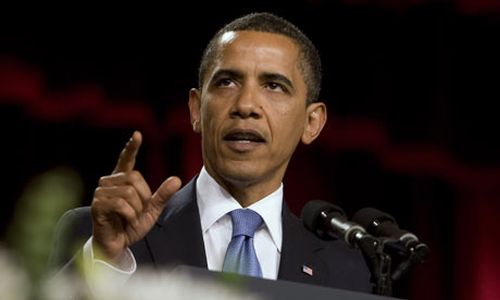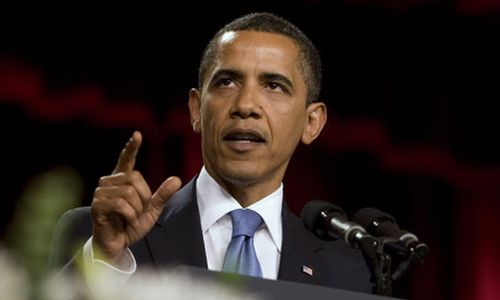 According to AP "Obama Steps Up His Campaign Against Wall Street Banks".
It seems like the first part of President Obama retooling his efforts is to reach out to the people and reign in the institutions people are rightfully directing their anger towards.
President Barack Obama stepped up his campaign against Wall Street on Thursday with a far-reaching proposal for tougher regulation of the biggest banks.

"We have to get this done," Obama said at the White House. "If these folks want a fight, it's a fight I'm ready to have."

It was a stern, populist lecture from the president to Wall Street for what he perceives as its abandonment of Main Street. Obama said the government should have the power to limit the size and complexity of large financial institutions as well as their ability to make high-risk trades.

He said it wasn't appropriate that banks have been able to run these trading operations with the protections afforded to regular banking services.

"We have to enact commonsense reforms that will protect American taxpayers and the American economy from future crises," Obama said. "For, while the financial system is far stronger today than it was one year ago, it's still operating under the same rules that led to its near-collapse."
I understand people's anger but it's all reaction from people that want pay back and only care about punishment.  These changes will be cheered on by the Huffy crowd and many progressives but it never really was my issue.  I think allot of it is grandstanding and there will be little change in the long run that positively affects people's lives.   I would much rather have HCR which looks like it's not happening.  Sorry but the system rarely repeats the exact same mistakes again the underlying reason for the banking crisis has been corrected by the banks themselves last year when they stopped making loans to people that could not pay them back.  Sure there were contributing mitigating factors that made the collapse worse like derivatives trading and a bloated housing market but even if the trading was based on predominantly safe loans and the unsustainable loans were not granted to artificially increase real estate values the financial crisis would have been much less intense.
I also do not see how this is going to help out main street save for making some people feel better.  The economy is out of governments control in most aspects.  No matter what FDR did it took WWII to really end the Great Depression.   Sure we can have another stimulus like the last 2 stimulus's we had the previous two years but if big business keeps on laying off people it really does not matter.  People need to wake up and understand that big business is in the final phase of creating the kind of work environment that only favors them.  They have Americans so afraid of being fired, especially when they are going to lose benefits like healthcare insurance, that they will work harder for less.  Conservatives in big business will continue to reap more profits but they will not be hiring until at least after the midterms so they can help their party get back into power again.  That's the real conspiracy American workers should know.
Sure it's good political move for our short term thinking country but it could be another set up for failure with the bought and paid for Congress anyway who will take the teeth out of any legislation he proposes.  Obama be should responding to the people more but in a way to show how the future needs long term fixes like healthcare reform.   These short term populist efforts will do little to make the future better so the reactionaries win out again in round one.
UPDATE Wall Street does not seem to like this new populist president.
The Dow Jones industrial average tumbled 210 points after dropping 122 on Wednesday. The index has seen four straight triple-digit moves and the latest slide erased the Dow's gains for 2010. Bond prices rose as the stock market became more volatile.
Yeah again it will make people feel better but I still don't see how this helps main street.