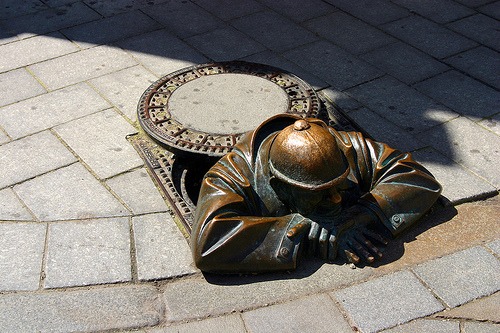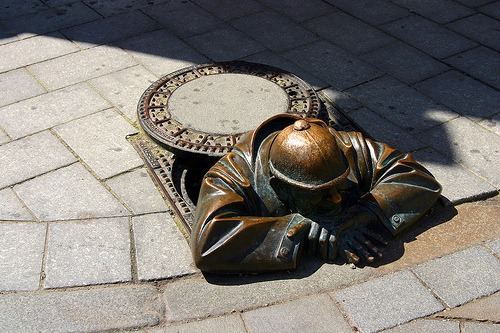 What are the priorities of the political leaders? Damn if I know. The latest bitching in the MSM pseudo-news is something about Senator Reid being a racist. Well this was what the GOP leadership is whining about anyway: Steele said ""All I know is that if (Senate Republican leader) Mitch McConnell had said those very words, that this chairman and this president would be calling for his head, and they would be labeling every Republican in the country as a racist for saying exactly what this chairman has just said."
The pot calling the kettle black (or is that racist?) Political correctness is bullshit.
I remember the good old days in college when the emphasis was on gender neutral language. I always had difficulty when writing about manhole covers: in reality they're not gender specific. When I used the term "homo-sapiens access portal" it was confusing to my audience because it was difficult to determine if I was writing about science-fiction, anthropology, biology, astrophysics or mechanical engineering. Somehow "he and or she hole cover" didn't quite get it either. Now my audience would think I was talking about an "abstinence only" sex education initiative. Meanwhile, the whole time I am troubling about the correct language to use in my essay about public utilities in the 20th century, I was in the process of alienating an entire generation of public utilities workers who had no idea what the fuss was about in the first place. I digress.
Since my wife just lost her job on Friday and our medical coverage along with it (no COBRA when a company goes bankrupt), this makes two of us unemployed now. Between the two of us we have 12 years of college education but regrettably there's no illustrious MBA to pimp ourselves with. I lost my job right after the 2008 elections. My unemployment is running thin. If it wasn't for the fact that our house is paid for we'd be out on the streets pretty soon.
Meanwhile there's this crap flying around in Washington that seems to be about anything and everything except what real citizens in the country need. Oh excuse me was that the "change we can believe in?" Give me a break – a mandate to buy health insurance? These assholes won't be finished until they bleed every single person dry. I guess that the constitution is still in shredder because these clowns are still doing whatever they please.
Can I just say that I am a little put off by all of this? Thanks.