WHAT THE MEDIA IS COVERING
A report from the Columbia Journalism Review notes that very little of the reporting on what to do about the health care system is actually about the health care system. Instead, it's mostly reporting on the chatter about the health care system:
"The Project for Excellence in Journalism, for example, found that 55 percent of coverage of health care has been about the political battles, 16 percent about the protests, and only 8 percent about substantive issues like how the system works now, what will happen if it remains unchanged, and what proposed changes will mean for ordinary people."
In other words, the press is spending more time on the fighting, rather than on the substance. It's filler and fluff — that often misleads and distracts from the actual discussion. There's a tremendous need for thoughtful discussions about healthcare, and it's a issue where professional journalists could be a huge help. But it's a lot easier to just focus on the play-by-play commentary, rather than actually adding value.
WHAT THE MEDIA IS NOT COVERING
From the start, TV networks shut out coverage of single-payer as an option for health reform. Despite overwhelming public support for a greater government role in health insurance, pundits were advising us that even Obama's modest proposal of making private insurance corporations compete with a public insurance fund probably had to be scrapped.
The media could have put an end to the fear mongering about Obama's plan being a "Trojan horse" for "socialized" medicine if it had provided the public with accurate information on Medicare-for-all and its benefits. Single payer, after all, is seen by many experts as the most effective way of achieving the goals of healthcare reform: Reducing costs while expanding coverage. I didn't hear that repeated by the MSM. What I heard instead was barely a mention.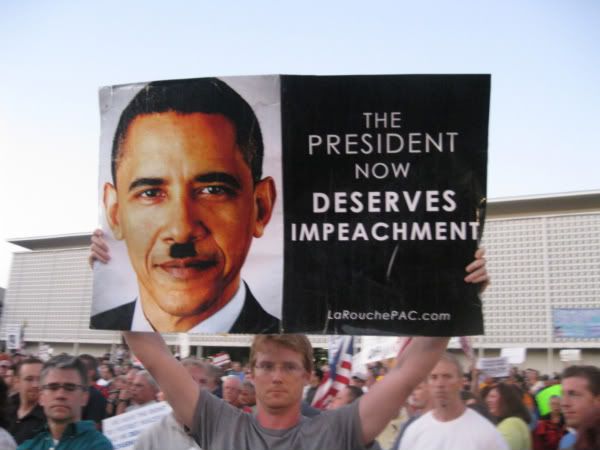 The media could have countered the pundits' insistence that Obama  must "compromise" with industry-backed politicians by pointing out that the "public option" is already a serious compromise, given that most citizens and physicians actually favor "single-payer" — a more comprehensive and progressive option.  It has been only in the last few weeks that reporters state that most of those polled want some form of government run health insurance. Annals of Internal Medicine found that 59 percent of physicians also support single-payer. We heard barely a peep about those polls.
It is largely the media's fault that Obama's plan (the plan where the Public Option represented "a sliver" of reform) came to be seen as the most liberal position in the debate. A recent study by FAIR found that of hundreds of stories about healthcare in major outlets earlier this year, only five stories included the views of advocates of single-payer — none of which appeared on the TV networks.
The corporate media have also failed to report on the problem of health and insurance industries attempting to influence many legislators with a flood of campaign contributions.
One media watchdog searched Nexis on the New York Times, Washington Post, Newsweek and Time, and on the three nightly network news broadcasts, looking for stories that reported on amounts of health industry money being spent on members of Congress central to health care reform. Of the outlets surveyed, the newspapers were almost the only places that included such information.
And it is a HUGE story. Almost 30 of the key lawmakers who drafted the health care legislation have financial holdings totaling nearly $11 million worth of personal investments in the health care industry. But such reporting, given the volume of health care coverage, was scarce.
"If you're not careful, the newspapers will have you

hating the people who are being oppressed,

and loving the people who are doing the oppressing."
— Malcolm X
For example, we know that Max Baucus has more in campaign contributions from health and insurance industries than any other member of Congress. But news accounts portrayed Baucus' industry-friendly approach to the healthcare issue—including his dismissal of a single-payer approach and his opposition to a public option—as a reflection of his "more cautious approach," his "long history of collaborating with Republicans," or his "pursuit of a centrist compromise"  Uh, sure. Similarly, media generally left unmentioned how much Charles (kill Grandma) Grassley has gotten from health industry campaign contributions.
And in case anyone still thinks those contributions don't dictate legislation, The Center for Responsive Politics analyzed political contribution records of members of the Senate Finance Committee after its vote on two "public option" amendments to its health care bill. Democrats who voted "no" received an average of nearly half a million dollars more from pharmaceutical and health product lobbyists in the last 20 years than Democrats who voted "yes."
HOW'M I DOIN'?
The Pew Research Center for the People and the Press finds that the public gives news organizations low marks for their coverage of health care.  News about proposed health care legislation was the most closely followed story for weeks.  More than a third (36%) said they followed news about the debate more closely than any other major story, far outpacing mentions of other stories, including the economy. That last tidbit is fascinating to me, since I have heard repeatedly (mostly on MSNBC) that the health care debate is not what most people care about—it's supposed to be job, jobs, jobs!
But as health care reform continues to dominate public attention and media coverage, most Americans are critical of the way news organizations are explaining key elements of the debate.
"Can we break the machine

that is imposing right-wing radicalism

on the United States?

The scariest part

is that the media is part of that machine."
— Paul Krugman
More than seven-in-ten said the media has done either a poor (40%) or only fair (32%) job explaining details of the various proposals. Just 21% offer a positive rating of this coverage. A similar percentage say news organizations have done either a poor (37%) or only fair (33%) job explaining the effect the "proposals would have on people like yourself."  These bad poll numbers are good news—at least the public realizes what they are missing.
DISTORTING THE VOICE OF THE MAJORITY
Last summer, nothing came close to matching the intensity of coverage of the health care issue. Coverage of the proposed health care legislation was overwhelmingly focused on politics and protests. Those two storylines accounted for about three-quarters of the overall coverage of the subject.
At a town hall meeting in Montana, the President Obama accused TV news of focusing on town hall meetings when "tempers flare" because television "loves a ruckus." No kidding!
"The biases the media has are much bigger

than conservative or liberal. They're about getting ratings,

about making money, about doing stories that are easy to cover."
— Al Franken
And because of that slant in the coverage, health care reform almost got derailed because of those raucous August town-hall meetings in which Democratic members of Congress were besieged by shouters opposed to change.
But what if our media-created impression of the meetings is wrong? What if the highly publicized screamers represented only a fraction of public opinion? There is an overwhelming case that the electronic media went out of their way to cover the noise and ignored the calmer "boring" encounters at Town Halls, even though the anger reflects a fringe right-wing view, not the view of most Americans.
It's also clear that the anger that got so much attention largely reflects a fringe right-wing view opposed to all sorts of government programs most Americans support. But little of the civility that characterized so many Town Halls was ever seen on television.
Describing the outburst of anger at Specter's town hall meeting, e.g., a story said it was "a scene being played out at gatherings across the country, as Americans who are worried and angry about President Barack Obama's proposals vent while cameras roll." And it became a media–fulfilling prophesy.
LIBERALS ARE WHINERS, RIGHT-WINGERS ARE A MOVEMENT
A recent article by Eric Boelert in Media Matters pointed out a really amazing analysis of the press. He reminded us that back during the Bush years, there was really no worse crime, at least to the Beltway press, than being "angry." Serious people simply didn't conduct themselves that way in American politics. They didn't let their runaway partisan emotions get the best of them. For elite journalists during the Bush administration, liberal hatred of Bush was the reason that liberals should not be taken seriously– Because they were fueled by hatred. Serious people did not have hatred– they weren't driven by out-of-control passion.
Now, please compare that media thinking from the Bush era to the Tea Baggers and the ugly free-for-alls they unleashed last summer. The press dismissed Bush's liberal critics because they were too emotional, too full of "hatred," and not paying attention to the facts. Sort of like the anti-Obama mini-mob members who hang politicians in effigy, turn town hall forums into fact-free screaming events, arrive with loaded guns, wave swastika posters, and yell out "Heil Hitler"?
Last summer, as unhinged racist rage flowed in the streets, and as the Nazi/Hitler rhetoric grew, anger was suddenly perfectly acceptable. Anger became "authentic." Instead of being turned off by the displays of passion the way they had been when liberal protesters took to the streets prior to the Iraq war, the media touted the Right –wing mobettes  as a "phenomenon" (USA Today) staffed by a "citizen army" (Bloomberg News).
"The right-wing media is trying to marginalize the peace movement."
— Janean Garafalo
How come liberal anti-war protesters were shunned by the press, but the mini-mobs were showered with incessant coverage? It's because when angry — and overwhelmingly white — conservatives protest, they come attached with a direct line to the American psyche. I guess Liberal protesters don't tell us anything about the mood of America, but angry right-wingers do, huh?
"An unconscious people, an indoctrinated people, a people fed only partisan information and opinion that confirm their own bias, a people made morbidly obese in mind and spirit by the junk food of propaganda is less inclined to put up a fight, ask questions and be skeptical. And just as a democracy can die of too many lies, that kind of orthodoxy can kill us, too."
— Bill Moyers
Thank you, Bill Moyers, for all you have done to educate us and explain to us while the rest of the media is an epic fail.