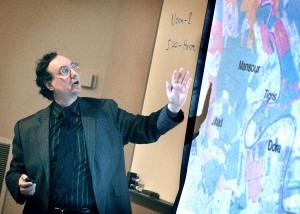 This was actually an article in a local paper about a historian and Middle East expert spreaking at the University of Montana. It was neat to see such an interesting read in the local paper.
Anyway, here is a link to the article.
I love the neocons who like to spout this nonsense that we brought "democracy" to Iraq … as if that gives more meaning to the deaths of 4,000 Americans and perhaps 500,000 Iraqis. I get so mad when I hear that.
Partly because, the neocons' story has changed, first of all. I'm old enough to remember that the whole point of the war supposedly to begin with was to get Saddam's "weapons of mass destruction." When that didn't pan out (gosh, you mean some of that intelligence was twisted and exaggerated?), then the meme turned into, "well we liberated Iraq from Saddam."
The historian, Dr. Juan Cole from the University of Michigan, points out "there are no political campaigns because "the candidate would be killed" and no campaign offices because "they would be bombed.
"In fact, Juan Cole told an audience of educators and students on Monday afternoon, only the presence of the U.S. military has kept the very brief experiment in Iraqi democracy from turning into a bloodbath."
Cole is very pessimistic that a democracy will survive in Iraq, at least peacefully. The massive bombings there this week continue to illustrate American sacrifices have not helped to create a stable country.
Does this sound like "liberation" to you? Whenever I hear, that "we brought democracy to Iraq," it gets my blood boiling. Is this the neocons' idea of "democracy?" Was this really worth the death of more than 4,000 Americans and perhaps 500,000 Iraqis?
What I find so weak about the "exporting democracy" argument is, if that was our true intent in Iraq, then why don't we invade pretty much the entire continent of Africa? I'd say Africa is desperately in need of some democracy. How about Myanmar? Or CHINA? This isn't about exporting democracy. And it never was. Just another dishonest neocon meme.