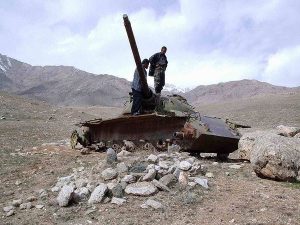 Disclaimer: This post will SURELY inflame many people.  Please keep a level head and post counterpoints which we, MOSTLY myself can learn from.
Last night, I watched Dan Rather give another report on the ground in Afghanistan.   Arguably, Dan knows more than any other reporter about the history of our involvement in this country (11 tours?).
Incidentally, I believe you have to buy the shows on iTunes or here: http://www.hd.net/danrather.html.  There may be YouTube copies, I don't know.
Back to the subject.  I USED to believe there was a way to create a barrier on the border of Afghanistan and Pakistan that could ultimately be maintained by centralized Afghani military forces.  And, I believed that infrastructure could be setup relatively quickly (in 2-4 years).  I no longer believe that.  First, a few of my subjective observations:
* Dan himself AND the military pointed out that the Elders (the multitude of clan leaders in each village and city) were the most powerful force in Afghanistan.  The most capable force for ejecting Al Quaeda militants, governing the area, and stabilizing the region.
* The NEW idea from Obama is to withdraw from the outlying areas where the militias have strong holds and focus all resources on certain cities which will  ultimately become strongholds for the centralized Afghan military and police forces (APF and AMF??)
* The new forces will ultimately lead to the necessary campaigns to maintain the critical internal trade routes and border security.  From that point, the Al Quaeda will not have a new home to go to.  THEORETICALLY, we could them work with the Pakistani's to destroy the Al Quaeda influence (yet another military engagement).
I call BS.
The new centralized military forces WILL take away power from the Elders and will engender paranoia that another dictatorship or fascist organization will attempt to disrupt their power structure.  This will result in the same scenarios we saw with the British, and USSR.  Un-winable guerrilla warfare in some of the most brutal landscapes in Eastern Asia.
EVEN IF we succeed…there's still Pakistan.  Why is Al Quaeda thriving there?  Do we have to offer 100,000 troops to Pakistan to help them as well?  What happens after that?
IMO: The REAL reason for our engagement in Iraq (first) and Afghanistan now is the newly built oil supply line from Iraq running through Afghanistan.  Protection of the oil is and has always been the primary objective for "stabilizing" the region.
Wouldn't it be better to withdraw ALL troops from Iraq and Afghanistan and focus the trillions of dollars that will ultimately cost us on:
A) Getting the best bang for out buck on local energy (as in from Siberia all the way to South America)
and
B) Developing ultimate renewable energy dependence?
The short term gain would be a whole LOAD of troops to guard our northern and southern borders which we are in dire need of doing anyway.
So, tell me…how far off base am I on this?