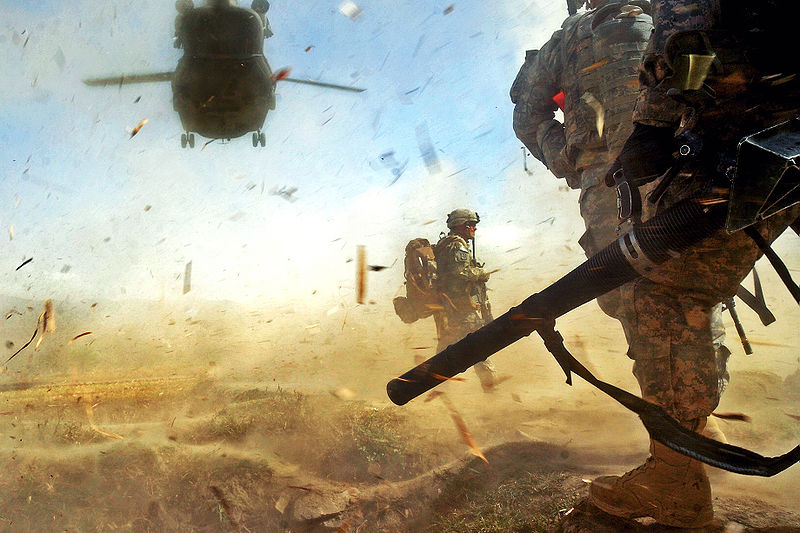 President Obama is going to announce his plans for Afghanistan after Thanksgiving.
It may be ironic that by then we will be done giving thanks.
Word right now is that the military anticipates over 30,000 more soldiers being sent there. Pres. Obama will present his decision and reasoning to the country in a national address.
There are many considerations that have gone into this decision but two key questions many have are on the basic premise of the war and what signals that we have succeeded and can the end of the war.
First, let's consider what the premise of the war is. Is it to defeat The Taliban there? Is it to destroy Al Qaeda there? Is it to help build the country's infrastructure? Is it to help ensure an honest democratic government (when we get one, let me know)?
Pres. Obama will present us with what his premise is for our continuing the war. Doubtless, he will mention the need to confront those who attacked us on 9/11. The problem with that premise is that they are most likely in Pakistan. Another probable premise is to help free the people of Taliban control. The problems with that premise are numerous.
First, The Taliban in Afghanistan are not a united group, they are a collection of warlords, religious fanatics, local tribes, etc. The Taliban fighters are experienced in guerrilla force, using their knowledge of their native terrain against our military. Sound familiar to certain unwinnable war in the '70's?
Second, our goal then is to spend blood and treasure on freeing the people of Afghanistan from Taliban control…so they can instead be under the control of a corrupt dictatorship masquerading as a democracy? If we are fighting there to put the people under the thumb of the corrupt Karzai, are we really the good guys in this?
Third, we supposedly defeated the Taliban after 9/11. They regrouped and grew back to a formidable force. Why would we expect any different result after we "defeated" them again?
Let me propose a few premises and questions:
a. Fighting a war to permanently destroy The Taliban has proven futile in the past and may very well be proven futile again.
b. Al Qaeda has evolved, they no longer have training camps with monkey bars. They no longer are physically centralized anywhere (they have the internet and are loosely spread around the world), certainly not in Afghanistan. However, a big contingency of Al Qaeda are now in Pakistan.
c. Pakistan has nuclear weapons. Afghanistan has rocks. Which country would pose more of a threat if Al Qaeda took it over?
d. With our military stretched thin and our treasury at a breaking point, how can we afford to continue pouring billions a month into nebulous wars? Isn't this drain on our government and military readiness a substantial threat?
e. If the end game is to beat back the Taliban so the illegitimate government can control the country, how is that really an end when our military would need to remain to hold back the Taliban from returning to control as has happened before?
f. While we focus most of our military and resources in Afghanistan fighting the Taliban, could we pay a price for not instead applying them to fight Al Qaeda in Pakistan?
There is one huge issue here as well, the humanitarian issue. Real human beings, especially women and children are suffering under Taliban. If the U.S. were to pull out, could we leave these people at the mercy of The Taliban? We don't have to and we shouldn't.
Now I don't plan on running for President until 2016 so I won't be in a position to implement my plan in the near future but I do have a doable proposal that has a real exit plan.
My proposal is to first accept reality. We can't kill all the Taliban. We can't control all of Afghanistan anymore than the Soviets or the many others throughout history who have tried. So we shouldn't be fighting to gain control of the country.
However, we can create and protect safe zones, Green Zones, as we did in Iraq. But instead of creating them to protect a U.S. occupation, we could create them for The Afghan people. We could begin by creating one safe and protected community at a time, training Afghans to take over the duties of protection and policing and spend a fraction of what we're spending now on the war on building a functional infrastructure in that town. Schools, running water, electricity (solar and wind energy would do quite well there). Money could be spent to relocate businesses and people (especially the vulnerable women and children) to this Green Zone and there would be the prospects of a decent life for its citizens.
Once one Green Zone city flourishes, another could be supported in another part of the country. The cycle could continue and if successful, could allow the Afghans themselves to eventually finance and manage the modernization and prospering of their own nation.
And as for the Taliban, as opportunity and jobs grow for young men, as more can make a decent living and enjoy their lives, fewer and fewer will be poor and desperate pawns to be prayed upon for recruitment by The Taliban.
The approach to some big problems is sometimes micro-solutions. By taking on a big task we can't accomplish, we help no one. By taking on the same goal with a series of smaller, achievable and finite missions, we are helping people along the way as we proceed to the overall goal of helping many more.
BTW, your campaign contributions to Adlib 2016 are not tax deductible.