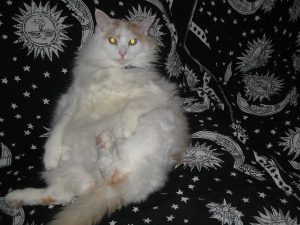 Whatever happened to 'bring 'em on'?  Although GWB sounded like a fan from the 'Get 'er done' fool,  at least he had the false bravado so sound sincere. ;).  What has happened to the GOP?  Do you mean to tell us that we don't have the balls to bring KSM to New York and try him here in criminal courts?  Instead we have a bunch of nattering nabobs of pussydom screaming that KSM will escape and kidnap Bloomburg's daughter.  Really?  Are you kidding me?  After all these years of it being oh so subtly suggested that liberals like me were wimps it's never been more obvious that the biggest wimps are the wonderful members of the GOP.  It might as well stand for the Grand Old Pussies*.
Here in Michigan where our economy is in the pits, we have a prison that is closing and 100's of people are going to lose their jobs and turn the town of Standish into a ghostown.  It was suggested since it's a maximun security prison it would be an ideal place to keep the detainees from Gitmo.  It's in the middle of nowhere, in a rural area, and if one of the detainees managed to escape a non English speaking Middle Eastern dressed in orange might just stick out in an all white rural area.  Even the people of Standish were for it at first, until a GOP town hall was held and the right wing sissy pants managed to change the sheeples minds.  Now it might go to Illinois along with 3000 jobs if that state does not wimp out.
What in the hell is happening to our country?  I have 'balls', (I am a woman) don't you?
*I do not mean to denigrate cat's in my description of the GOP, my husband and I have 6 of them.  If the image does manage to show,  it is a photo of our fuzz ball Willie.