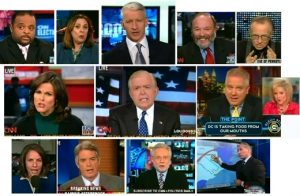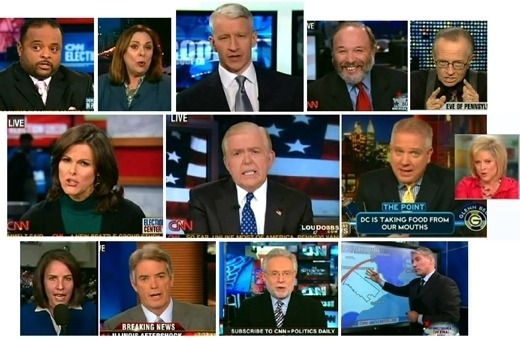 Yesterday, the top headline screaming in 40 point electric red font on the most popular progressive political blog focused on one of the most important issues facing the nation, namely, Diane Sawyer taking over for Charlie Gibson.
Later that day, it was bumped as the lead story to share the revelation that like everything else, college tuitions have gone up and are harder to pay for.
As with 24 hour news channels, the most popular outlets for news are like addicts who need a current supply of potent substance to keep their viewers habit going.
I exempt PlanetPOV from being such a news junkie, this site is opinion based and for good or evil, there is and will never be a shortage of opinions in this world. But sites and stations that are news delivery vehicles have to either create or generate news when current events won't cooperate.
Thus the exacerbation and exploitation of fringe accusations is presented as news. Mundane or celebrity related stories become breaking stories.
In today's MSM (and that includes popular news websites as referenced above), sensationalism is what they serve, not the people. Quarterly profits, not the people.
The reason that the founders made the very first amendment to the Constitution freedom of the press was that they saw the Fourth Estate as the Fourth branch of government. If the other three branches became corrupt or failed the people, the press would be the final safety net to protect our democracy from being lost and/or dominated by the wealthy and powerful.
How then does it affect this safety net when the media is owned by the very people it was meant to be a last best protection from? Back in those days, the press was an independent entity, not owned by corporations (which didn't exist then) but independently owned. There was no way for the Founders to have foreseen that events would develop where business entities were declared "people" and were seen as such in the eyes of the law…only, BTW,  when it was beneficial to corporations that is.
Consider for a moment if I asked you to give me your savings and I'll invest them for you to make lots of money for you. But instead, I gambled with your money and gave myself all the profits while assigning all the losses to you. When you asked for your money back I'd explain that though I made a fortune by managing your savings, your money was all lost because I depended on the kindness of other gamblers to take care of it and they didn't.
As a human person, I would be in jail for fraud and slammed with a massive lawsuit.
If I was a Corporation "person", I could obviously not be jailed since I wouldn't have a physical body and since I have financed the elections of people who make the laws and have made the laws so that my behavior has been classified as a common and acceptable business practice, I can not be sued either.
In fact, since those elected officials rely on me to be re-elected, they allow and declare me to be "too big to fail" and actually give me MORE of your money to make up for the other money of yours I gambled away but I don't have to give that money back to you! And, I still have my profits from when I gambled with your money! I love capitalism!
The wonderful documentary, "The Corporation" dedicates a portion of the film to analyzing the behavior of a "person" that is a corporation as if its behavior was that of a person that was flesh and blood. The conclusion of the  analysis of a corporate "person"s traits, decision making,  responses, etc. perfectly fit the clinical description of  a sociopath.
Now, if sociopaths are running what used to be the last chance protector of American's democracy, where does that leave us and our hopes for the future of our nation? Are we to be resigned to drowning in fear-inducing hysteria, celebrity gossip and political scripts of propaganda as our "news" for the foreseeable future? Has investigative journalism and the press legitimately challenging elected officials just become quaint nostalgia?
Not exactly. As President Obama's election has demonstrated, the organizational and informational power of the internet has by default emerged to fill the very shoes of an independent press that was relied on by the founders to safeguard this democracy if all else failed.
The preponderance of blogs, bloggers, independent webzines and journalists throughout the internet form a Great Wall of public expression and participation in our democracy that can't help but be respected by politicians and officials. Many stories and exposes have occurred solely because of individuals writing articles on the internet.
We are inestimably fortunate that at a time when corporate control and domination of our media was becoming complete…the internet surfaced and flourished.
Had it not been so, we might today have no choice but to be living in the deepest, darkest depression this nation had ever seen with no end in sight, mourning the passing of President McCain and packing our bags on our move to Europe before President Palin was officially sworn in.
As much as one may have criticisms of President Obama, that alternate reality would be a tad bit more of a freaking nightmare.