Well Dick your lawless administration offended anyone in this nation that believes in the rule of law.
Fucquis Chenem DiquatTM
Former Vice President Dick Cheney, claimed president Obama was allowing Attorney General Holder to investigate allegations of torture for partisan political reasons and restating that the president's policies are making us less safe.
Fist let's make one thing perfectly clear: DICK CHENEY YOU DID NOT KEEP THE AMERICAN PEOPLE SAFE FOR EIGHT YEARS!
In fact Dick Cheney and his administration gave up the largest terrorist attack in world history and started a criminal war that led to the violent deaths of hundreds of thousands of people.  Furthermore Dick Cheney created an environment of torture tactics that did not keep us safe.  These torture tactics only spurred on the enemy which used pictures and knowledge of Dick Cheney's torture squads as their major recruiting weapon.
Dick you do no know your Constitution either.  The President of the United States in not the chief law enforcement officer in the land.  The president's job is to act withing the law and uphold the law, however the president upholds the law by appointing an INDEPENDENT Attorney General as the chief law enforcer in the land.  This assures the president is not ABOVE the law like emperor Dick Cheney was as Vice President when his administration was in power.  If we lived in Dick Cheney Land and not the USA we would be living in a quasi-dictatorship where the exalted emperor Dick Cheney was above the law.
No president Obama did not want these investigations even though most of his base wanted him to lead these investigations.  Unlike Dick Cheney's tenure in office when he did not do anything the base of his party did not applaud whether it was legal or not.  President Obama did the right thing by appointing an independent AG, Eric Holder, who went beyond his president's and the CIA's wishes to enforce the law which is his charter.  Again unlike Dick Cheney's administration who politicized the Department of Justice and enabled for the first time in our history a unitarian Vice Presidency to rule the executive branch.  Another extra-Constitutional mockery of justice perpetrated by Dick Cheney.
America is safer now because the world hates us less since we no longer torture and hold the rule of law as something to aspire to and not work around.  However, we all know what your game is by now Dick.   Like most right wing Republicans you only care about this country when you feel like you have control of this country.  Dick Cheney does not really care about the safety of this nation.   Instead he is making a political calculation that if we are attacked when Obama is president he can say "I told you so" in order for his party to regain power.  The faux patriot who got at least five differentials to avoid fighting in the war of his generation that he suppository believed in is hoping for more American blood to be spilled just to be proven "right".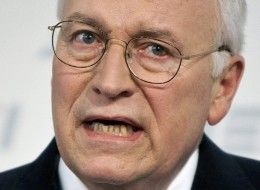 "Cheney Accuses Obama Of Launching "Intensely Partisan" Torture Investigation
Dick Cheney left little on the table during a taped interview Fox News Sunday, accusing the Obama White House pursuing an "intensely partisan" investigation into the use of torture under the Bush administration.
Calling the "enhanced interrogation techniques" used on terrorist suspects "absolutely essential," the former vice president deemed any decision to launch an probe into the possible illegal use of these EITs an "outrageous political act" and a "direct slap at the CIA."
"We had a track record now of eight years of defending the nation against any further mass casualty attacks from al Qaeda. The approach of the Obama administration should be to come to those people who were involved in that policy and say, 'How did you do it? What were the keys to keeping this country safe over that period of time?'" Cheney said.
"Instead, they're out there now threatening to disbar the lawyers who gave us the legal opinions — threatening contrary to what the president originally said. They're going to go out and investigate the CIA personnel who carried out those investigations."
Saying the move to launch an investigation "offends the hell out of me," Cheney accused Obama of succumbing to the political pressure of his progressive base.
"We had a president of the United States, President Obama, tell us a few months ago there wouldn't be an investigation," said Cheney. "Now, they get a little heat from the left wing of the Democratic Party and they are reversing course on that."
Asked to respond to this charge in the past, the Obama White House has noted that, unlike the Bush administration, it does not put political pressure on the Department of Justice. The decision to pursue an investigation into the authorization of torture — which will be preliminary in nature and narrow in scope — was made by Attorney General Eric Holder alone.
"The president is the chief law enforcement officer in the administration," Cheney said. "He is now saying, well, this isn't anything he's got to do with. He's up vacationing in Martha's Vineyard and his attorney general is going back and doing something the president said some months ago he wouldn't do.""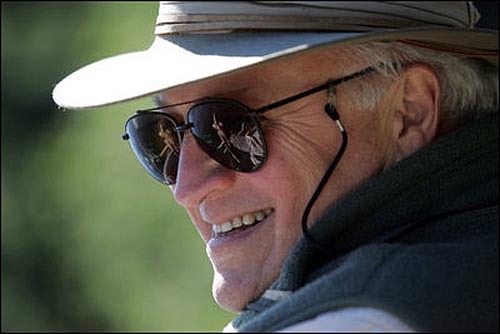 In a rare instance Senator McCain and I agree on this issue.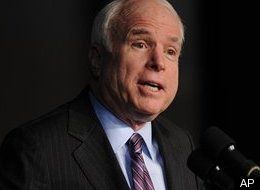 "McCain Whacks Cheney: Torture Violated Law And Helped The Terrorists
In a strong pushback against claims made by former Vice President Dick Cheney, Sen. John McCain insisted on Sunday that the use of torture on terrorism suspects violated international law, didn't work, and actually helped al Qaeda recruit additional members.
"I think the interrogations were in violation of the Geneva Conventions and the convention against torture that we ratified under President Reagan," said the Arizona Republican. "I think these interrogations, once publicized, helped al Qaeda recruit. I got that from an al Qaeda operative in a prison camp in Iraq… I think that the ability of us to work with our allies was harmed. And I believe that information, according go the FBI and others, could have been gained through other members.""