If you did not know, the dining room table that Barney Frank refused to debate was a LaRouchie.
LaRouchies are present all across the nation, including the town hall I attended a few weeks back in Pasadena, CA.
LaRouchies are deranged lunatics.
They have attached themselves to the Dem party like barnacles. Possibly because the Rethugs have the good sense to not tolerate them.
Here in CA the club system is the hub of the party. I am a charter member of one of the livelier clubs here in CA.
The LaRouchies have managed to charter a club with the party. No one can call themselves a Democratic Club without a charter. Check with a lawyer on that one!
Another critical layer of organization in the party is the Assembly Committee. Each assembly district has a committee, any registered Dem can attend the election of delegates every two years, the delegates attend the state conventions, etc.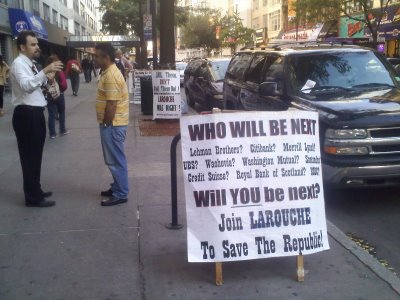 The LaRouchies make themselves a presence every time we hold one of these elections. They have a slate of candidates.
I am going to join a growing movement to strip them of their charter. And I am going to make them horrifically unwelcome at the next AD election
All the clubs have a duty to advance the interests of the party. Obviously the LaRouchies are failing to adhere to that standard. They must be purged from the party.
Every state party has the rigtht to organize itself as it sees fit, and as a consequence there are ten or fifteen differnet models of organization.
Find out how your state party works, get involved, and please please do all you can to purge the LaRouchies.