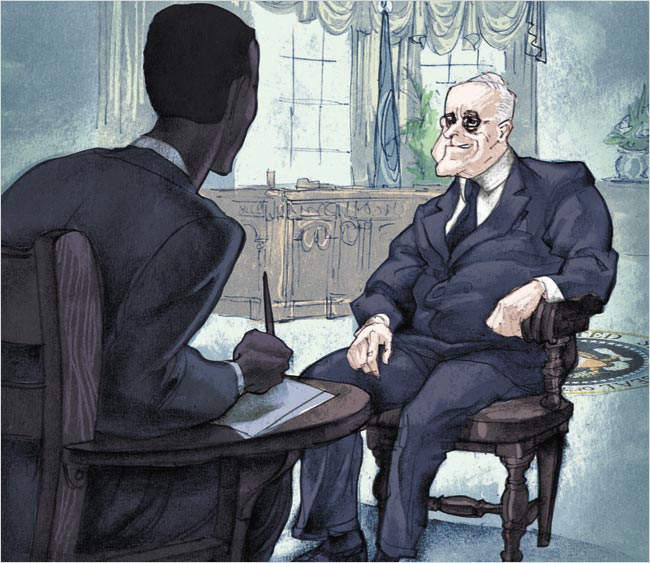 I previously had thought only conservatives revised history to fit the memes of the modern day but it seems like progressives are playing that game as well. We have all heard the right wing revisions of history like FDR was not successful at ending the Great Depression when the truth is even before WWII his policies cut unemployment by 2/3rds. The current right wing meme is that Hitler was a socialist not a fascist when Hitler's NAZI Deutschland was nothing like the modern European Socialism of our day.
No we have many progressives or so called progressives I should say revising the history behind Social Security. Just last night Arianna Huffington when on Charlie Rose saying FDR did not compromise on Social Security.  Nothing can be further than the historical record. FDR had to deal with racist and sexist Dixiecrats in his day. The first iteration of Social Security was not only a huge compromise but highly discriminatory. Yes after several iterations FDR achieved real egalitarian Social Security but these are some provisions of the first Social Security law.  We should not be surprised that Arianna Huffington is revising history because at heart she looks at politics like a conservative where personal attacks and lying is part of the game.
Wikipedia entry on Social Security
"Most women and minorities were excluded from the benefits of unemployment insurance and old age pensions. Employment definitions reflected typical white male categories and patterns.[11] Job categories that were not covered by the act included workers in agricultural labor, domestic service, government employees, and many teachers, nurses, hospital employees, librarians, and social workers.[12] The act also denied coverage to individuals who worked intermittently.[13] These jobs were dominated by women and minorities. For example, women made up 90% of domestic labor in 1940 and two-thirds of all employed black women were in domestic service.[14] Exclusions exempted nearly half the working population.[13] Nearly two-thirds of all African Americans in the labor force, 70 to 80% in some areas in the South, and just over half of all women employed were not covered by Social Security.[15][16] At the time, the NAACP protested the Social Security Act, describing it as "a sieve with holes just big enough for the majority of Negroes to fall through."[16]"
The bottom line is President Obama has to deal with many of the same kinds of antagonists to get universal healthcare reform passed. Like FDR he has to deal with a Republican base that are hyper partisan and conservative. Like FDR he has to deal with Democrats that have alternate agendas, in this case their alternate agenda is serving there corporate masters.
But let me set the record straight the first iteration of Social Security was a worse compromise than passing universal healthcare reform without a public option, because at least there will be no discrimination legislated in the bill. Of course we all want a universal healthcare bill passed with the public option the first time around but we do not have to revise history to make are points or we have as little credibility as Republicans.  Hopefully President Obama after four years and possibly eight years whole body of work as president comes close to the success of the FDR presidency worts and all.