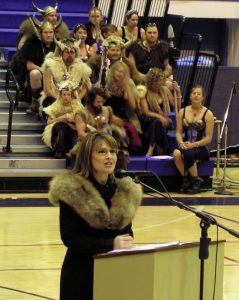 This week's latest installment in the soap opera of Sarah Palin has given again the opportuinity to reactionaries (the people who detest Bill Clinton or Barack Obama) to again ask in a plaintive voice: "Why are Liberals so hateful toward (whoever) Sarah Palin?    (Next week there will be a new victim.)
This one is not difficult.   During her campaign to bamboozle America into electing her as VP, she repeatedly divided America between "real" (patriotic) America, and that part of the nation that was not outraged that William Ayers walked the earth unmolested and intended to vote for Obama.
No apologies.   Call me a traitor?   Impugn my patriotism?   Declare yourself a more real American than me?
Fuck You.   Fuck you and all that ride in your vile little boat.