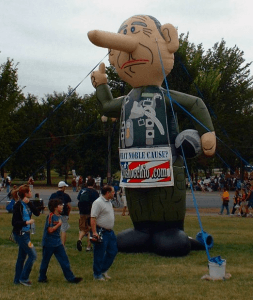 Okay, one of the bullshit arguments that Republicans trot out on Health Care should be blown up for once and for all.
I was watching Bill Maher Friday night and a dweeby Republican Woman, feigning a sense of humor (which Republicans often do since they don't understand how to intentionally be funny (see: Dennis Miller). As the conversation turned to Health Care, she robotically blamed Dems and spouted something to the effect of, "If they would only let us shop for insurance anywhere in the country we could have more competition and prices would go down…but the Democrats don't want that."
Let's run that through the Pinocchiometer…hmm, what she is really saying is, "Let's take away state's regulation of insurance, deregulate health insurance like we did with banks, how could that not be good for Americans?"
DEREGULATION???
What is their mental malfunction (quote from Full Mental Jackass)?!
The intellectually bankrupt party should be widely exposed and humiliated for this talking point deception, put in the public stocks and whipped with the phrase "deregulation" mercilessly.
The only drawback is that i think they might get "excited" by public humiliation and whippings.