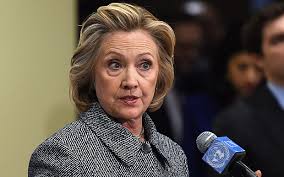 Full disclosure: I am a Bernie Sanders supporter, volunteer and donor
I was a Barack Obama supporter, volunteer and donor
There are many reasons I feel both of these candidates are comparatively better than their opponent Hillary Clinton, and reasons why they are objectively preferable.
Last year I felt that Hillary Clinton was going to be the nominee. I still feel that way today. This does not diminish my support for Bernie Sanders nor diminish my enthusiasm for his candidacy.
Taking the above into account, there is substantive case to be made against the nomination of Hillary Clinton and an equally substantive case for her general election candidacy.
The Case Against
Lets clear the dead wood out of the way. Here are things I do not care (much) about:
1) Her husband's policies
2) Her emails
3) Her past as a Goldwater Girl
4) Vince Foster
5) Whitewater
6) Benghazi
7) Her Iraq vote
8) Her excellence as a politician
1 thing (amongst others) I do care about:
Libya – Hillary has been forthright about her mistake is voting for the Iraq authorization. I forgive her for that. Considering that many were misled by the duplicitous Bush administration, that vote is at least understandable.
What is not forgiveable is then turning around and leading the charge for the toppling of another strongman using flimsy evidence/rational, creating a power vacuum that has bred civil war, the rise of terror organizations and a failed state.
Just because we didn't put "boots on the ground" doesn't mean it was successful.
Just because we didn't spend $T to depose Qaddafi doesn't mean it was worth it.
Hillary Clinton led the national and international diplomatic charge and made and prosecuted the case against Qaddafi and why he must go and go immediately.
http://www.nytimes.com/2016/02/28/us/politics/hill…
http://www.economist.com/news/leaders/21638122-ano…
https://www.foia.state.gov/Search/Results.aspx?col…
Arguably you could make the case that this shows a hawkish predaliction for regime change as a default foreign policy.
What does voting for one total disaster and then turning around and creating another disaster mean? It means you may not have the judgement to run the nation's foreign policy and military. Technocratic expertise (and no one holds a candle to Hillary) does not mean you should be in charge of the nation's foreign policy and military.
Here's why this is important:
If the GOP continues to hold the House (I think they will) and a filibuster proof minority in the Senate (I think they will) then we're looking at another 4 years of strategic and utter gridlock from the GOP on domestic issues. Any Congressional action on any domestic issue other than basic "keep the lights on" functions of government will not occur.
The entire Presidential election essentially boils down to who the electorate wants to fill Supreme Court seats and run our foreign policy. This is why Hillary's record hurts her.
The Case For
If Hillary Clinton wins the nomination I will support, volunteer for her campaign. Why? Because once the primary is over, the election ceases to be an objective election where purity and platform are the goals, and becomes a comparative election between the two parties and their platforms.
No longer is it about whether Hillary is "liberal" enough
No longer is it about whether Hillary is too beholden to Wall Street
No longer is it about whether Hillary is too hawkish for your tastes
No longer is it about whether Hillary is too much of an incrementalist
It becomes ALL about whether you want Hillary or Donald Trump at the the wheel of state.
It is about keeping a right-wing reactionary nationalist from nominating a Supreme Court justice to a lifetime appointment
It is about keeping Trump's orange fingers or Cruz's dominionist hands off the nuclear launch codes
It is about the GOP potentially controlling all three branches of government
It is about protecting our nation against the predation of a party who's sole purpose for existence is to funnel wealth and power into fewer and fewer hands.
That makes Hillary the obvious choice for President of the United States.
She shares Bernie's views on 90% of the issues. She has liberal views on some issues, moderate and conservative on others. This is reflection of the Democratic Party's composition!
And for those Bernie supporters that tell me that they'll vote 3rd party or not vote at all if Hillary wins the nomination? Leave me out of your political purity cult. You just don't get it.
If liberal, lefties and "progressives" (whatever that is) want candidates that pass their purity test, then I suggest you run for every single local, municipal and state office you can, and then "trickle-up" into federal offices. It's how the far right has slowly taken over a majority in nearly every elected office in the US other than President!
Until then, if I must…I will vote for the candidate running on manning the walls against the Huns for another 4 years. It's the only option I suspect I'll be left with.