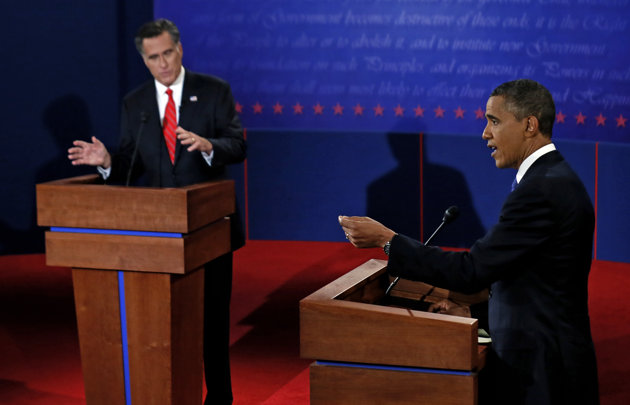 In their first debate, President Obama seemed blindsided and bewildered by Mitt Romney's tidal wave of lies and denials of reality. Obama came to the debate ready to battle over issues and Romney came with sacks of manure to pour out at each opportunity. As has been discussed since, it is truly shocking that a man can stand in front of America and lie so openly and the Mainstream Media, knowingly hands a "win" to him and Presidential standing for being so successful at convincing Americans of deceptions.
It is a disgusting travesty, how the MSM calls a man that they know is lying to the country, the winner of a debate based solely on how aggressive he was in his lies and attacks and because his opponent chose to discuss issues instead of returning personal attacks…as if this was a WWF match where the winner is determined by the one who was most hostile and the dirtiest fighter.
For any of those out there who learned to debate in school, am I remembering all of this wrong but wasn't the winner of a debate the one who used documented facts and reason to best convince those watching to their viewpoint? Does anyone remember a debate being won by someone who claimed he was right because he said so and was simply a smooth liar?
Add to this, the fragile and panicky Democrats who have been running in circles with their hair on fire because of this one positive week for Romney. Obama has had around two months non-stop of good news and one week that goes to Romney is the end of the world? Being seen as losing a debate because his opponent was an aggressive liar is the end of the Obama campaign? To this I say "pshaw" and I say it loud.
There are three more debates, the debate between Joe Biden and Paul Ryan tomorrow (we'll be live chatting throughout it here so do join us!) then two more between Obama and Romney. It is likely that this bounce for Romney will be short lived and the high point of his campaign. Why? Follow me over to the Obamatron 9000…
OBAMATRON 9000
Predictions For Upcoming Debates
1. Joe Biden will beat Paul Ryan in tomorrow night's debate
Joe Biden is the butt of many a joke, laughed at for what a gaffe-machine he is, he's discounted and ridiculed. So he doesn't go into the debate as a big favorite. Paul Ryan is (curiously) seen as an intellectual of the Right and a brilliant guy who can carry the flag for the Right Wing. He is not seen as being outmatched in a debate. So, here are Joe Biden's Advantages as I see them:
a. The low opinion of Biden on the Right and in the MSM is a benefit, making it easier for him to outperform expectations than it was for Obama.
b. Joe Biden is actually a great debater. In the 2008 Dem primaries and against media sensation Sarah Palin, Biden was skilled, effective and successful. Not many could have taken on Palin without looking condescending or bullying…or weak for not going after her enough, Biden threaded that needle with great precision.
c. Joe Biden is a "regular guy" who blue collar voters like and relate to. Many of the undecided voters remaining are in this demo and Paul Ryan is the kind of smarmy, nerdy brat that doesn't appeal to them.
d. Biden can get tough because he doesn't have to worry about Fox News branding him "an angry black man". He can go after Ryan with a tenacity that is not natural for Obama, not Presidential nor problematic in a still-racist society. And if the first Obama-Romney debate has taught us anything, it's that substance is less relevant to who the MSM crowns the winner of a debate than aggression. And between Biden and Ryan, I'll take Biden as the tougher fighter and Ryan as the weaker wonk. If Biden wins as I think is likely, then the momentum for Romney evaporates.
e. Paul Ryan is not greatly experienced in debates or national campaigns. He is also not an inspiring speaker. Most importantly, he is the architect of plans that destroy Medicare, Medicaid and a broad swath of most social programs so he will be the perfect punching bag for a populist like Joe Biden.
Typically, VP debates don't change the dynamics of a Presidential race in a big way but seeing how fragile the undecided vote is this year and how it swung after the first Obama-Romney debate, it isn't unreasonable to presume that it will have a meaningful impact.
The VP debate then ramps up to the second Obama-Romney debate.
2. President Obama will beat Mitt Romney in their second debate.
a. The debate format is Town Hall style. An audience will surround them and ask questions. Obama draws energy from being around people, he's far more comfortable in that format than standing behind a podium. Meanwhile, Romney's insincerity is on full display when interfacing with human beings. Yes, he will be slick and well rehearsed with "humanizing" statements but he will be far more vulnerable to being seen as a phony in that environment.
b. A main topic will be foreign policy. When it comes to foreign policy, Mitt Romney is an empty suit with no concrete opinions or solutions. Sure, he'll attack and blame Obama for events he had no control over (would Mitt have sent troops into Egypt to stop the people from overthrowing their tyrannical leader?) but Obama has many accomplishments and specifics to tout including killing Bin Laden, killing many Al Qaeda leaders, helping oust Gaddafi from Libya, etc. And while Romney wails about Obama on foreign policy, his "stands" are either identical to Obama's or non-existent. Romney loses on foreign policy.
c. Romney has shown his hand and is a one trick pony so Obama will be well prepared in the subsequent debates. In the first debate, Romney surprised Obama by being wholly shameless about lying about everything. This can be a bit disorienting when a man who has frequently declared that he wants to cut taxes for the wealthy by 20% as part of a $5 trillion tax cut suddenly states that none of that is true and that unicorns really exist. Obama may have had low expectations about who Romney was but it seemed clear, he hadn't imagined Romney was THAT unprincipled. Now however, Obama knows that. Romney has no surprises left, all he can do is play this hand again and again. Lie, lie, lie and deny the truth about his policies and stands on the issues. This "strategy" was effective as a stunt and surprise in Debate #1 but it will become redundant and less effective each time he tries to use it. And might Obama have put any thought into how to deal with it in the future?
This brings me to the audience participation section of this post: What should Obama do to deal with Romney's lying in the next debates? Your thoughts and comments on this question are invited, desired  and welcomed. To get the ball rolling, here's my suggestion:
President Obama shouldn't try to address each and every lie Romney spouts in two minutes because they simply can't all be covered in appropriate detail in Obama's two minutes (or whatever time limit they'll have). When someone is shooting a lot of arrows at you, don't try to catch each arrow, you take his bow away. Meaning, Obama should attack Romney as an untrustworthy liar and use each question or response to drive that point home. If Romney can be seen as the rampant liar he is, it won't matter what claims he makes if he's not believed by voters.
There are many effective ways to approach this (just calling Romney a liar isn't one of them). First, Obama could preface answers and responses by saying that Romney will say whatever it takes to win the Presidency and that he simply can't be believed or trusted with the Presidency because he isn't a person who is open and honest with the public. He's hidden his tax returns, he's hidden the hits that the middle class will take to pay for tax cuts for the wealthy, he's hidden what he'll do on health care for the uninsured…we don't need another Republican in the White House who hides the truth from the American people and destroys our economy in the process (linking him to Bush without mentioning Bush seems like a good strategy).
Second, Obama should ask Romney questions that put him on the spot about his statements and his record instead of asking him about policy specifics about which Romney can simply lie. He could ask Romney details about his 47% speech or about his inability to stand up even once to the racists and misogynists in his party. The one question I would like to hear Obama ask is, "As a matter of displaying how principled you are, name just three principled positions you've held for the last ten years without flip-flopping on them."
Your turn, what do you think Obama should say in his next debate with Romney?