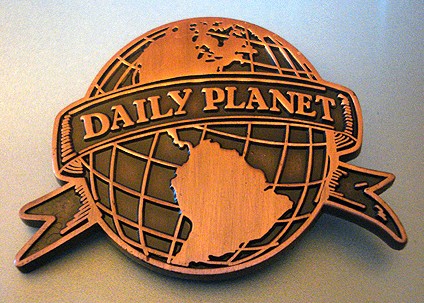 You can access all the past editions of The Daily Planet on the green Category bar on the top of each page under the heading PlanetPOV.
________________________________________
BUSINESS
Daily Beast:
American solar-panel manufacturers are accusing their Chinese counterparts of foul play. In a case filed Wednesday, seven companies claimed members of China's solar industry have been unfairly using government subsidies to up their American sales. The companies are seeking more than 100 percent of the wholesale cost of panels in trade tariffs because they say China has been "dumping solar panels in the United States for less than it costs to manufacture and ship them," according to The New York Times. If the companies win this case, the price of solar energy will surely rise, begging the controversial question of whether such action is worth the attempt to save this American industry.
ECONOMY
Corporate Front Group ALEC Pushing For Repeal Of Paid Sick Day Laws Nationwide
Recently, a string of cities and states have passed new ordinances that would require paid sick days for employees at certain employers. Just last week, Philadelphia's city council passed a second version of a paid sick leave bill after the mayor vetoed the earlier one. Earlier this year, Seattle approved paid sick days legislation, while Connecticut became the first state with a state-wide requirement.
Now, the Center for Media and Democracy's PR Watch has published an expose of how the American Legislative Exchange Council (ALEC) — a corporate front group that farms out legislation to almost a third of state legislators nationwide — is drafting legislation on behalf of its wealthy conglomerate funders to repeal these ordinances.
PR Watch obtained documents from ALEC's 2011 Annual Meeting showing that one of the group's committees — the Labor and Business Regulation Subcommittee of the Commerce, Insurance and Economic Development Task Force — focused its entire meeting on the issueof paid sick leave. Task force members, who are legislators, were given copies of a bill that enables state legislatures to override municipal paid sick days laws. The same bill was used in Wisconsin to override Milwaukee's paid sick days requirement.
PR Watch notes that ALEC's Labor and Business Regulation subcommittee is co-chaired by a company that owns many of the nation's fast food companies, major opponents of paid sick leave:
Meeting attendees were given complete copies of Wisconsin's 2011 Senate Bill 23 (now Wisconsin Act 16), as a model for state override. They were also handed a target list and map of state and local paid sick leave policies prepared by ALEC member, the National Restaurant Association. In Wisconsin, the Wisconsin Restaurant Association lobbied for SB 23 to repeal the sick leave ordinance, as did the the Metropolitan Milwaukee Association of Commerce (MMAC), the local branch of the the U.S. Chamber of Commerce, an ALEC member). Not surprisingly, ALEC's Labor and Business Regulation Subcommittee is co-chaired by YUM! Brands, Inc., which owns Kentucky Fried Chicken, Pizza Hut and Taco Bell. Fast food companies have fought paid sick leave across the country.
It is not surprising that corporate-backed groups like ALEC are gearing up to fight paid sick leave ordinances, given how quickly they are spreading across the nation. The next major city to possible get mandated paid sick days is, Denver, where residents will go to the polls on Nov. 1 to decide the fate of their city's ordinance. The U.S. is currently the world's only industrialized nation that does not require paid sick leave for workers.
Reuters:
Anyone who wants to understand the enduring nature of Occupy Wall Street and similar protests across the country need only look at the first official data on 2010 paychecks, which the U.S. government posted on the Internet on Wednesday.
The figures from payroll taxes reported to the Social Security Administration on jobs and pay are, in a word, awful.
These are important and powerful figures. Maybe the reason the government does not announce their release — and so far I am the only journalist who writes about them each year — is the data show how the United States smolders while Washington fiddles.
There were fewer jobs and they paid less last year, except at the very top where, the number of people making more than $1 million increased by 20 percent over 2009.
The median paycheck — half made more, half less — fell again in 2010, down 1.2 percent to $26,364. That works out to $507 a week, the lowest level, after adjusting for inflation, since 1999.
The number of Americans with any work fell again last year, down by more than a half million from 2009 to less than 150.4 million.
More significantly, the number of people with any work has fallen by 5.2 million since 2007, when the worst recession since the Great Depression began, with a massive taxpayer bailout of Wall Street following in late 2008.
This means 3.3 percent of people who had a job in 2007, or one in every 33, went all of 2010 without earning a dollar.
In addition to the 5.2 million people who no longer have any work add roughly 4.5 million people who, due to population growth, would normally join the workforce in three years and you have close to 10 million workers who did not find even an hour of paid work in 2010.
SIX TRILLION DOLLARS
These figures come from the Medicare tax database at the Social Security Administration, which processes every W-2 wage form. All wages, salaries, bonuses, independent contractor net income and other compensation for services subject to the Medicare tax are added up to the penny.
In 2010 total wages and salaries came to $6,009,831,055,912.11.
That's a bit more than $6 trillion. Adjusted for inflation, that is less than each of the previous four years and almost identical to 2005, when the U.S. population was 4.2 percent smaller.
While median pay — the halfway point on the salary ladder declined, average pay rose because of continuing increases at the top. Average pay was $39,959 last year, up $46 — or less than a buck a week — compared with 2009. Average pay peaked in 2007 at $40,764, which is $15 a week more than average weekly wage income in 2010.
The number of workers making $1 million or more rose to almost 94,000 from 78,000 in 2009. However, that was still below someearlier years, including 2007, when more than 110,000 workers made more than $1 million each.
At the very top, the number of workers making more than $50 million rose in 2010 to 81, up from 72 the year before. But average pay in this group declined $4.5 million to $79.6 million.
What these figures tell us is that there was a reason voters responded in the fall of 2010 to the Republican promise that if given control of Congress they would focus on one thing: jobs.
But while Republicans were swept into the majority in the House of Representatives, that promise has been ignored.
Not only has no jobs bill been enacted since January, but the House will not even bring up for a vote the jobs bill sponsored by President Obama. His bill is far from perfect, but where is the promised Republican legislation to get people back to work?
Instead of jobs, the focus on Capitol Hill is on tax cuts for corporations with untaxed profits held offshore, on continuing the temporary Bush administration tax cuts — especially for those making $1 million or more – and on cutting federal spending, which mean destroying more jobs in the short run.
At the same time, nonfinancial companies are sitting on more than $2 trillion of cash — nearly $7,000 per American — with no place to invest it profitably. This money cannot even be invested to earn the rate of inflation.
All this capital is sitting on the sidelines waiting for profitable opportunities to be invested, which will not and cannot happen until more people have jobs and wages rise, creating increased demand for goods and services.
More of the same approach we have had for most of the last three decades and all of the last ten years is not going to increase demand, create more jobs or enable overall prosperity. In the long run, continuing current policies will make even the richest among us less well off than they would be in a robust economy with government policies that foster job creation and the capital investmentthat grows from increased demand.
On top of this are the societal problems caused by something the United States has never experienced before, except during the Depression — chronic, long-term unemployment.
Having millions who want work go years without a single day on a payroll is more than just a waste of talent and time. It also can change social attitudes about work and not for the better.
The data show why protests like Occupy Wall Street have so quickly gained momentum around the country, as people who cannot find work try to focus the federal government on creating jobs and dealing with the banking sector that many demonstrators blame for the lack of jobs.
Will official Washington look at the numbers and change course? Or do voters need to change their elected representatives if they want to put America back on a path to widespread prosperity?
Good news today for the 67 and over crowd: Social Security will increase payments to seniors by 3.6 percent to keep up with the rising cost of living, the first such increase since 2009.
Bad news for the age group right underneath: 55 to 64-year-olds have fared worst in the recession than any other demographic.
That's the takeaway from a GAO study out Tuesday, which investigates the impact of tough economic times on older Americans. It finds that the recession has exacerbated some employment disparities that used to be relatively minor. What was a two-week gap in median weeks of unemployment between the young and old, for example, has now grown to a 10 week divide. Take a look:
The report also found that household income fell by 6% for 55 to 64-year-old adults, but actually rose by 5 percent for those 65 and older. There was a similar split on net worth: poverty rates went up for those in the younger age range but went down for those in the older one.
Adults between 55 and 64 are, essentially, in the worst of both income worlds: both ineligible for many social benefits, like Social Security and Medicare, but also having more trouble finding new employment.
Mother Jones:
Suzy Khimm notes today that student loan delinquency rates are continuing to rise:
As USA Today notes, outstanding student loans have now hit a record high of more than $1 trillion, and "Americans now owe more on student loans than on credit cards," according to the new data. Since the peak of the crisis in 2009, they've become increasingly able to pay off their credit cards and mortgages. But the student loan debt crisis has continued mostly unabated.
There's something a little odd here, though. The big spike in 2002 is almost certainly an artifact, possibly due to a change in the interest rate structure of student loans that was scheduled to take effect in 2003 but then repealed in 2002. So ignore that. But take a look at a couple of other things:
Even now, the 90-day delinquency rate is lower than it was during the boom years of the late 90s.
The other categories of loans all started showing suddenly higher delinquency rates starting in 2007-08, a sign of financial distress. But ever since the 2002-03 spike, student loan delinquency rates (as well as default rates) have been rising steadily. Whatever's happening, it's not really due to the recession. Just eyeballing the numbers, it doesn't look like the growth in delinquency rates changed at all after 2008. It just kept growing at its usual rate.
So what's going on? Well, credit card delinquencies are probably declining because banks have cut off a lot of credit. Mortgage delinquencies are probably falling because homes are being foreclosed. HELOCs and auto loan delinquencies haven't fallen at all, just like student loans.
I'd like to see the cost of college remain reasonable, especially the cost of public universities, and I think the growth in student loan debt is probably a bad thing overall. I want to motivate more kids to go to college, not put in place incentives not to. Still, the delinquency problem for student loans doesn't really appear any worse than for any other kind of loan, and compared to the 90s it's actually better. It's possible that the 2002-03 spike has misled us by artificially pushing delinquency rates temporarily below their natural level. If it weren't for that, student loan delinquency rates might have looked pretty flat over the past decade. More analysis, please.
First Lady Michelle Obama Announces Major Private Sector Commitment to Hire Veterans and Military Spouses
[…] The commitment comes from the American Logistics Association (ALA) and their 270 affiliate companies coming together to hire 25,000 veterans and spouses by the end of 2013.
The commitment by the ALA and its affiliate companies reflect the largest coordinated effort by the private sector to date to hire veterans and military spouses. The effort speaks to the capacity of the private sector to positively influence veteran and spouse employment.
On August 5 during a Veterans Jobs Initiatives speech at the Washington Navy Yard, President Obama challenged the private sector to hire 100,000 veterans or spouses by the end of 2013. President Obama asked the First Lady and Dr. Biden to lead this effort as part of their Joining Forces initiative.
To date, more than twenty-five individual companies have stepped up and committed to veteran hiring or training targets and ninety-six companies formed a public private partnership with the Department of Defense to hire military spouses. This collective effort has resulted in more than 12,000 veterans and spouses hired.
EDUCATION
Cherry Creek News:
Local control. For years the phrase has resonated throughout the West, particularly when it comes to schools.
In its simplest form, it means that people who live "here," determine what happens "here."  For some, that formulation that particular meaning with schools and school districts, as the ability for parents to shape decision-making in their children's school has long been a paramount value.
In Denver, that long-held belief is today being shredded as record-breaking sums of corporate money have flooded the school district in the form of campaign contributions, fake grassroots organizations and grant money.
For decades, running for unpaid, non-partisan job of school board required modest fundraising. The teacher's union was a big player, but their candidates lost with some frequency.  Many candidates who won with union support felt free to oppose union agenda with impunity. It was a low-stakes affair, and policy was made largely collaboratively, with an emphasis on constituent desires outcomes.
But a few years ago, insiders say, Senator Michael Bennet, then Denver Public Schools Superintendent, went to Republican oilman (now-University of Colorado president) Bruce Benson. What followed was unprecedented campaign contributions from large Republican donors into school board races in Denver. The big contributions changed the face of Denver's school board races.
Two years later, a so-called "grassroots" group based out of Portland, Oregon called Stand for Children came to Denver. It's first organizer, Johnny Merrill, was open about the intent of the group: to impact the Denver school board races, and that Bennet had invited the group to Denver.
Make no mistake about it: this group, with an avowed agenda to undermine teachers, is specifically designed to siphon dollars from Wall Street and the Chicago investment community into local races across the country.
In 2010, for instance, Stand for Children spent unprecedented sums in Illinois in legislative races last election cycle, outflanking the supporters of traditional public education, resulting in legislation that killed basic protections for teachers in the state. The group's executive director subsequently bragged that in spending such huge sums of money, "individual candidates were essentially a vehicle to execute a political objective" – one aiming to fundamentally undermine traditional public education. He also bragged that "luckily it never never got covered that way" as "the press never picked up on" what they weredoing.
In other words, this organization fully acknowledges that it's whole r'aison d'etre is to secretly buy education policy. And now this very same organization has joined with the biggest of big money donors to dump massive amounts of corporate cash into the Denver School Board elections.
The key question is why – why is this confluence of cash and outside special interest groups so interested in buying Denver's 2011 election? Why are diehard Republican operatives like Benson and oil company CEOs like Henry Gordon underwriting the likes of Ann Bye Rowe and Jennifer Draper Carson with tens of thousands of dollars? Are they writing these huge checks because of their allegiance to Republicans' long held advocacy for vouchers to fund private and religious schools? Have these big donors been given assurances by these candidates that, if elected, they will work to privatize public education through charters schools? Or is it just a long-held antipathy toward teacher unions past contributions to Democratic campaigns?
What else could prompt a politically motivated group of oil company executives and Fortune 500 CEOs to $10,000 and $25,000 checks for a school board race in a community where they neither live nor have school children? What are they trying to buy? And has the slate of candidates who received those historically unprecedented sums of cash made secret public policy promises to these big donors?
Denver voters have not just a right but a need to know the answer to these questions before casting their votes for school board. They have to know whether this slate of candidates is secretly trying to sell DPS to the highest corporate bidder and destroy the last vestiges of local control of our schools.
HEALTH CARE
Wonkblog:
Across the political spectrum, there's pretty widespread recognition that, as written, health reform's CLASS Act would have failed. The long-term care insurance program wouldn't be able to cover the expected health care costs of those most likely to enroll: people who needed to use a lot of health care.
But what we have now doesn't work very well, either. Only about 7 million Americans currently buy insurance policies for long-term care, even though many more will need these kind of services, like nursing homes and rehabilitative care, at some point in their lives.
There are a lot of reasons for the low take-up, which range from the high cost of premiums to lack of information to confusion about what services Medicare will cover. What that means, is a lot of Americans end up covering long-term care costs out of pocket. When they run out of money, they move onto Medicaid. Here's what that looks like in graph form:
Politics aside, health economists have spent a lot of time  thinking about how you fix this and get more people purchasing long-term care insurance. "If you got  bunch of real long-term care wonks in a room, we could figure something out," says Duke University's Donald Taylor, a health care economist. I spent most of yesterday talking to those wonks, and here are four solutions they came up with:
Fix the CLASS Act: While the White House has halted implementation on the CLASS Act, it has also opposed repeal. And some see ways to fix the insurance program to make it sustainable, mostly by making it easier for lower-cost patients to join. Taylor would introduce one-time underwriting that would make it slightly more expensive for those at higher risk to join the program. He would also ratchet up the required hours worked to get into the program, meant to be a proxy for measuring physical fitness . "Both of those ways make sure you're signing up relatively healthy folks," says Taylor.
HHS has expressed concerns that many of the changes it would need to make would face legal challenges, for stepping outside the bounds of the health reform law. But, as the Urban Institute's Howard Gleckman points out, "What part of the law isn't being legally challenged at this point?"
Expand Medicare to cover long-term care: Medicare has grown substantially since its enactment in 1965, to cover prescription drugs and other new benefits. But its services have never touched long-term care. "In one sense, it's a historical accident," says Taylor. "When Medicare passed, people didn't live as long." So one possible solution would be creating a new Medicare program to cover long-term care issues. There's one huge roadblock here: Medicare is already very expensive, with costs growing at a rapid clip. Adding in long-term care benefits – which can cost, on average, $50,000 for one year – "You could imagine having bigger deductibles as a sort of quid pro for an expansion of Medicare to long term care," says Mark Pauly, a professor of health care management at the University of Pennsylvania's Wharton School of Business.
Model long-term care insurance after pensions: Taylor has written on the idea of making long term care insurance a forced saving account, financed by an employee payroll tax. But unlike traditional saving programs, like 401(k)s, the accrued funds could be used on the individual, their parents or bequeathed to their children. "The idea is some kind of forced savings," says Taylor, who wrote a 2008 paper on this topic. "Even if you don't need it, you end up getting something out of it."
Mount an aggressive marketing campaign: Much of the hesi­ta­tion about buying long-term care insurance is likely wrapped up in a lack of knowledge about who covers such services. In a Prudential survey last year, more than half of Americans thought that Medicare or their private health insurance plan would cover long-term care benefits (generally, they won't.) "When I talk to consumer groups, I ask who has long-term care insurance, and about half the room will usually raise their hand," says Urban Institute's Gleckman. "We know that's not right. It turns out what they've actually got are Medicare supplemental policies. But nobody really knows the difference and they do think the government is paying for this."
Most experts are skeptical, though, that any marketing campaign, no matter how aggressive or well-crafted, would be enough to get people to sign up in a voluntary, private market situation."I'm pretty pessimistic there's going to be a real market ever in private, long-term care insurance," says Pauly, noting that Medicaid continues to act as a safety  net for this kind of care. "Unless you abhor the quality or stigma of Medicaid, there are pretty modest incentives to save more."
JUSTICE
Occupy Wall Street: How much does the First Amendment guarantee your right to protest?
Pro Publica:
The First Amendment guarantees the right to peaceable assembly. So why do peaceful protestors keep getting arrested, and sometimes pepper-sprayed and beaten up by police?
[…] We take a closer look at the laws governing protests and how the government can limit them.
Time, place and manner restrictions
The First Amendment is not absolute. Government can make reasonable stipulations about the time, place and manner a peaceable protest can take place, as long as those restrictions are applied in a content-neutral way.
But what constitutes a reasonable time, place and manner restriction? "It depends on the context and circumstances," said Geoffrey Stone, a professor specializing in constitutional law at the University of Chicago. "Things like noise, blockage of ordinary uses of the place, blockage of traffic and destruction of property allow the government to regulate speakers."
Stone gave a few examples of impeding ordinary usage: disturbing patients at a hospital, preventing students from going to school, or, more relevant for the Occupy movement, disrupting the flow of traffic for a long period of time.
The majority of Occupy Wall Street-related arrests have been on charges of disorderly conduct. Under the New York Penal Code, that includes making "unreasonable noise," obstructing "vehicular or pedestrian traffic," or congregating "with other persons in a public place and refus[ing] to comply with a lawful order of the police to disperse." Basically, the central question is the standard of reasonableness. "You have to tolerate a certain amount of inconvenience in order to make room for First Amendment activity, but not so much that it disrupts things," Stone said. Individual states' unlawful assembly and disorderly conduct statutes have to fall in line with this standard. "They can regulate it less if they want to," Stone added, "but not more."
Content neutrality is king
Time, place and manner restrictions have to apply to similar types of protests equally, without regard for their message or point of view. Consider this year's 8-1 Supreme Court ruling that upheld an anti-gay minister's right to protest at military funerals. He and a few members of his church would picket the funerals of service members killed in Iraq and Afghanistan, asserting that God hates America because of its tolerance for homosexuality. As Stone has explained, under the First Amendment the government can't ban people from demonstrating because of the homophobic content of what they're saying at funerals but can set limits on how close to the funeral they can be or how loud they can be.
The case of Zuccotti Park
All of this applies to public spaces, like sidewalks and parks. But when you get into the territory of private property, it's a whole different story.
"The owner of the private property can lawfully evict [protesters] the same way you can toss someone out of your house if you don't like them," Stone said. "When police act at the request of the owner, they're not doing anything that violates the First Amendment."
Interestingly, this hasn't happened yet to the Occupy Wall Street demonstrators. A month ago today, they settled on a privately owned park in Lower Manhattan as their base of operations.
Brookfield Properties, the park's owner, sent a letter to the NYPD earlier this week asking for help clearing the space so it could be cleaned. But hours before the scheduled cleaning, Brookfield contacted the city to postpone it. New York Mayor Michael Bloomberg claimed that Brookfield reached its decision under pressure from other elected officials.
Update, 10/18: Readers have pointed out that Zucotti Park is a privately owned public space, built by Brookfield in exchange for zoning concessions from the city. As part of the arrangement, the park has to be accessible to the public 24 hours a day; beyond that, the owners can set their own rules about the park's use. This puts it in a legal gray area. 
How is the use of force regulated?
So, what laws govern how police are allowed to respond to peaceful protesters who overstep the city's time, place and manner restrictions?
Broadly speaking, the unanimous 1989 Supreme Court ruling in Graham vs. Connor set the standard that a reasonable use of force doesn't violate the Fourth Amendment. Once again, it's all about "reasonableness," as defined from the perspective of an officer in the field:
The Fourth Amendment "reasonableness" inquiry is whether the officers' actions are "objectively reasonable" in light of the facts and circumstances confronting them, without regard to their underlying intent or motivation. The "reasonableness" of a particular use of force must be judged from the perspective of a reasonable officer on the scene, and its calculus must embody an allowance for the fact that police officers are often forced to make split-second decisions about the amount of force necessary in a particular situation.
As The New York Times reported last month, the Manhattan district attorney is investigating an officer's use of pepper spray on two young women last month. One of the young women who was pepper-sprayed is demanding misdemeanor assault charges be brought against him. According to WNYC radio, the union representing high-ranking officers argues the officer's actions restored order at that particular protest, and were thus justified.
DOJ Official: Holder 'Firmly Committed' To Eliminating Anti-Muslim Training
TPM:
Attorney General Eric Holder is "firmly committed" to nixing anti-Muslim material from law enforcement training, former U.S. Attorney for the District of Oregon, Dwight C. Holton said Wednesday.
Holton, who was U.S. Attorney when the FBI arrested the so-called Christmas tree bomber, said that he spoke specifically with Holder about the "egregiously false" training that took place at the FBI's training headquarters at Quantico and at a U.S. Attorney's office in Pennsylvania, which was first reported on by Wired.
"I want to be perfectly clear about this: training materials that portray Islam as a religion of violence or with a tendency towards violence are wrong, they are offensive, and they are contrary to everything that this president, this attorney general and Department of Justice stands for," Holton said. "They will not be tolerated."
The training materials, Holton said, "pose a significant threat to national security, because they play into the false narrative propagated by terrorists that the United States is at war with Islam."
Holton said that he spoke about the issue with Holder directly when he was out in Oregon.
"He is firmly committed to making sure that this is over," Holton said. "Now the reality is it is going to take a bit to go back and figure out what trainings have happened in the past that we need to go back and fix — we're a big organization, we've got lots going on with lots of people and lots of contractors — but Attorney General Holder is firmly committed to it, and we're going to fix it."
Assistant Attorney General Thomas Perez also condemned the anti-Muslim training material in his subsequent speech during a conference on anti-Muslim discrimination, saying that Muslims have "every right to be upset about the issue of the trainings."
"The Attorney General is equally upset, the Deputy Attorney General is upset, the FBI Director is upset, and we're upset because we have accomplished so much," Perez said.
"I recognize the words of my mother, that it only takes one or two incidents to make all that great work seem a part of the past," Perez said. "So we have to make sure that we have the quality control across the board."
Holton struck a similar theme, recalling how he talked to his local FBI special agent in charge (SAC) the day after the Quantico revelations came out.
"The SAC said to me — Greg Fowler, who used to be in New York, he's now in Oregon — said 'You know, they tell you on your first day as an agent at the FBI that one person can make a difference. What they forget to tell you is that it can be a good difference or a bad difference.' So we're working hard to get that right," Holton said.
Progress has been made on engagement with Muslim communities, including in the way that criminal complaints refer to Islam, said Holton.
"Before this effort, a lot of us didn't understand that when we make an arrest in a high-profile terrorism case that involves someone who claims they follow Islam, it creates a mini-backlash against people in communities," Holton said.
"In the 37-page complaint that laid out the allegations against Mohamed Mohamud, he is never once identified as a Muslim. We were very careful about that. It's not relevant from our perspective, what's relevant is the violence," Holton said.
"Every time I opened my mouth about that case, I said maybe two or three main points and one of them is 'violence knows no country, no religion, no boundaries'," Holton said.
He added that not referring to him as a Muslim made him the target of Islamophobic bloggers.
"Of all the hateful things that have been said about me as U.S. Attorney, it's part of the job, right, having to deal with the bloggers comments — and believe me the medical marijuana crowd does not love me — but of all the hateful things that have been said about me was in response to me saying that," Holton said. "There are people who don't get it."
Holton called the outreach he did with the Muslim community over the course of his tour as U.S. Attorney for Oregon the most important work of his career, joking that he put on "10 pounds in lamb weight" and recalling having 15 to 20 imams over at his house for a halal meal that went until 2 a.m.
"My wife jokes that our social life has been taken over by Muslim engagement," said Holton.
MEDIA
CNN Uses GOP Debate Coverage To Spread Anti-Occupy Wall Street Propaganda
PoliticusUSA:
During their post GOP debate coverage from Las Vegas last night, CNN took advantage of their large audience to spread anti-Occupy Wall Street propaganda.
is the video from Media Matters:
COOPER: Dana, I heard you scoffing when it was compared to the Tea Party.
LOESCH: There's a couple of things. There's a couple of things that I have to say. I disagree with the notion that this is anti- greed. Any movement that protests for a living wage, regardless of whether or not you're employed — employed, is the epitome of greed, No. 1.
No. 2, there's no — there's no responsibility given to Washington at all whatsoever. This current administration is propped up by Wall Street. This is the Wall Street president. This president has received more from Goldman Sachs and the very entities that these protesters are out there protesting than any other president.
Three, I think the grassroots element in this has been hijacked already. One of the things that the Tea Party — the Tea Party had to deal with two fronts. The Tea Party fought against Republican establishment. I was very involved in New York 23. Newt Gingrich and I went round and round over Dede Scozzafava. I was — the establishment was not of me; still is not a fan of me.
And we also had to fight against progressives and progressive agenda, where you have the Occupy Wall Street, they have the endorsement of the president. They have the blessing of Nancy Pelosi. They're also endorsed by the Nazi Party of the United States. They're also endorsed by communists. These are things that we did not see with the Tea Party movement. So there's another difference. I could go on and on and on, but those are the three major differences that I see between both of these movements.
Two days ago, the Anti-Defamation League put out a statement that debunked Loesch's claim that Occupy Wall Street is an anti-Semitic movement. In part, the statement said, "As the focus of the demonstrations continue to develop and evolve, ensuring that the movement does not get hijacked by extremists or anti-Semitic elements is critical. Public rallies like OWS often draw a wide range of people with various personal or organizational agendas, including those seeking to exploit public rallies for their own purposes. The American Nazi Party, for example, expressed their support for OWS rallies in several cities via Twitter. Thus far, however, anti-Semitism has not gained traction more broadly with the protesters, nor is it representative of the larger movement at this time."
Even worse Dana Loesch is a tea party organizer, and a contributor to CNN. In short CNN is not only providing a platform for someone to appear on their programming to spread false statements about Occupy Wall Street, but they are also paying her to do it. There was no correction by her fellow panelists, or host Anderson Cooper. Millions of people heard Loesch's propaganda go unchallenged.
Occupy Wall Street is up against a corporate media that is desperate to see them fail. CNN has completely sold out to the right, and they are completely selling out the American people by spreading right wing propaganda about Occupy Wall Street.
COVERAGE OF WALL ST. PROTESTS KEEPS GROWING, GETS MORE POLITICAL
Journalism.org:
The U.S. economy topped the news last week, powered in large part by increasing attention to the Occupy Wall Street protests.
At the same time, the narrative about the protests became decidedly partisan and political.
From October 10-16, the economy filled 24% of the newshole, up slightly from 22% the previous week, according to the Pew Research Center's Project for Excellence in Journalism.  This also marked the third consecutive week in which coverage of the protests grew, according to PEJ's weekly News Coverage Index, which tracks the media agenda, or the attention paid to different topics in the news. Last week, the Occupy Wall Street storyline increased to 10% of the overall newshole compared with 7% the previous week and 2% the week before that.
While it is complicated to compare different news events several years apart, the Tea Party protests began with little media notice in February 2009. But they filled 7% of the newshole studied the week they went national with widespread protests on April 15 of that year.
Last week, the narrative about the protests focused intently on politics, as Democrats more fervently embraced the demonstrations and Republicans became more pointed in their criticism.
Some of that media attention was clearly negative. The subject of the economy got the most attention last week in the radio news sector (43% of the airtime studied), which includes the ideological talk shows dominated by conservatives.
Politics was also at the core of the No. 2 story last week, the 2012 presidential election, which filled 19% of the newshole. That is up slightly from 18% the previous weeks and represents the high water mark for coverage of the campaign to date.
Last week, former Massachusetts governor Mitt Romney generated the most coverage. It was a busy week for Romney. He basked in an important endorsement, found his religion under attack and started to see the "I word"—inevitability—show up in some stories. Herman Cain, the one-time long shot who has finished among the frontrunners in recent polls, was also a major newsmaker, thanks in part to rivals training their guns on his "9-9-9" tax plan.
The week's third-biggest story was Iran (13%) after the U.S. publicly alleged that the Islamic Republic was behind an ill-fated attempt to assassinate the Saudi Arabian ambassador to the U.S. on American soil. Some coverage discussed the Keystone Kops element of the alleged plot.
Next, at No. 4, (2%) was coverage of the economic problems plaguing Europe as the European Union members tried to come up with a new debt reduction plan. And the fifth-biggest story, also at 2%, involved continuing Mideast unrest, most notably the deaths of about two dozen people that followed the breakup of a protest by Coptic Christians in Egypt.
Occupy Wall Street
There were other elements to economic coverage last week, including the defeat of President Obama's jobs bill in the U.S. Senate. And the subject of unemployment and jobs accounted for about one-quarter of the week's economic news.
But the Occupy Wall Street protests were the prominent economic theme.
MILITARY
Political Carnival:
I. Love. This. Guy:
Some jerk sent us two boxes of this awful book (SPOILER ALERT: George Washington – Patriot; George Soros – Pinhead) instead of anything soldiers at a remote outpost in Afghanistan might need, like, say, food or soap. Just burned the whole lot of them on my Commander's orders.
POLITICS
Imani Gandy, The Grio:
Yesterday's article in Politico about the so-called "Obamabots" was odd not because of what it said, but because of what it didn't say. Missing from the article was any attempt to analyze or wrestle with the issues that separate the so-called Emo progs and the pragmatic progressives. Rather, the article was no sound or fury, signifying nothing.
Rather than make a good-faith attempt to unpack the arguments and reasoning of our "ragtag digital cavalry," or to discern what drives us to "ride to the president's rescue," Politico dismisses us as "decidedly amateur supporters" whose intense loyalty and passion at a moment of wide disaffection can be reminiscent of Palin's core backers." Palin's core backers? The misguided sycophants who have no grasp of facts or reality? Really, Politico? Ouch.
The Politico article argues that there is wide disaffection with President Obama. It is this narrative of "wide disaffection," "disappointment," and "enthusiasm gaps" that comprise the canard against which we bots push back.
There is no wide disaffection with Obama (and, contrary to Politico's claim, there certainly is no wide disaffection in the "the supportive precincts of African-American talk radio). There is wide disaffection with Obama among a small percentage of supporters who are avid readers of bloggers with the loudest microphone.
The Greenwalds, the Walshes, the Hamshers, and the Sirotas — these bloggers sow seeds of dissension, and comfortably nestled in their cocoon of Obama disappointment, they begin to believe that their viewpoint is more representative of sentiment on the left than it actually is. When these bloggers take to Twitter, however, Obama supporters who otherwise would have no paltform from which to make themselves heard push back.
Months ago, I noted that the Professional Left seemed taken aback by the frequent, and admittedly sometimes harsh pushback. I warned that those of us who are too often kept on the sidelines until we are needed to vote with the herd would no longer be silenced.
Apparently my warning was taken a tad too literally. "Some prominent liberals declined to talk to Politico about the Obamabots for fear of drawing their wrath?"
Really? I wonder if it's one of the prominent liberals who labeled Obama supporters "dumb motherf**kers" for recognizing that the debt ceiling deal was good for Democrats (a fact which the Professional Left finally grasped about two months after the pragmatic progressives did). (Side Note: Contrary to Politico's claim, Hamsher did deceptively edit a clip of her appearance with Ezra Klein on The Last Word with Lawrence O'Donnell.)
While not particularly useful as a journalistic effort, the article in Politico served to highlight precisely the tension that has been running through Netroots Nation as of late, and that is the seeming marginalization of voices (both black and otherwise) of those bloggers not included among the Professional Left.
Professional Left bloggers tend to hail from the first-responder blogs, those that gained popularity and readership during the Bush years, a period of liberal togetherness, and which have maintained their status despite the proliferation of "independent or "New Left" blogs such as mine, The People's View, PoliticusUSA, Addicting Info, Pragmatic Obots Unite, POV, and others.
The Nation, Salon, Daily Kos, and Firedoglake are no longer the go-to blogs for liberals. Indeed, these blogs have become destinations of last-resort, due to the anti-Obama sentiment that permeates these blog communities, sentiment which is, in my view, at least partially based on race. And, although the notion that criticism of Obama might be race-based is a notion with which white liberals are apparently not ready to wrestle, that notion is widely discussed among New Left bloggers of all races.
Politico missed an opportunity to explain the differences between "emoprogs" and "pragprogs": emoprogs routinely dismiss or ignore Congress' role in making or impeding policy, believing presidents can simply "use the bully pulpit" and "fight" in order to overcome constitutional or legislative obstacles.
Pragprogs, conversely, recognize that President Obama operates within one of three branches of government and that the opposition party has proven itself entirely unwilling to act upon any policy or bill supported by Obama. Pragprogs, after assessing the political landscape, generally support President Obama's actions despite the fact that said action may not encompass all of our desires.
For example, with respect to the Bush tax cut deal, emoprogs complained (and still complain) that President Obama extended the Bush tax cuts. What they fail to mention is that in exchange for a two year extension of the tax cuts for all Americans, President Obama forestalled the expiration of the tax cuts for all Americans and received an extension on unemployment benefits for all but the so-called 99ers.
The president did so in order to protect unemployment benefits (which Republicans were holding hostage), knowing that the 112th Congress would surely extend the tax cuts without extending unemployment benefits.
With respect to President Obama's pledge to close Gitmo, emoprogs complain (and still complain) that President Obama failed to keep his promise. Pragprogs, on the other hand, recognize that Obama's effort to close Gitmo was blocked by Congress — both Democrats and Republicans.
With respect to DADT, emoprogs complained endlessly that Obama could do away with DADTby executive order. Pragprogs calmly pointed out that an executive order could easily be undone by a subsequent president and that allowing President Obama time to accomplish what he said he would accomplish during his State of the Union address in 2009 — to work with Congress and military to end 'Don't Ask Don't Tell' — was the more prudent course of action.
With respect to the Republican-manufactured debt ceiling crisis, Pragprogs pointed out from the very beginning that there was more method to Obama's madness than there appeared to be. Pragprog bloggers noted Obama's repeated statements that he would not accept any deal that cut Medicare and Social Security benefits and believed them; unlike the emoprogs and members of theProfessional Left, who frantically gathered signatures and raised funds based on their incorrect notion that Obama had "put Social Security and Medicare on the table" (a point which pragprogs repeatedly and vociferously noted was patently untrue.)
Pragprogs also pointed out that contrary to John Boehner's assessment that Republicans got 98 percent of what they wanted in the deal, President Obama had masterfully painted Republicans into a corner; while tax revenues were not included in the Julyagreement, the Super Congress which Republicans now decry effectively forces Republicans to either raise taxes or accept steep cuts to defense, a detestable pickle for the party of National Security and Defense to find itself in.
After much hand-wringing, teeth-gnashing, and cries of "sell out," the Professional Left finally came around to what New Left bloggers had been saying all along: that the debt ceiling deal was good for Democrats, good for President Obama, and the best way to force Republicans' hand with respect to their stalwart refusal to raise taxes, close corporate loopholes, and force the wealthy to pay their fair share.
Ever-wary of the New Left, Joan Walsh provides perhaps the most illustrative comment regarding the state of politics on the left:
"Joan Walsh, editor in chief at Salon, said the divided personality of progressivism — the pro-left bloggers versus the Obamabot tweeters — hurts the progressive cause as a whole."
Walsh's statement underscores her failure to grasp the new reality of politics on the left. We are not simply "Obamabot tweeters." We are individuals who support President Obama (as do more than 80 percent of Democrats) and who are frustrated by those members of the Professional Left who feel that it is their important journalistic responsibility to constantly criticize and critique Obama from a self-appointed position of speaking for progressives. We are frustrated that this small percentage of Democrats are the ones that set the narrative and feed that narrative directly to the GOP.
Yet when we push back against this relentless criticism from the Professional Left, or dare to suggest that their relentlessly negative commentary about Obama is damaging to him and to the Democratic Party's efforts to hold back the rabid, frothing monsters of the GOP who are hell-bent on implementing a theocratic fascist state, we are either slimed as Obama cultists, called stupid, docile or insufficiently intelligent to grasp their superior knowledge, or dismissed because we sound angry when we speak back to them.
Ever-disdainful of President Obama, Glenn Greenwald snidely claims that we Obamabots have no political values, and no belief system, only reverence to Obama. This is unsurprising coming from Greenwald, who famously compared a relatively unknown diarist at Daily Kos to a Nazi propagandist.
Not that Greenwald's snide remark warrants a response, but I offer one anyway: we pragprogs genuinely are interested in advancing liberal policies in this country, policies which will ameliorate gender inequality, extinguish racial disparities in access to healthcare, family planning services, education, raise consciousness about climate change, and beat back the plutocratic tide that threatens to drown us all.
We do not blog for pay and we do not blog in order to increase our advertising revenue; nor are we selling books or attempting to leverage ourselves into television appearances on MSNBC, CNN, and Fox.
We simply recognize the importance of this moment, the forces that work against us, and we will not be silenced.
An Associated Press analysis finds South Carolina's new voter photo identification law appears to be hitting black precincts in the state the hardest.
"For instance, nearly half the voters who cast ballots at a historically black college in Columbia lack state-issued photo identification and could face problems voting in next year's presidential election."
South Carolina GOP operative admits suppressing black vote is goal of voter ID law
What he's gloating over is this news report.
COLUMBIA — South Carolina's new voter photo identification law appears to be hitting black precincts in the state the hardest, according to an analysis by The Associated Press.
For instance, nearly half the voters who cast ballots at a historically black college in Columbia lack state-issued photo identification and could face problems voting in next year's presidential election, according to the analysis of precinct-level data provided by the state Election Commission.[…]
[A]mong the state's 2,134 precincts, there are 10 where nearly all of the law's affect falls on nonwhite voters who don't have a state- issued driver's license or ID card, a total of 1,977 voters.
The same holds true for white voters in a number of precincts, but the overall effect is much more spread out and involves fewer total voters: There are 44 precincts where only white voters are affected, or 1,831 people in all.
The precinct that votes at Benedict College's campus center has 2,790 voters, including nine white voters. In that precinct, 1,343 of the precinct's nonwhite voters lack state identification, but only five white voters do. The former group accounts for 48 percent of the precinct's voters.[…]
A precinct at South Carolina State University has 2,305 active voters, including 33 white voters. There, 800 nonwhite voters and 17 white voters there lack state IDs. More than a third of the voters in the precinct lack state photo identification.
Disenfranchising huge groups of people—African Americans—is thus "EXACTLY" why Republicans created this law, according to Wesley Donehue. Well, who's he? His LinkedIn profile tells us that he currently serves as Political Strategist at South Carolina Senate Republican Caucus, and is "a southern political operative who has run, worked on, or advised countless winning campaigns," who "helped establish Senator Jim DeMint's massive Internet following," and "leads Internet efforts for Congressman Joe Wilson and many other candidates across the nation."
Thanks, Donehue, for so baldly stating the truth behind the GOP strategy. It'll provide even more evidence for the Justice Department to consider while reviewing the law.
Monkey Cage:
In this dialogue with Matt Miller, Ezra Klein channels a lot of political science to poke holes in Miller's case for a third party.  Via Facebook, a political scientist friend adds this:
Here's a question for the third-party types: Why a third party, instead of capturing one of the two? Most third party boosters tend to agree with a lot of what the Democrats want, but not everything. Why not move the party in their direction, from the inside?
In the 1940s/1950s, the Democratic Party wanted what most liberals at the time wanted, but they differed on some issues, most notably on race. Democrats were against civil rights, liberals were for it. But liberals worked WITHIN the party to change its direction, and they succeeded. And that change eventually worked its way through the entire party, from the presidency down through congress and the states. Why is that not the strategy, instead of the incredibly difficult "create a party from scratch" approach?
To which another political scientist added:
Not to mention the christian conservatives within the gop in the last 3 decades.
The answer to the question is usually that the major parties can't do it, won't do it, etc.  Miller tries a version of this:
The risk aversion that comes with power means you won't propose things even if you think in your heart they're the right direction for the country.
Milller seems to assume that there are these unitary actors called "the Democratic Party" and "the Republican Party." And, once in power (and here Miller is laser-focused on the White House, for no good reason—as Ezra points out), they suddenly get risk-averse and stop making hard choices.  But in fact there are policy debates within each party and most of the ideas that Miller proposes—tax reform, for example—in fact have serious and devoted constituencies within one or both parties.  (Although, as my friend points out above and as Seth Masket pointed out after reading one of Thomas Friedman's third party fever-dreams, it's interesting how much these ideas-that-no-party-is-courageous-enough-to-champion are in fact what leading Democrats have been pushing.)
Which is to say, the possibility of effecting change from within—within a major party—is hardly small.  And it is larger than the possibility of effecting change from some nascent third party campaign.  It's amazing to me that Miller cites Perot in his dialogue with Ezra.  Does he remember the spectacular decline of the Reform Party?   Its presidential ticket got 481 votes in 2008!
Ultimately, I would like to hear Miller say why civil rights could be achieved via activism within a major party but his agenda could not be.
GOP economics: binging and purging

digby:
So Mitt said this in an editorial board interview today:
In a filmed interview with the editorial board of the Las Vegas Review-Journal, a newspaper serving the hardest-hit foreclosure state in the union, Romney criticized President Barack Obama for not foreclosing on American families fast enough.

"Don't try to stop the foreclosure process. Let it run its course and hit the bottom," Romney said when asked what he would do to jump-start the floundering housing market.

"Allow investors to buy homes, put renters in them, fix the homes up and let it turn around and come back up," he continued. "The Obama administration has slow walked the foreclosure process … that has long existed and as a result we still have a foreclosure overhang."
Why does that sound so familiar? Oh right, now I remember:
"Liquidate labor, liquidate stocks, liquidate the farmers, liquidate real estate. It will purge the rottenness out of the system. High costs of living and high living will come down. People will work harder, live a more moral life. Values will be adjusted, and enterprising people will pick up from less competent people."
-Andrew W. Mellon to Herbert Hoover, 1930
There was a time when a presidential candidate would be booed off the stage for saying something that heartless … and daft. I'm guessing that if anyone asks him about it in the debate tonight, the audience will cheer wildly.
One problem with trying to graph the 9-9-9 plan is that the tax cuts for the rich are so large that it's hard to see what the policy is doing to the poor and the middle class. That's why I posted a table rather than a chart earlier. But the folks at the Center on Budget and Policy Priorities came up with a solution: make the graph really, really, really big. Their visualization is below the fold :
[…] So let's head over to this Brookings Institution analysis of the unemployment problem. It notes that "competition for jobs among the unemployed remains greater than any time before the financial crisis, stretching back to the Great Depression." Even more to the point, it adds: "there have been more than three jobseekers per opening in every single month since September 2008."
As Alex Seiz-Wald noted recently: "Blaming unemployment on the unemployed is a common trend among conservative politicians." If this video is in any way representative of the GOP base's sentiments, we can see why.
Obama and Dems have seized on other reactions from audience members — the "let him die" moment, the booing of the gay soldier — to build a larger case about the clash of visions and values the 2012 election campaign will embody. Obama has taken to claiming that "we're all in this together," and has framed his call for tax hikes on the rich as an argument over national unity and the social contract, while deriding GOP opposition to shared sacrifice as a Darwinian "you're on your own" worldview.
If Obama hopes to contrast his call for a larger, inclusive, charitable vision with the fundamentally exclusionary and meanspirited one he accuses the GOP of harboring, this video seems like a pretty good data point.
Romney: I Would 'Absolutely' Support State Constitutional Amendment To Define Life As Beginning At Conception
Think Progress:
Former Massachusetts Gov. Mitt Romney (R) told Fox News host Mike Huckabee this weekend that he would support an amendment to his state's constitution to define life as beginning at conception, which would outlaw abortion and potentially many forms of contraception as well. Noting that the state supreme court forced the inclusion of abortion coverage in Romney's universal health care law, the GOP presidential front-runner said the only way to undo the decision would be a constitutional amendment. Asked if he would support such a move, Romney replied, "absolutely":
HUCKABEE: Would you have supported a constitutional amendment that would have established definition of life beginning of life at conception?
ROMNEY: Absolutely.
Constitutional amendments to define life as beginning at the moment of fertilization have been pushed in states across the country, and the radical anti-abortion group leading the effort, Personhood USA, is hoping to get proposals on the ballot in nearly half the states by 2012.
But laws that give legal rights to fertilized eggs go much farther than merely outlawing abortions. As ThinkProgress' Marie Diamond noted, they could also have the effect of outlawing common forms of birth control, since contraceptives like the pill and IUDs can prevent fertilized egg from implanting in a woman's uterus. Personhood amendments consider these types of birth control a form ofabortion, and could potentially even treat them the same as homicide. If these amendments make terminating pregnancy a criminal act, they would also deter doctors from saving the lives of women with abnormal pregnancies because any doctor performing an abortion could risk prosecution.
Some of the Republican presidential field's more radical candidates like Rep. Michele Bachmann (R-MN), Herman Cain, and Newt Gingrich have already voiced support for giving legal rights to unborn children, but it's surprising coming from Romney considering that he was staunchly pro-choice for much of his political career.
"I will preserve and protect a woman's right to choose," Romney said in 2002, "I will not change any provisions of Massachusetts' pro-choice laws." Romney's retroactive support for outlawing abortion via constitutional amendment, expressed to Huckabee, clearly seem to contradict his earlier vows to protect his state's pro-choice laws.
But while Romney griped about the inclusion of abortion coverage in his health law, abortion rates actually fell 1.5 percent in the first year his plan went into effect, suggesting that the best way to lower abortion rates is by expanding coverage, not limiting access to contraception.
While Romney has so far eschewed Personhood USA, in a different portion of the Huckbee interview, he vowed to support federal restrictions on abortion.
NY Times claims GOP jobs plan is alternative to Obama's, w/o asking experts whether GOP plan would…create jobs:
[…]
Running against a hostile Congress is an appealing strategy for a president who, however much he has slipped in the polls, is still far more popular with voters than are his foes on Capitol Hill. Polls also show that most voters support large parts of the jobs bill, a point Mr. Obama drove home at every stop.
But the approach is not without risks for the president.
"What he's obviously trying to do is model himself on Harry Truman and the 'do-nothing Congress,' " said David Winston, a Republican strategist. "The problem with that is that the unemployment rate in November of 1948 was 3.8 percent."
While Mr. Obama's partisan jabs appeal to his Democratic base, they may turn off independent voters, who flocked to him in 2008 in part because of his carefully cultivated image as a leader who rises above the partisan fray. With the jobless rate closer to 10 percent than 4 percent, they may start to tune out the president.
The risks and advantages of the strategy were on display Tuesday at Guilford Technical Community College in Jamestown, N.C., where Mr. Obama spoke about the first piece of the jobs bill to face a vote: $35 billion in federal aid to states and cities for teachers, firefighters and police officers.
Mark Jewell, a 47-year-old teacher trainer, said that North Carolina's schools desperately needed that money, and that he backed the president's strategy of forcing Republicans to declare their position on every component of the jobs bill.
"We're going back 50 years because of a Congress that wants to vote against anything Obama does," Mr. Jewell said. "The Republicans are using it as a campaign tactic."
But Thomas O'Connell, a 20-year-old student at the University of North Carolina, Greensboro, said that blaming Congress was not enough. "If he's going to say the system is broken, he's got to put forward something of substance himself," he said.
Mr. O'Connell, who described himself as an Obama supporter but a disenchanted one, said he wished the president would propose public financing of political campaigns, rather than raising $1 billion for his own campaign.
There was a lot of sympathy for the president's predicament among those who lined up to hear him at the community college. But there was also a sense that people's patience was limited.
"We want to stand behind him and support him, but at some point we also want to see forward motion," said Natalie Hopkins, an administrator in the Guilford County school district.
White House officials argue that Mr. Obama has laid out a detailed list of remedies in the American Jobs Act, including school aid and help for veterans in finding jobs, which the president will highlight with the first lady on Wednesday in Virginia.
In the end, they argued, Republicans will support some of the measures. But with at least five votes on parts of the bill likely to come up in the Senate, the exercise could keep the spotlight on those lawmakers until Thanksgiving. "This is the first act of a long drama," a senior White House official said last week.
Mr. Obama seemed to recognize the yearning for an end to the rancor. He spoke of his efforts to find common cause with Republicans, telling the crowd in heavily Democratic Asheville, "Some of you have been mad at me for trying too hard to cooperate with them, haven't you?" And he praised a free trade agreement with South Korea that passed the Senate with Republican support.
He also acknowledged that the Republicans had come up with an alternative to his jobs plan, though he quickly dismissed it. Speaking at a high school here, Mr. Obama claimed that the package would gut environmental regulations, roll back Wall Street reforms, leave 30 million Americans without health insurance and perhaps even cost jobs.
"I don't know how you present a plan for jobs that results in less jobs," Mr. Obama said to titters. "I mean, they didn't call it the American No-Jobs Act."
The People's View:
982,967 donors. That's the number at which President Obama's campaign stood at the end of the third quarter of 2011. That is almost double the 552,000 number that the campaign had at the end of the last quarter. But what's really fascinating about it are the following facts for the quarter:
606,027 individual donors, 257,000 of them new donors.
More than 766,000 donations, 98% of it in chunks of $250 or less.
OFA and DNC raised $70 million, dwarfing their goal of $55 million.
Obama and DNC combined dwarfed all the Republican candidates and the RNC combined. Not only that, the Obama campaign alone raised nearly as much money this year ($86 million) as all the Republicans combined ($90 million). The DNC (source: Opensecrets.org). Barack Obama also has more cash on hand than all the Republican candidates combined. Perhaps this following graph will clear things up:
As of the time of this writing, the president's campaign has surpassed a million donors.
Weren't we told by a bunch of head hanchos on the Left at the end of the wildly successful second quarter that, oh, that was before the president decided to "put Medicare benefits on the table" (which of course was an usual lie from the whiners)?
So why are these early fundraising numbers so important? Because despite the media and the professional whiners' crying about how the president is in political danger, and how he must listen to them in order to be elected, the early donations are early commitments. It means over a million people, over a year before the election, have spoken up and are ready to do more. That is extraordinary. It means people are breaking through the media conflict barrage, and that they understand what is at stake. Millions of people understand that we cannot afford to go through the 2012 election in the usual pissing match fashion, nor can we go through it without  And, it means that all the threats from the professional Left have failed:
The threat to withhold donations from the president if he in any way tries to solve Medicare's funding problem (even without touching benefits).
The threat to withhold donations if the president does not perpwalk bank executives by waving a time machine.
The threat to primary the president (ahahahahahaha).
The threat to make it really difficult for the president to raise money if he does not bring rainbow colored ponies to the doorsteps of the Daily Kos powers that be.
The numbers prove that the assault on the president by the pretend-Left have failed. Not only have they failed, they have been ridiculed. Numbers don't lie.
So let's do this one more time. Just to get this straight.
Romney adopts Ryan budget, Medicare vouchers, Social Security cuts
Daily Kos:
Rep. Paul Ryan must be liking his prospects for a VP nod as Mitt Romney's plan for entitlement programs becomes clear. Call it a lack of imagination or a pander to the tea party, but Romney has largely embraced the House budget plan engineered by Ryan. In a recorded meeting with the Las Vegas Review Journal editorial board, he laid out not just an horrific vision for the foreclosure crisis,but a dystopian vision for the 99 percent.  Here he is on Medicare.

ROMNEY: You have a program like Paul Ryan has proposed, which says we're going to give people vouchers to let them choose among private plans. I would not at the same time would want to remove the option for people who have standard Medicare. But I would probably move to a more managed care approach even in Medicare itself.
That's, as Igor Volsky points out, just a tweak to the Ryan plan. It would still not actually do anything to reduce the cost of care, it'd just shift more and more of those costs to seniors. His idea of allowing traditional Medicare to continue is, on its face, a great improvement from Ryan's plan, but would likely create a serious adverse selection problem for the program: younger, healthier Medicare recipients would be pushed into his managed care, voucher program, taking their premiums with them and leaving the sickest and most expensive patients in traditional Medicare.
That's not all, as Romney goes all in for austerity on Social Security and Medicaid, as well. He'd both means test SocialSecurity and raise the retirement age, effectively turning it into a welfare program that served fewer and fewer Americans. Raising the payroll tax cap is straight out.
"Arithmetically, there are probably three ways of making Social Security permanently solvent," Romney said. "One would be simply raising taxes. I don't favor that one. Number two would be to increase the retirement age. Number three would be to have a little slower growth in benefits for higher income beneficiaries…. Some combination of those last two is the place we can go in my opinion to solve Social Security for future retirees." […]
Elsewhere, Romney would turn Medicaid into a block grant program, and hand it over to states to make their own plans; phase out 10 percent of federal jobs; reduce discretionary spending on all other non-defense programs to the levels they were at in 2008, and undermine collective bargaining by federal unions with the stated goal of diminishing their benefits.
Romney still might have a hard time convincing Republicans that he's the real conservative deal, but he's doing his damnedest by appropriating the extremes of the Ryan plan, with a dash of Govs. Walker and Kasich. Which gives President Obama and the Democrats a pretty clear path forward when it comes to budgeting for entitlement programs: do the opposite of Romney/Ryan.
TPM:
Senate Majority Leader Harry Reid (D-NV) is reminding Republicans attacking President Obama for traveling around the country promoting his jobs plan that the bus tour seems to be working — polls show most Americans support the plan to get Americans back to work. […]
"Seventy-five percent of Americans believe we should help state and local governments put teachers, police and firefighters back to work," Reid said on the Senate floor Wednesday morning, citing a CNN poll released earlier this week. "And 76 percent of Americans agree the wealthiest people in this country should help get our economy back on track.

"I repeat: three out of four Americans – including two-thirds of Republicans – support the Democrats' Teachers and First Responders Back to Work Act," Reid said. "Republicans in Congress aren't just out of touch with America – they're out of touch with other Republicans."
Republicans, meanwhile, want to make it as difficult as possible for Democrats in purple or red states to vote in favor of any part of the President's new spending plan. Senate Republicans are trying to drive home their new refrain — that the President's jobs bill is a second stimulus — ahead of Vice President Joe Biden's Wednesday afternoon visit with Democrats on Capitol Hill.
POLLS
Greg Sargent:
It's become an article of faith among some conservative and even neutral commentators: If Obama and Dems embrace Occupy WallStreet, they risk driving away blue collar white voters in swing states that tend to be culturally alienated by such protests.
But I've obtained some new polling that seriously complicates this argument: In two new national polls, the cross tabs show that majorities of blue collar whites do, in fact, back the protests.
The new data comes from today's United Technologies/National Journal Congressional Connection poll, and Time magazine's poll from late last week, both of which found that majorities back the protesters. I asked both organizations for the breakdown on this question among non-college-educated whites, which is seen by polling experts as a reasonably good category for judging blue collar white sentiment. Both graciously supplied the answers:
* In the National Journal poll, 56 percent of non-college-educated whites agree with the protesters; only 31 percent disagree.
* In the Time poll, 54 percent of non-college-educated men, and 48 percent of non-college educated women, agree with the protesters. (That's roughly 51 percent overall.) Meanwhile,only 29 percent of non-college-educated men, and only 19 percent of non-college-educated women, disagree. (That's roughly 23 percent.)
The sample sizes were reasonable, too: In the National Journal poll, 384 non-college-educated respondents were polled; in the Time poll, 379 were surveyed.
I understand the objections to reading too much into this kind of polling. These may be low information voters. They may be reacting to the target of the protests more than registering agreement with the protesters themselves. Occupy Wall Street doesn't have a specific agenda, which makes it easier for people to back it, and things could change once it starts making specific demands. But all that said, the evidence right now is tilting towards the idea that the protesters' message may be resonating among voters who are supposedly certain to be alienated by the protests.
By the way, this doesn't necessarily help Obama. As Alex Altman noted in his excellent write-up of the Time poll's overall numbers, Obama's approval rating among these voters is an abysmal 26 percent. But this polling suggests that embracing the protests is not part of the problem — quite the opposite, in fact.
Conservatives predicting that the protests will drive away blue collar whites are trying to exploit a traditional cultural faultline that has been a feature of our politics for decades — the one between working class whites and liberal activists who resort to outsized protest tactics. But if anything, white working class voters may be looking past the theatrics and responding to Occupy Wall Street's actual message. It's very early days, and anything can happen to the movement, but this raises at least the possibility that labor organizers can begin to make some headway in tying it to a broader working class constituency.
UPDATE: I got the numbers in the National Journal poll slightly wrong; blue collar whites are even more supportive of OWS than I originally wrote: The numbers are 56-31.
Pollster Confronted With Misrepresenting Occupy Wall Street Poll, Admits Radical Redistribution Is Not 'Their Highest Goal'
ThinkProgress:
Yesterday, ThinkProgress revealed that pollster Doug Schoen grossly misrepresented his own polling data to smear Occupy Wall Street protesters. For example, he wrote that "radical redistribution of wealth" was one of the policies that "binds a large majority of the protesters together." His actual poll found just 4 percent supported such a policy.
This afternoon on Fox, anchor Megyn Kelly confronted him about twisting the polling data:
KELLY: About this radical redistribution of wealth. Your data says only 4% said that they favor that. So how do you say, how do you apply that label to the entire group. You only surveyed 200. So what, 8 people support that and we are supposed to tar the whole movement with it.
Schoen fumbled through a response, admitting along the way that "radical redistribution of wealth… may not be their highest goal." He's right. In fact, of all the goals listed, it tied for last. Watch it:
Schoen tried to save face by twisting his numbers in a new way: "21 percent of the people surveyed were for progressive values, single payer health care, dismantaling capitalism or redistributing wealth. So I think they are pretty hard core leftists."
It's true that his poll found a shocking 9 percent of protesters wanted to "engage and mobilize progressive." But the other three goals Schoen listed were supported by just 4% of people who took the pool. To put that it perspective, his poll found that more protesters supported a flat tax (5 percent), a conservative policy not typically associated with "hard core leftists."
Bottom line: Schoen misrepresented his data and his efforts to defend his actions are only making things worse.
AP-GfK Poll: Many are open to ousting Obama, but no Republican has pulled away from the field
[…]
When all adults are asked about hypothetical head-to-head matchups, Obama and Romney run almost even, 48 percent for Obama to 45 percent. Obama holds a narrow edge over Cain, 49 percent to 43 percent. He leads Perry, 51 percent to 42 percent.
[…]
Luis Calderon of El Monte, Calif., exemplifies those unhappy with Obama but not ready to dump him.
"Even though I criticize him, I still want him to win," said Calderon, 56, a self-employed handyman who was laid off by an oil company three years ago. Obama "has to get down to business, forget about promises, just do it, create jobs," Calderon said. "But in order to create jobs, he has to be harder on the Republicans."
A Democrat, Calderon said Romney "is the one that may do a little dent on Obama."
WEDGE ISSUES
GOP Senator DeMint Pushes Radical Bill To Restrict Discussion Of Abortion Over The Internet
ThinkProgress:
Instead of focusing on job creation, congressional Republicans have spent their time passing socially conservative legislation like the "Let Women Die" bill that would allow hospitals that receive federal funds to deny women life-saving abortion procedures.
Now Sen. Jim DeMint (R-SC), one of the most die-hard anti-choice lawmakers, has jumped on the bandwagon by sneaking a radical anti-abortion amendment onto a completely unrelated piece of legislation. DeMint's amendment would ban women and their doctors from discussing abortion over the Internet:
Anti-choice Sen. Jim DeMint (R-S.C.) just filed an anti-choice amendment to a bill related to agriculture, transportation, housing, and other programs. The DeMint amendment could bar discussion of abortion over the Internet and through videoconferencing, even if a woman's health is at risk and if this kind of communication with her doctor is her best option to receive care.
Under this amendment, women would need a separate, segregated Internet just for talking about abortion care with their doctors.
Nancy Keenan, president of NARAL Pro-Choice America, said DeMint is essentially mandating "an abortion-only version of Skype." She points out that a woman with high-risk pregnancy talking to her doctor through video conferencing would have to somehow switch to a separate communications system if abortion came up at all. "It is impractical, ridiculous, and, most importantly, bad for women in rural or remote areas who would not be able to discuss the full set of options with their doctor," Keenan said.
DeMint's bill is yet another Republican attempt to circumvent women's constitutional right to an abortion by essentially outlawing doctors from discussing that option with their patients. These so-called "small government" conservatives have no problem inserting government into private conversations between women and their doctors.
To add insult to injury, DeMint's underhanded method is to shoehorn this attack on women's privacy onto an unrelated bill — an insidious effort to push his agenda while avoiding public scrutiny.
Romney Advisor Robert Bork: The Equal Protection Clause Doesn't Protect Against Sex Discrimination, Which Doesn't Exist Anyway
National Womens' Law Center:
Law professor Robert Bork has signed on as co-chairman of GOP presidential candidate Mitt Romney's "Justice Advisory Committee." According to Bork, a former federal judge and failed Supreme Court nominee, "I'd like to be asked a question now and then for advice."
So, what kind of advice will Bork, known for his staunchly outlier positions, offer? Well, in addition to his opposition to the constitutional right to privacy and his very limited view of the protection of the First Amendment, Bork takes an extreme stance on the Fourteenth Amendment: he believes the Equal Protection Clause should not apply to women. (Even Justice Scalia recently walked back a similar view.) As Borkexplained to Newsweek:
"I think I feel justified [in taking that position] by the fact ever since [the Court held that it applies to women], the Equal Protection Clause kept expanding in ways that cannot be justified historically, grammatically, or any other way. Women are a majority of the population now—a majority in university classrooms and a majority in all kinds of contexts. It seems to me silly to say, 'Gee, they're discriminated against and we need to do something about it.' They aren't discriminated against anymore."
As others have noted, Bork's statement that discrimination against women no longer exists is simply ridiculous. Yes, decades of pioneering women have made progress in the fight for equality, and for that, we are grateful. But those victories are a far cry from actually eradicating discrimination. Indeed, for proof that discrimination against women is alive and well, one need only look tothe persistent sex discrimination that women face in the employment context, including lower wages, discriminatory promotion policies, and pregnancy discrimination, as well as to the discrimination that girls continue to face in our schools, whether with regard to the lack of opportunity for women and girls in career and technical education, harassment in the classroom, discrimination against pregnant or parenting students, or unequal opportunities in athletics. Bork's willful blindness to the world around him is startling.
What's equally amazing about Bork's statement is that many of the gains women have made in fighting against sex discrimination are a direct result of the Supreme Court's application of the Equal Protection Clause to women. Because of the Court's jurisprudence, women cannot be excluded from juries based upon their sex, women are not automatically considered financially dependent on men for purposes of government benefits, and women have equal control of marital property, just to name a few areas where discriminatory laws were successfully challenged. Incidentally, the Equal Protection's guarantee against sex discrimination has also benefited men – by striking down laws prohibiting men from enrolling in state-funded schools and laws providing federal benefits to women caring for minor children, but not men, just to name a few. If the Equal Protection Clause were not applied to eliminate all forms of sex discrimination, discriminatory laws like these could still exist today.
It's disturbing that an individual with unreasonably limited views of the constitutional protections available to women continues to play an influential role in discussions about the meaning of the Constitution. Professor Bork's musings should remind us of how far we've come—and of how far we have left to go.
TAKE ACTION
A coordinated Republican effort to suppress the Democratic vote and skew the outcome of the 2012 elections is under way.
More than 5 million voters could be affected in states including Ohio, Florida, Wisconsin, Nevada, Virginia and California – more votes than decided the 2000 and 2004 presidential elections. No surprise, the legislation heavily targets young, poor and African American voters – who disproportionately support Democrats.
We need 150,000 people to join our 2012 Election Protection Project and stand against these undemocratic tactics. Republicans need to know that we're onto them, we're fighting back, and we WILL NOT allow them to manipulate their way to victory in the 2012 elections.
QUOTE OF THE DAY:
Bad officials are elected by good citizens who do not vote. ~ Andrew Lack