For decades, especially since the Regan presidency began in 1980, corporations and the wealthy have been winning their ongoing class war against 99% of Americans. It has become so entrenched and taken for granted by them that any attempt to disrupt it…is ironically and Orwellianally labeled by them, "class warfare".
That's right, doing anything to stop their campaign of class warfare they call "class warfare"…and the MSM presents that as a fair criticism.
Imagine if a molester was stopped from molesting and claimed that doing so was molesting him. You get the picture (surrealist as it is).
Many Democratic politicians have fully bought into this doublespeak, they fearfully avoid talking about the ongoing class warfare for fear of being labeled as a perpetrator of it.
And so, the raping and pillaging by the wealthy and corporations of the majority of Americans continues and the cops look the other way.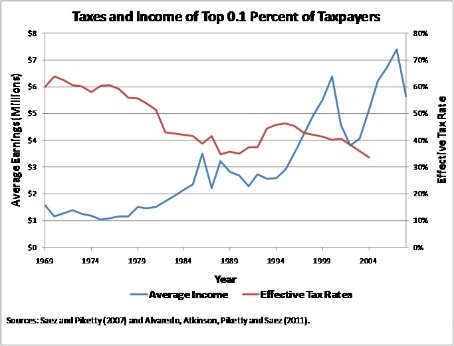 However, Pres. Obama has repeatedly called for taxing the wealthy. He is now proposing that those earning $1 million or more have their taxes raised. Considering that the wealthy have obscenely increased their earnings and net worth over the past few decades and 99% of Americans have seen their wages stagnate and their net worth decline…it seems not radical but a decent enough first step.
Of course, the puppets of the wealthy, the GOP, howl that such a proposal is…that's right, you guessed it…class warfare. "Stop interfering with the molester! That makes you a molester!"
This facade has been propped up long enough, the wealthy and corporations (who own the MSM of course) have been getting away with pretending they aren't at war with the majority of Americans…while assaulting them…for far too long. It is high time that the Democratic Party as a whole steps up and makes a central plank of their 2012 campaign, fighting back against the Class Warfare which the wealthy have been and are engaged in.
There are no facts or figures that refute that the wealthy or winning a class war. There is no morally or ethically justifiable position to take to sustain this. 70% of the public WANT higher taxes on the wealthy and corporations who are indisputably paying the lowest tax rate in recent history and far lower rates than most Americans pay…if, unlike such mega-billion corporations as GE and Exxon, they aren't even paying taxes but getting subsidies from tax payers instead.
Where is the downside on supporting economic justice and ending the class warfare that's been ongoing? How many Americans are buying into this BS about all wealthy people and corporations wanting so badly to hire them but they just need more than $2.5 trillion in their pockets and mean ol' government to quit stopping them from pouring radioactive waste into our drinking water?
And the even more destructive side of allowing the wealthy's class warfare to continue unabated is that the national deficit will continue to be cut and if the wealthy get to keep avoiding paying their fair share in taxes, 99% of Americans get a huge heaping of social decay on top of their declining wages…if they haven't already lost their jobs, that is.
Insult to injury…or maybe, plague to injury. Without tax money from the wealthy, on top of everything else, entitlements will be slashed and seniors will pay $6,000 a year more for Medicare, social services will be cut, public workers like firemen, police and teachers will be laid off, spending on infrastructure will be decimated and roads and bridges will keep crumbling, regulation of dangerous corporate behavior will shrink hugely…this is the Republican dream and America's nightmare.
And while we're at it, let's destroy this doublespeak of calling wealthy people "job creators". Is that really their main focus in life? Do they wake up thinking, "Man, I so want to create jobs today!" or do they wake up saying, "Man, I so want to be wealthier today!". This propaganda is such garbage and seeing MSM drones using that phrase is outrageous.
The wealthy in America have never been wealthier, have never owned more of the net worth of the nation and we have over 9% unemployment nationally. This "job creator" crap isn't even factually true at this very moment! They ARE wealthier and there AREN'T more jobs. Two minus two doesn't equal four.
Enough of the tiptoeing around the criminal activity of the wealthy to rob the majority of their assets. Democrats have worried long enough about being attacked by the wealthy for standing up for the 99% who aren't. It is not only a winning issue, it is the only democratic position to take.
The wealthy and corporations won't create more jobs because, as I mentioned in a previous piece (The End of Jobs in America), this is the new normal. You can kill the EPA, gut all financial regulations, lower corporate taxes to zero, give the wealthy everything they could ever want…and it won't create a single job more than if you hadn't.
Why? Because corporations used the crash to accelerate their long term strategy which was already in operation well before the crash, to minimize jobs in the US to only those absolutely necessary and build up operations overseas where labor costs, regulations and expenses are far lower.
So, no matter how much you give these greedy SOBs, they can't hire Americans for $5 a day to work in a factory, why on Earth would they build a factory in the US and pay a worker $100 a day instead of getting 20 workers for the same amount?
The only way to fight back and reverse the economic injustice and assault against 99% of Americans, is to take back some of the unethically acquired wealth from the wealthy, create public sector jobs and pay for the services that benefit all Americans.
Is it wealth redistribution? If one wishes to look that narrowly at it without any context, yes. However, if this is redistribution, so is returning money from a criminal to the people he robbed. Indeed, it does transfer wealth from the robber to the victims but in context, it is merely returning to those who have been robbed, what used to be theirs.
There is no disagreement, even from the wealthy, that they have used their money to elect politicians and get bills passed that transferred wealth from the majority of Americans to them. That is corrupt and criminal in a democracy and they have no moral or principled right to the money that their bribery of public officials has allowed them to siphon off from the majority.
Today, Pres. Obama said that taxing the wealthy…just their fair share!…"Isn't class warfare, it's math."
It is indeed time to do the math. It is indeed time to fight for economic equity. It is indeed time for the Democratic Party to say together that they stand for these things and what benefits the American People.
The Republicans want to call it class warfare? They represent less than 1% of the nation, they want to fight with their troops against ours? Bring it on.