An apology for the devil: it must be remembered that we have heard one side of the case. God has written all the books.
~Samuel Butler
On this page we will be discussing one of the most complex and enigmatic figures in all of Western theology  , the Devil.  Satan, Lucifer, Mephistopheles, Beelzebub, Son of Perdition, The Morning Star, and many other names too numerous to list here. Best known as GOD's adversary and tormentor of humankind, the Devil has a biography more rich and complex than any deity to come before or since. A moral story of hubris and fiery  jealousy that has been written and rewritten a thousand times. But just who or what is the Devil? We will get into his "beginnings" and chart his progression from angel and servant of GOD, to cast out rebel and ruler of Hell. But first, as with all things, we begin at the beginning.
The book of Genesis. Supposedly Lucifer's first appearance and scene of his first and possibly greatest victory over man. I think we're all pretty familiar with the story.  Adam and Eve are chilling in the Garden of Eden, when Eve is approached by a serpent at the Tree of Knowledge. GOD had forbidden this one thing from Adam and Eve, the Fruit of Knowledge. The serpent tells Eve that eating the fruit will give them wisdom and make them like GOD. Eve takes the fruit and shares it with Adam.  Their fate is sealed. GOD's anger causes him to banish humanity from the Garden forever. Adam and Eve are tossed out into the wilderness beyond. GOD gives them the freedom they coveted.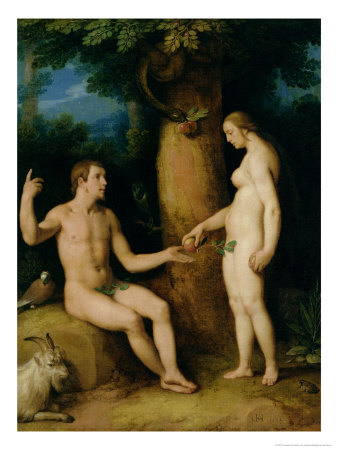 Two things are accomplished here. Man, through his own arrogance, loses Paradise  but inherits the world. Also, Eve's weakness "curses women to pain in childbirth", and in later, realer times, blame for the burden of sin. But there is  a small problem here.  This is a Christian interpretation of  a very Jewish story. The
Old Testament
is full of stories bent to fit the canon of the New Testament. This is just the first. The
Hebrew religion
that would become Judaism had no devil. He did not exist when this story was written. Ancient Jews did not need another layer. Serpents were figureheads of many of the competing religions in Canaan and abroad. That is why the serpent tempted Eve and that is why GOD declared them the most contemptible of his creatures. Satan would not be added to this story until around the 12th or 13th century, as Catholics looked to add him to everything and increase their indoctrination of fear.
The first time a figure that could be the prototype for the Devil appears, is in the
book of Job
, written several decades after Genesis. In the story of Job, GOD tests Job's faith by allowing various calamities to befall him and then to see if he still holds fast to GOD. It is said that Satan asks GOD to test Job's faith. Not really true either. Satan is the word we pulled from the old Hebrew. This isn't a formal name however. It means "adversary" or "the adversary". He is mankind's adversary.   In Job he is portrayed as an angel or some member of the holy court who seems to walk about the Earth, observing humans and looking for faults to bring before GOD.  GOD tells satan that Job is a bright example of his children. Eternally and completely faithful. Satan asks GOD to allow him to test Job. To visit hardship upon him and see if he remains true or curses GOD's name. GOD, being the terrible parent he is, allows satan to utterly ruin Job's life.  Destroying his property and killing his family. Job remains loyal to GOD. GOD restores his wealth tenfold, gives him another happy family, and "the adversary" moves on looking for his next case.
Satan is not mentioned much more in the Old Testament.  Again, Jews had no devil and no Hell. They had Sheol, but that was hardly a heaven or  a hell. More of a temporary purgatory.
Yep. The Jews invented Middle Earth. Take that Tolkein.
It really wasn't until the
Romans rolled into Judea
around the 8th century B.C. that Jews began looking for an evil to pin their woes on. The idea of a devil posed major problems for the Jewish religion.  They were not fans of dualism and dividing up GOD. Satan breaks the rules of their faith. There is
one GOD
and through him do all things flow. Good AND bad. To suddenly bring a separate, malevolent force into the picture would very much undermine the omnipotent authority of GOD. If the Romans were there to punish the
Jewish people
, they were sent by GOD, not some other force. However, during the next few generations, the Devil became a principle figure for many Jewish people. A shadowy figure there to lure you away from the
glory of GOD
.  By the 1st century B.C., Judea was a fully incorporated Roman province. Many Jews opposed the
Hellenization
of Judea  that had been occurring since the 3rd century. They claimed that those Jews who adopted the Roman lifestyle were  actually servants of the Devil and were to be shunned and cut away from Jewish society. Jewish citizens led several revolts in the name of driving Satan out of there midst. Hellenization began to lose steam at the end of the 1st century but a brand new religion was poised to take hold and elevate the Devil to new heights. It all begins with the death of one random prophet that launched the birth of the largest religion in history, Christianity.
At the dawn of the Christian religion in early 1st century A.D., Satan was moving from a sometimes trickster and occasional adversary to mankind, to the driving force behind all evil in the world and a figure every bit the equal of GOD. His "rival". The Christian religion takes a great interest in Satan and flesh out his back story and begin to form him into the figure we all  know today. Borrowing from the Book of Daniel and other Hebrew works invoking the "War in Heaven", Satan is turned into a rebel angel.  There are several different versions of exactly what happened but they all seem to follow a similar outline. Lucifer becomes infuriated at GOD's proclamation that the angels bow before man. There is a theory that Lucifer had learned "free will" from his time observing humans and this was passed onto his angel army. Explaining how he,  an angel, was able to defy GOD. There is also a theory that Lucifer greatly disagreed with GOD's plan for the eternal salvation of mankind.  He refused to share Heaven with these inferior creatures. No matter the cause, Lucifer eventually declared war on Heaven. Together with a third of the angels in Heaven, Lucifer fought  a long and costly war against the Armies of Heaven,led by the
archangel Michael.
Michael eventually defeats Lucifer in single combat and , by order of GOD,casts him and his angels from Heaven into the bowels of the Earth.
Now Lucifer was Satan, the adversary. The eternal tormentor of mankind. And when mankind's savior shows up, Satan just has to get himself involved. Early Christians were just as fearful of the Devil as they were loving of GOD.  Like the Jewish religious leaders before them, they tended to see Satan at work in the ideas of their opponents and enemies. Jesus easily resisted the temptation of Satan in the desert.  But mankind is not as elevated as Jesus. They are easily led astray by the works of the Devil. The Catholic religion becomes the prominent religion in the West around the 4th century A.D.  after Roman emperor Constantine legalizes the Christian religion in Rome. Constantine is considered the first "Christian" ruler of Rome even though it did not become the official state religion til after his reign. Christians were quickly becoming the majority in many Roman provinces and state leaders found Satan to be a handy tool in controlling the masses and vilifying their opponents. The Catholic Church became THE power in the land. Not just a religious leader but a state leader as well. Using fear of the Devil to drive up membership. After the fall of Rome, the Catholic Church basically built Europe. Catholicism took hold in England, France, and Spain, and quickly spread throughout the West. The Church raised it's own army, set laws, and controlled it's subjects with an iron fist though it's figurehead, the Pope.
The Church formed it's own army, forged various alliances with ruling classes in Europe and western Asia, and the Pope basically controlled half the world from his seat in southern Rome(later to be called Vatican City). During the Middle Ages, fear of the Devil reached all time highs, fueled by the Church, which had released several edicts concerning witchcraft, demonic possession, and various laws and codes for dealing with "heretics". Many poor Europeans began to fix their anger for their lot in life on the Devil. A revelation that the ruling class was more than happy to support. Borrowing from bits of Greek and Roman folklore, the Devil became a half human half goat demon who prowls the dark looking to to poison men and have nasty freaky sex with the wenches(look, I only call you wenches because I don't know your names individually).  Like their Jewish forerunners, Christians pinned the Devil on their enemies. One of the most horrific instances of Christians turning on their own was an incident known as the Cathar Heresy.
Catharism was a sect of Christianity that sprung up during the 11th century in France and quickly spread to other parts of Europe. The Cathars  were a gnostic sect who believed in two separate GODs. A figure who could be considered YAHWEH,  and a figure who could be considered Satan, but whom they called Rex Mundi(king of the world). The problem that they Church had with Cathars is that they preached that the world was evil and that the Church was  a part of that world. The Church took them as  a serious threat to their complete control of Europe. Already embroiled in the First Crusade , the Church had no room to suffer ideological challenges. In the 13th century the Church declared the Cathars to be heretics and began a decades long "war" with the sect that resulted in the death of thousands of Cathar followers. Every step of the way, the Church drove the Devil into their follower's heads.  They told their congregation that the Cathar's were secretly devil worshipers and plotted to overthrow the Church. Eluding to passages in the Book of Ezekiel and the book of Revelation, the Church cast the Cathars as "false prophets" sent by Satan to tempt good Christians to turn away from GOD. Persecution of the Cathar's increased mightily culminating in their sacking and complete annihilation by the beginning of the 14th century.
Things were extremely rough during the Middle  Ages. The poor and destitute clung to the Church to explain their terrible condition. Their explanation? The Devil. The Devil and his servants. By the 15th century the bitterness left over from the Crusades was channeled toward "cleansing" the Church of heretics. Inquisitions had been ran for quite some time under papal law but a combination of renewed antisemitism and increasing hostility toward Muslims would combine in the lands we now call Spain, and become a standard for many regarding cruelty, abuse of power, and the very real danger of religious zealotry. The Spanish Inquisition.  …O.K. fellas, you can come in now.
Primarily tasked with handling the conversion of Jews and Muslims to Christianity, the inquisitions also monitored Christians who may still hold to some forms of Hebrew law. It was a time when the Church was trying to completely eradicate Jewish influence on the religion.  So, they called up Lucifer again to get him in the game. More than at any other point before or since, Jews were painted as almost demonic figures. They began to be portrayed as having horns and fingers resembling claws. Satan begins to work his way onto the story of Jesus' trial and the release of the murderer Barabbas. It was Satan moving among the crowd of assembled Jews and whispering in their ears, tempting them to betray Christ, and through him GOD. A nod to Lucifer's early work as a trickster spirit and deceiver. It was actually far easier to stir up resentment for Muslims and Islam. As I said earlier, the Crusades were still fresh wounds for many and it was easy to see the Devil in this "crazy religion". Though there were a few sects of Christianity who accepted Mohammad as a true prophet of GOD(but not equal to Jesus), the Church painted him as a sort of "anti-Christ" figure. Again, as with the Cathars earlier, the Church put a connection in their followers heads between Islam and Satan. It was a movement that would not last long but it did more than enough damage between East and West relations to still resonate today in many parts of the Middle East. Before we go any further,let's take a moment to talk about H – E – double hockey sticks.
So, at this point, Satan is a malevolent force in the world and pretty much THE explanation for why your enemies are the way they are.   It was during this period that the Church began building the Devil's home, Hell. The Church found that faith and love for GOD was enough to keep a lot of people going to church, but not enough to make any real money. They needed something everyone could get behind(fear). And the Bible gives them the framework for just that place. In the New Testament there are references to a "lake of fire" and in Revelation it is the place Satan is cast down into after his defeat. Jesus mentioned a place of darkness that sinners would be cast into to be tormented. Early Christians really didn't have a concept of a Hell. The Jewish religious orthodoxy before them was split on whether there was an after life or not. Early Christians were believers in an afterlife but were split as to whether it was eternal or not. According to scripture, after the defeat of Satan, GOD will rule a paradise on Earth for 1,000 years with the saved. But then, it's over. No eternity. You die. For good. It's the end of time.  Without eternity, there isn't a ton of incentive either way. Not only did the Church need a permanent Heaven, but a place to cast sinners to be tormented forever. The model of Hell that would carry on for centuries to come was formed, not by a clergymen, but by Italian poet Dante Alighieri in his poem, the Divine Comedy. By the time of the Inquisitions, the Church had a fully fleshed out home for the Devil and a figurative pit to cast heretics into and scare their flock with.
Back to the story. We pick up a few years after the start of the Spanish Inquisition. In Germany, another man of the cloth is preparing his own war against Satan and his minions. Heinrich Kramer was a German clergyman and Inquisitor. He was also bat-shit insane. Kramer had a fierce hatred of witches. A condition that could probably be traced back to this less than successful interactions with various women throughout his life. Most notably being spurned by "the love of his life". In the late 15th century, Kramer began a fervent witch hunt across Germany. he quickly drew the ire of local clergy with his less than subtle methods of interrogation and torture. In many instances he would attempt to force confessions from random women for crimes that had no shred of proof. The local Church chapter convened and asked him to leave. Never one to relent, Kramer petitioned the Pope for a papal order to conduct his witch hunts as he saw fit. In 1484 Kramer was made Grand Inquisitor and given full authority to conduct his hunt anywhere in Germany he saw fit. That same year Kramer penned his master work, the Malleus maleficarum. Roughly translated,  "Hammer of the Wicked". It was a guidebook for Inquisitors all across Europe on how to best conduct their witch hunt. Witches were not taken very seriously by most people and Kramer was determined to turn them into a high priority. More than a guide it was a rebuke of skeptics and people who felt witchcraft was a superstition.  It worked very, very well.
Witchcraft became the new fire that fueled the zealots. Images of women dancing with and being seduced by Satan became the new norm for many Church chapters across the globe. After a bit of a lull during the Crusades, Lucifer was back in full force. Gaining momentum from the Inquisitions, Satan was now a  tangible force in the world.  He no longer appeared in dreams or  sent demons to possess his victims. Now he was walking the Earth, seducing women and turning them to witchcraft. Depicted in his earlier forms as a half human half beast hybrid, he is said to engage in "corporeal acts" with various women and then giving them powers to torment humanity. The women enter into a pact with the Devil, trading their souls for the power of witchcraft.
Bad harvest? Witches.  Flood? Witches. Kid gets sick and dies? Witches. Woman adds 2 numbers together? BURN HER! It got out of hand REAL quick. With the invention of the printing press(thanks Johannes) the Malleus Maleficarium was able to spread quickly through Europe.  In places where the Devil had been a mere bedtime story to scare children, he became a very real very frightening presence. Plague, famine, and intractable conflict were constant threats and the Devil's witches became the catch all to explain them. The Devil was having a resurgence in popularity and becoming a far more sinister character than he had ever been before. No more tricks. He was now beyond mere mischief and tempting and had become a dark malevolent force of pure evil. He sought the destruction of mankind.  Many Europeans in medieval times were convinced  that the world was soon coming to an end. It was easy to believe that Satan was building his army and preparing his final assault on mankind. Using "weak" women to do his dirty work and turn us all against each other. Well, that last part worked like a charm. Men overwhelmingly turned on women. For centuries to come thousand upon thousands of women were burned alive, drowned, and beheaded for charges of witchcraft. In many villages the fear grew so great that most every women alive was brutally killed. If you believe in Satan, you have to believe this was one of his proudest moments. With only the slightest provocation, humanity had turned it's back on every principle it had spent millenia trying to build. Europe was one giant pyre with countless bodies of innocent women stoking the flames. This went on for almost an entire century. The final "great witch hunt" occurred in the New World in the late 17th century. The Salem Witch Trials, were another farce that spiraled quickly out of control culminating in the deaths of several innocent young women. The community would be shattered for some time to come.
With the Renaissance effectively changing the world as far as science and religion are concerned, and the later Industrial Revolution elevating the poor and helping to  create a flourishing middle class, the Devil begins to take a backseat in modern times. Even the Church begins to distance itself from the Devil. The terrors of the Inquisitions and witch trials still fresh on their minds. The Devil retreats back to his home in Hell becoming, once again, a distant force  and sometime tempter. In the 1960's, Anton Lavey created the first official Church of Satan. A bit of a misnomer as the followers do not believe in a literal Satan. They merely adhere to the beliefs they connect to spirit of the Devil. Such as vengeance and carnal pleasure. In modern times, the Devil is  a marginal figure. Merely another fictional character to be lampooned in advertising or depicted in movies. While most Christians do believe in the Devil, they do not believe he has a physical influence on the world, such as possession. They also don't buy that the Devil wastes his time working his way into music and movies. He's just there in Hell, waiting for the fuck-ups. Many modern Christians are now of the belief that Hell is no longer permanent. That all can be saved eventually, if they pay their debt. Even Lucifer himself. Is that the Devil's future?  To steward Hell until ti is no longer needed, and then maybe be forgiven himself?
Well, I hope you enjoyed this brief bio of the Prince of Darkness. A complicated character who you can demonize but also sympathize with on some level. A misguided soul who let his own petty jealousies get the better of him. But also a bitter old monster who wants only death and destruction.  This is really only a small taste of the rich tapestry that makes up Satan's back story. He has been portrayed in many different ways. Sometimes sympathetic, most times malevolent and, other times, down right evil. He is, without  a doubt, the most human character in all of Western mythology. All of our faults exaggerated to a supernatural degree. Imperfect,impatient,  prone to over react, envious to  a terrible degree. But always that single minded hatred of mankind.  The creatures who stole his GOD's love.
Related articles