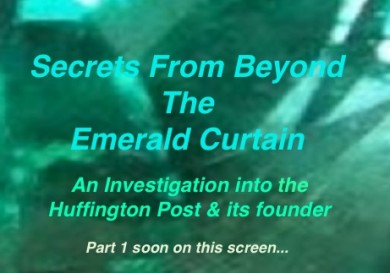 …is going to be the title of the planned series, whose goal is to reveal to a broader public some of our more unpleasant experiences at HP, to expose the extensive manipulation on different levels that's going on behind the scenes there and how it may be related to Arianna Huffington's cult, the MSIA, which also goes by the veil "Insight" seminar. Further we plan to lay bare the hidden agenda of Ms Huffington wherever we are able to pin it down and back up with facts. And, most importantly, we want to draw a fair amount of attention to Huffington Post's striking lack of progressive credentials.
Impertinently purporting to be a liberal outlet and at times hosting articles by real progressives, HP manages to entice many a thoughtful commenter and reader. Yet to my knowledge so far it seldom occurred that a wolf in sheep's clothing suddenly turned out to be a sheep. Now, please don't get me wrong: It's absolutely fine to be a wolf – as long as they adhere to the dress code.
*********
In the meantime more people joined the project. Some others offered links, proofreading and help with research. Many thanks to all of them!  And, it starts to look pretty good! But I still have a lot of reading to do – so far I found out quite a few interesting things, which I am going to share with you shortly.
As of now, there are going to be about 15 – 20 episodes.  The individual post should be relatively short and on topic. Around 950 words seems to be good for the reader to absorb all the information in the article. The series is going to be launched on March 19th, 2011 and it is planned to publish an episode  every Saturday. It is understood that every episode is sent for review latest one week before the publishing date to 2emeraldcurtain@gmail.com
Planned contents of each episode:
Experiences of an average user and how he felt the changes at HP over time (Covered by jdmn17, publishing date March 19th, 2011)
Zero tolerance policy for critique at AH. Moderation, pending, deletions, censoring, banning. How does HP deal with user complaints about that? How does HP deal with unwanted opinions? (First hand experiences of several users sought in order to blend into one or two episodes, depending on the amount of available data. Please be mindful that we plan to address a wider audience later on. Raging in the threads comments' section however is perfectly ok as long as PPOV's guidelines are respected)
How Huffington Post manipulates their headlines (Person sought to write. Some links available.)
Misleading headlines and their effect on users. (Covered by SueInCA, publishing date April 16th, 2011)
Misleading headlines and their impact on President Obama's reputation and the resulting eroding of support from the Left. (Covered by escribacat, publishing date April 23rd, 2011)
Misleading headlines and their impact on the Democratic Party. Nearly no coverage of protests by the Left. Just how progressive is this? (…while the place got swamped by tea-party and celebrity coverage) (person sought to research and write this)
Summary of chapters 3 – 5: How progressive is Huffington Post? Who declared AH the "Queen of the progressives?" (person(s) sought to summarize, probably best one or more of those who worked on Nos. 3 – 5)
Vast discrepancy between the headlines and AH's behavior: Are her words and deeds matching? How is the record of her deeds in comparison to those of the President? Can she hold a candle to him? (Covered by Truth and ?)
Introduction of AH's shady cult, main theories, accounts of former members (brainwashing, belittling, life threats etc.) (Covered by Truth and ?)
What is the influence of AH's shady cult on the HP? Is she still a member, is she in contact with the leader of the cult? It seems that her sister is heavily involved and that at least until 2008 HP employees were sent there for "training" (or rather brainwashing.) (Covered by Truth and ?)
AOL: a) short information about their business philosophy, their political affiliation and their business practices b) First hand experiences of former members  (Covered by Pocket Watch)
a) The following, plus exact legal background: "There is one fact about corporations that must be recognized. Corporations have no responsibility to the society they exploit for their revenues, they have only one legal obligation…to make as much money as possible. Shareholders can in fact successfully sue those running a corporation if such decision makers ever chose to be socially responsible at the expense of generating the most profit." (Entire quote from AdLib) b) Is there anything that can be done about that? (person sought to research and write this)
Summary of the findings of our investigation, conclusions and introducing further steps that we are going to take (Covered by Truth, commenter's input is going to be included)
For the episodes a little further down the road I can't give exact publishing dates yet. There is a lot of material pouring in every day, so I may need to accommodate new episodes in between the existing ones.
In order to enable launching this series in March, a few more people need to commit writing an episode or two. Considering the fact that Huffington Post still is widely viewed as a progressive outlet, – even by many who really should know better – plus considering that election season draws pretty close and in that (artificial) frenzy nobody would listen to a story like this, it is well worth to get to work now in my opinion. If you'd like to join, please mail to 2emeraldcurtain@gmail.com …What can I say… first come, first choose… 😀