So, the first thing many of you will be asking is, "Part 15"?
For the benefit of all our new members, let me first cover the basics. Last April I took a big trip to Washington, D.C. and the surrounding region. For some of you, this might not be a big deal. Fair enough. But for a boy born and raised in that other Washington, the Evergreen State, and a transplant to the deserts of Arizona, it was by far the farthest I'd ever been (save Hawai'i).
I'm winding this series down, and if you wish, you can see my past installments by browsing here. I'm actually quite embarrassed this will be the first set many of you see, as this was during a night tour, and I didn't pack a tripod, so the quality is poor on most of these.
The night tour by the National Park Service began at Union Station (which I have already covered in a past installment). The park guide reminded me a little of Sammy Davis Jr., with his voice and his jovial humor.
When waiting to embark, an old woman who looked homeless, nonchalantly pulled down her skirt, squatted, and did her business in the rose bushes. Some people started giggling a little too loudly for my taste. I thought it was sad. But, maybe that's how some people deal with uncomfortable situations like that? With aplomb, the guide settled us down and said it was probably good for the roses anyway. I hate to bring race into this – perhaps it's irrelevant, but I was struck that our guide, whose father was buried in Arlington, who attended Howard University after serving himself, and who now lived in Georgetown must have felt a whole range of emotions as a proud lifelong native Washington D.C. resident and ambassador, and as a black man. I could hear it in his voice. He loved his city, but was keenly aware of the inequity and poverty which still exists almost literally in the shadow of our nation's Capitol dome. For all the grandeur I saw in Washington, D.C., this did not mar that experience. Rather, I thought it was a needed reminder that so much in our nation has yet to be perfected; or at the very least, first confronted.
In that vein, we drove past this: the national Holocaust Memorial Museum. I wrote upon this in the past. If you're ever in D.C., don't go without visiting this, but remember to go early to get the limited allotment of daily passes for the permanent main museum. I also saw a separate exhibit there on Nazi Propaganda. Yeah, we've all read our share about it, but it's not until you see this exhibit that parallels fully hit you, and I say this without hyperbole (fully aware of Godwin's law, to certain voices on the right in our own country. It's not quite there yet, but it could happen again anywhere under the right circumstances. The methods are chillingly the same. What you see in the front is the Hall of Remembrance.
The Jefferson Memorial, at dusk.
The Tidal Basin.
Taking Wedding photos on the steps.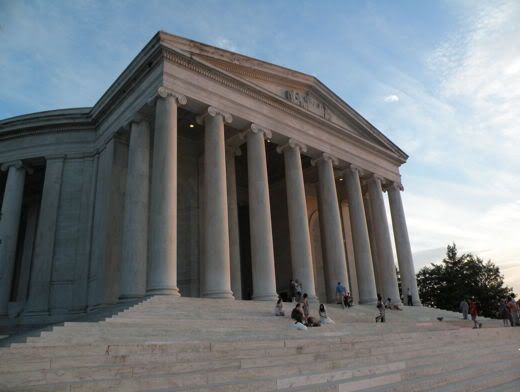 I couldn't choose between the previous and following picture. I wanted to show the "Stonehenge effect" which I don't believe was anymore of an accident than being able to see the Eternal Flame of John F. Kennedy at night from across the Arlington Memorial Bridge behind the Lincoln Memorial. As to the quotes on the panels, they can be found here.
One can see here it was modeled on the Pantheon. Can you believe this was mocked for its Greco-Roman inspired temple architecture? Wait, wasn't a presidential candidate also mocked for using such architectural elements at a convention? Maybe they weren't racist but just hoity-toity architecture critics from the early 1940's?
On to the Franklin Delano Roosevelt Memorial. This was the only memorial I didn't see during the day. And, from here on the lighting gets difficult for good pictures. Bear with me.
A key feature was water.
He would have never approved of this next representation, which was dedicated by President Bill Clinton in 2000. It was quite controversial. On one side was the Roosevelt family and on the other the disabled community.
I have a few perfectly good pictures of this with flash, but I still opt for the mood of it without flash, though it may be harder to read.
Suck it Birchers.
Pull yourself up by your bootstraps and get a job!
And stop looking for a handout you lazy ingrates!
Now to the Korean War Memorial. My pictures of this during the day were better, but the experience of this at night was more moving.
I was trying to find makeshift 'tripods', but most everything is beveled.
Like the Korean War Memorial, the Lincoln Memorial provides a whole different experience at night.
I spent time in both the north and south chambers just reading the Second Inaugural Address and Gettysburg Address, respectively. Nothing else mattered to me but those immortal words, not even the cute girls walking by. It was as close to a spiritual moment I've had in a long while. There's just something about that place at night which transforms it from its daytime incarnation. It's as if the marble comes alive and better resonates the history under the star-spangled blanket of darkness.
I'd missed this spot during my daytime visit.
The view from that spot (you can barely make out the Washington Monument).
I don't know how I got this.
WWII Memorial. I really struggled with which picture to choose here. I had a few good angles of this, but, risking another redundancy, settled on this.
The Freedom Wall. There are 4,048 stars in total, each representing 100 servicemen who gave their lives. And, to my second moms here at the Planet, I was quite crestfallen when I found youthful indiscretions and medical records prevent me from serving. Apparently, the Navy has standards. Oh well, I tried. Now some trivia instead: who first introduced the bill to build a WWII Memorial?
And, I'm back at Union Station closed down for the night, just as after the next installment this series will be as well.
If you want to see the rest of the series, this is an easy way:
http://planetpov.com/member-directory/?uid=115
The US Holocaust Memorial Museum's Propaganda exhibit information can be found here:
http://www.ushmm.org/propaganda/
Jefferson Memorial panels, with context:
http://wiki.monticello.org/mediawiki/index.php/Quotations_on_Jefferson_Memorial