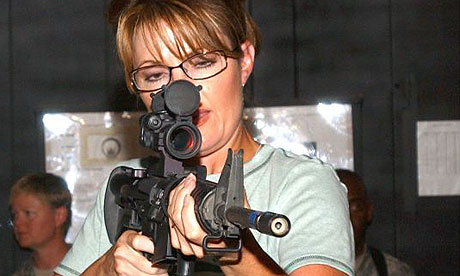 A local theatre is putting on a production of "The Mikado," a Gilbert and Sullivan Savoy opera from the 1880s. The piece contains a brief line in which the Japanese executioner Ko-Ko talks about executing someone.
Originally, this line contained the "N-word" and references to British political figures who are pretty obscure today. So productions over the years have altered the line, and it has become a tradition to change the line to make it more topical and contemporary.
At the local theatre, they changed the line to a crack about executing Sarah Palin.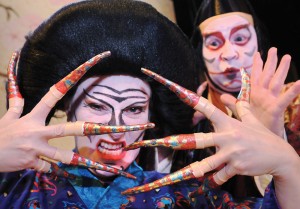 The line goes:
"That crazy Sarah Palin needs a psychoanalyst / She never would be missed, no, she never would be missed."
They also made jokes in the play about executing people who drink expensive frappuccinos from Starbucks; Montana drivers who don't understand how to navigate roundabouts, members of the audience and the oboist in the orchestra.
Some people attending the play objected and began a letter-writing campaign. The word got out and numerous articles were written on right-wing blogs about it (Honestly, at this point, I wouldn't be surprised to see it on Glenn Beck). Some people have been screaming that no taxpayer dollars should be going to this theatre in any way, shape or form, and that if the theatre is receiving tax dollars, they should be cut.
Several right-wing bloggers made a big fuss about why would children be taught to joke about killing Sarah Palin. Well, the play took place at a children's theatre, but these people obviously don't know much about theatre. The Mikado is most assuredly NOT a children's play. It is a very difficult opera. The theatre just happens to have "children" in its name. Some of these bloggers spent zero time researching the topic they were writing about.
Secondly, as far as making a joke about executing Sarah Palin … it's a toughie. The play director said Tucson never even once crossed his mind. He says he picked her simply because she is a well-known celebrity. One blogger supporting the play likened The Mikado to a Roadrunner cartoon of its time.
I think before Tucson, I would've just shrugged it off as harmless satire. But, I had to ask myself an honest question … what would have been my visceral reaction if instead of Sarah Palin added to the line, they added Barack Obama or Michelle Obama or Nancy Pelosi to the line.
I have to be honest, that probably would've bothered me. After Tucson, these sorts of jokes — even if it is harmless satire — don't seem so harmless anymore, as much as I despise Sarah Palin.
This kind of stuff just continues to feed her "woe is me" self-victimization machine and it continues to give grist to her supporters that she is some kind of martyr.
The run of "The Mikado" ended, so they never took the line out. By the time the controversy flared up, the show was over. The theatre received a couple of death threats over the line in the opera. The theatre company director apologized and the whole fuss simmered down pretty quickly.