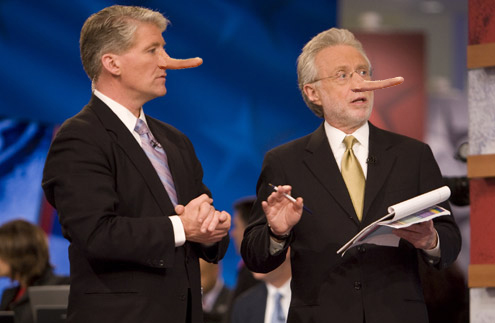 After an election is over, news organizations and pundits all turn their backs on their wrong-headed pronouncements as if they never happened and no one holds them accountable for their self-serving propaganda. At least, usually.
Here are a collection of memes, predictions and characterizations of the then upcoming 2010 election that were proven to be as accurate as those presenting them are principled:
FALSE MEME #1:
CNN: 2010 is year of GOP women candidates

By Ed Hornick, CNN
September 21, 2010 1:18 p.m. EDT

Washington (CNN) — While 2010 might be the year of the Tea Party, a second storyline is the rise of Republican women candidates.

http://www.cnn.com/2010/POLITICS/09/21/women.candidates/index.html

======================

CBN NEWS: Election 2010: The Year of the 'Mama Grizzly'

Much has already been written leading up to the 2010 midterm elections. Stories about angry voters and formerly unheard of candidates have been common place.

But these elections are making history in a way you may not have realized. A record number of Republican women are running for office.

With GOP candidates like Carly Fiorina, Sharron Angle, former Ebay executive Meg Whitman, Nikki Haley and Christine O'Donnell, to name only a few, this year could go down as the year of the conservative woman.

"I think it's the year of the woman, period," said Nicki Kurokawa, a senior policy analyst with the Independent Women's Forum, a non-partisan group.

"This is just a reminder that women are a force, and when women run on issues and don't allow themselves to be pigeonholed as women, they can contend and they can absolutely win," Kurokawa added.

http://www.cbn.com/cbnnews/politics/2010/October/Election-2010-The-Year-of-the-Mama-Grizzly-/
REALITY #1:
(4 of the 5 "Mama Grizzlies" cited in the above article, lost.)

DAILY BEAST: A Net Loss for Women in Congress

Female politicians took a drubbing in Tuesday's midterm elections, resulting in a net loss in the total number of congressional seats held by women for the first time in 30 years.

http://www.thedailybeast.com/cheat-sheet/item/a-net-loss-for-women-in-congress/setback/
==================================================
FALSE MEME #2:
HUFFINGTON POST: The GOP Will Win the House and Senate

Steve Lombardo
President and CEO, Lombardo Consulting Group
Posted: November 2, 2010 11:28 AM

Today Republicans will gain control of the House with a net gain of 60-70 seats and narrowly take a 51-seat majority in the Senate in an historic political blowout.

Colorado is tough to peg. This is a state Obama won with 54% of the vote (Bush took the state in 2004 with 52%). It was supposedly part of the "new Democratic coalition." Well, that didn't last long. Colorado is a swing state and this year it is swinging Republican. Our sense is that GOP enthusiasm — combined with a lackluster Democratic candidate — will give Ken Buck a victory in Colorado.
LCG Projection: GOP Pick-Up.

Nevada is one of several Bush states that Obama flipped in 2008. Bush, though, carried the state with just 51%.  Reid has never been a great candidate and his performance on the campaign trail and in his debates this year has been pretty dreadful. Like many other close races, we expect GOP enthusiasm to push Angle, herself a flawed candidate, to victory.
LCG Projection: GOP Pick-Up.

California. A caveat here: we have done some work for the Fiorina campaign. Most polls show Boxer at or around 50%. We are going with our heart predicting that the "wave" will carry Fiorina to a narrow victory.
LCG Projection: GOP pick-up.

Washington. . Our sense is that Rossi has been a solid candidate and the GOP tide will take him over the top.
LCG Projection: GOP Pick-Up.

http://www.huffingtonpost.com/steve-lombardo/the-gop-will-win-the-hous_b_777628.html

===============================

DICKMORRIS.COM: HOW THE GOP WILL WIN THE SENATE
By Dick Morris And Eileen McGann
The Republicans will win the Senate (and the House) and might win it with a few seats to spare!

http://www.dickmorris.com/blog/how-republicans-will-win-the-senate/
REALITY #2:
2010 Senate Election Results: Dems: 53 – Repubs: 46 seats TBD: 1

(AK will yield 1 more Repub making the final count, Dems: 53 – Repubs: 47)
==================================================
FALSE MEME #3
DAILY BUSINESS – Americans want Barack Obama to focus less on the economy
By JONATHAN BERR Posted 5:30 PM 10/28/09

"More Americans choose the economy (41%) than any other issue as the top priority for Barack Obama, but that is down sharply from last November (64%)," Gallup says. "By contrast, the situations in Iraq and Afghanistan, the federal budget deficit and health care have grown in perceived importance over the past year."

Health care, which was barely on the public's radar last fall, has shown the biggest increase, from 5 percent to 17 percent as it became the focal point of the Obama domestic agenda. The federal deficit soared from 7 percent to 14 percent, while the wars in Iraq and Afghanistan rose from 11 percent to 18 percent. Energy dropped from 6 percent to 2 percent.

======================

THE ATLANTIC – A Plurality of Americans Still Want New Stimulus

Nov 4 2010, 10:30 AM ET

Given a list of priorities, a plurality of Americans say that a new stimulus bill is the most important thing the next Congress can do after the election. Weird?

http://www.theatlantic.com/business/archive/2010/11/a-plurality-of-americans-still-want-new-stimulus/66098/

===========================

PLANETSAVE: Americans Want Focus on Energy over Environment

April 8, 2010

For the first time in 10 years Americans believe that increasing energy supplies should be prioritized over the environmental conservation.

http://planetsave.com/2010/04/08/americans-want-focus-on-energy-over-environment/

==========================

HUFFINGTON POST/BASELINE SCENARIO: Americans Want to Live in Sweden

By James Kwak

The chart below is from a short paper by Michael Norton and Dan Ariely (author of Predictably Irrational) (hat tip Huffington Post). The top line is the actual U.S.wealth distribution. The second is what Americans think the wealth distribution is. The bottom line is what Americans think the wealth distribution should be.

http://baselinescenario.com/2010/09/28/americans-want-to-live-in-sweden/
REALITY #3

Nov. 2, 2010 Election Exit poll: Highest priorities for the next Congress according to voters:

37% – Create jobs
39% – Reduce the budget deficit
18% – Cut taxes

http://www.npr.org/templates/story/story.php?storyId=131065423

As  the conflicting memes and poll above display, the American Public doesn't know what it wants or have any realistic understanding that in reality, it is factually impossible to simultaneously spend money to create jobs, reduce the budget deficit and cut taxes.
In essence, Americans want to buy a cake without spending any money and both eat it and preserve it untouched simultaneously. And the Republicans have told them that they can. Who would want to vote for some sourpuss Democrats who say we can't suspend reality and have everything we want at the same time?
The toxic concoction of corporate plutocracy, a corrupt MSM and an incredibly ignorant citizenry that votes on emotion and for those who tell them all their most impossible wishes can come true…is poisonous to our democracy and our future. The only silver lining to this dark cloud is that, as under Bush, once the Republicans and corporations have used their manipulations to take more huge chunks of the nation's wealth away from the people, that same emotion-driven voter becomes angry at them and backlashes by voting them out and the Democrats in.
The dark cloud in that silver lining is that their fickle nature makes it nearly impossible for the Democrats to have enough time in power to reverse the damage done by the Republicans.
There does need to be a Re-awakening in this nation. The informed and intelligent citizenry needs to become more formally organized and activist to combat the power that the emotional and ignorant voters mindlessly wield to serve those who best pander to their fears, anger and greed.