Props to Kalima, Bitohistory and MightyWoof for their recent comments with links and images on the fires raging around the world this summer.  Their well founded interest and concern struck a chord with me and inspired this article. As provided by MightyWoof, here are astounding Google Earth mappings of current fires in Russia and Africa:
Arizona just had the big Schultz fires:
Add to this the floods that have been occurring around the world. The current flood in Pakistan has hit over 14 million people:
In April, a massive flood in Rio de Janeiro killed over 200 people:
Meanwhile, a massive part of the Petermann glacier in Greenland, a section four times the size of Manhattan Island, just broke off. Scientist say that if Greenland keeps shrinking at this rate, ocean levels will rise by 3 feet this century.
Oh, and remember this year's "Snowmageddon" in Washington DC? And how these denial morons claimed it disproved "global warming"? Okay, it should have been called "Climate Change" from the beginning to take away such inane talking points but the truth is, the first six months of 2010 are the hottest on record.
And all of this has happened just 8 months into 2010, not even addressing all of the extreme weather last year or the years before.
As a reminder about how high and climbing our planet's CO2 levels are: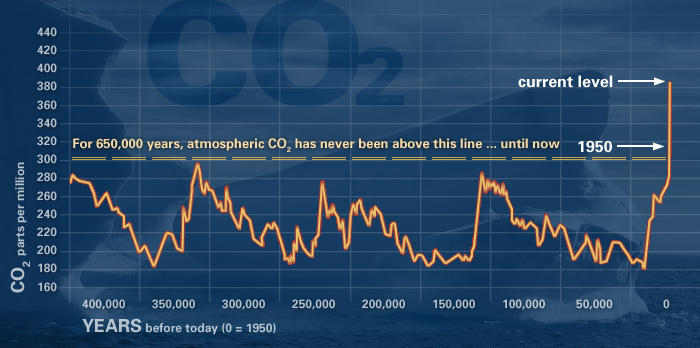 As the GOP and corporate interests fiddle, the world burns and drowns. The greed-motivated deniers of climate change have a transparent agenda of, "The future is irrelevant to my getting more money today." They seem to believe that the worst won't have hit by the time they die so they don't care, it's their kids and grandkids' problem. Family Values 2.0 for the GOP.
If the Earth continues to be swept by fires, floods, record snow, record heat, record droughts, oceans rising and disintegration of glaciers and other cooling forces on the planet…with extreme climates year round all across the world, how much will global crop yields and potable water decline? How might that increase the suffering of especially the poorest and how might it foster more wars between peoples and countries over resources?
There are many issues that are critical at this time in history but none of them matter in the long run if the Earth's environment becomes too unstable or hostile.
We need to get addressing Climate Change back on the table in a big way. Of course, the Repubs will again be the Party of No when it comes to the preservation/protection of human civilization but they can't be allowed to filibuster a livable planet.