After Philly, headed west again. In Chester County, stopped at Longwood Gardens. The gardens were once the private estate of Pierre S. du Pont, though an arboretum had been started from the family that owned it before, the Peirce family, who themselves purchased the land from William Penn. Now, I'm again biased. It takes a lot to impress someone who knows Butchart Gardens like the back of his hand, but Longwood wasn't too shabby, either. With limited commentary, some pretty pictures.
At the entrance, this reminded me of some Middle Eastern motifs I've seen. Or even tapestries from Europe.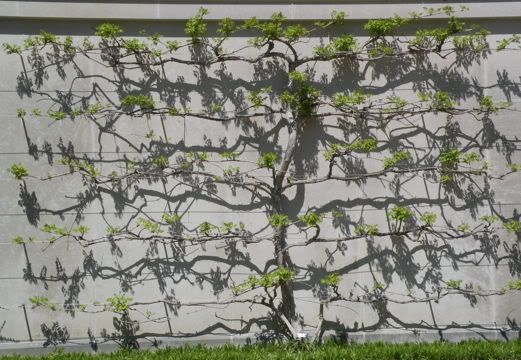 A brilliant fire-red tree. I did enjoy the different flora, and particularly foliage of the East Coast. I was stumped until I asked a ranger later, why there were so few pine trees (remember, I'm a Northwest native), though. The variety of deciduous trees was new and fresh to me.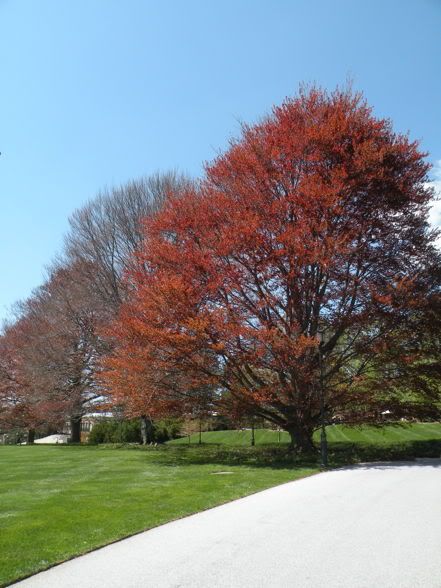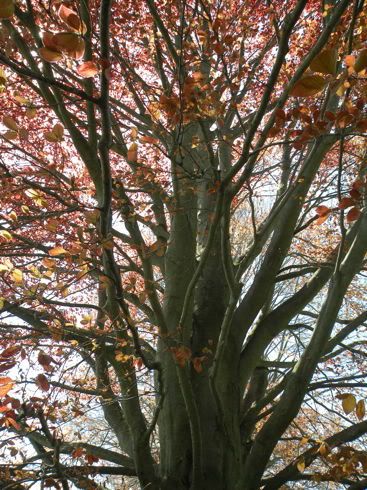 Fanciful topiary always makes me feel like I'm in Edward Scissorhands.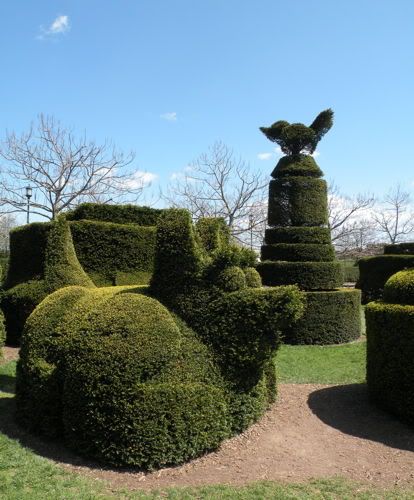 Grand view.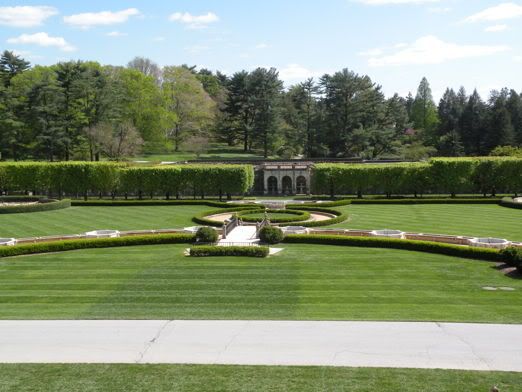 Me just playing with a shot from the patio where the last picture was taken.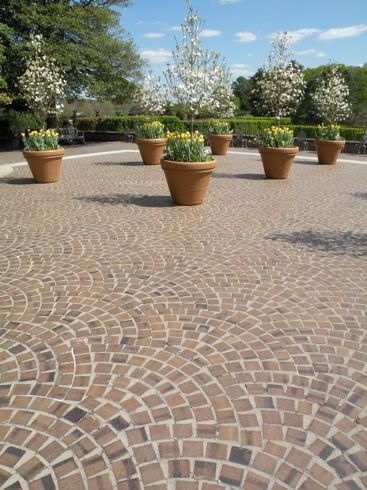 It ain't Holland, or Skagit Valley even, but pretty nonetheless.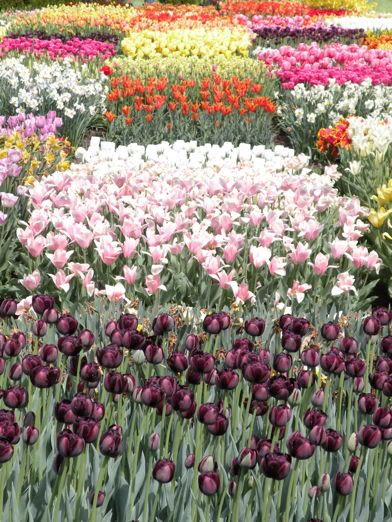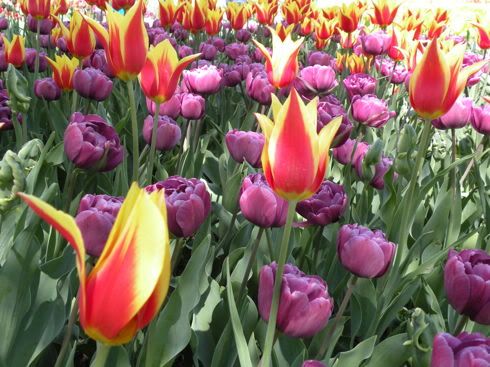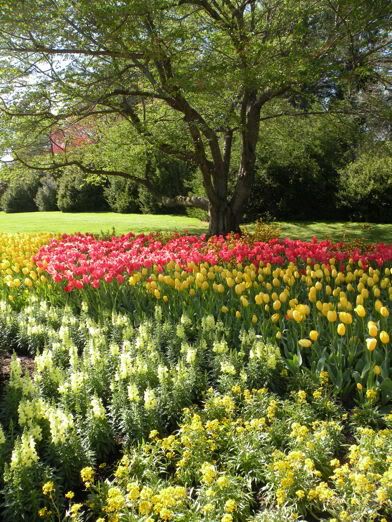 An idyll fit for a sylph.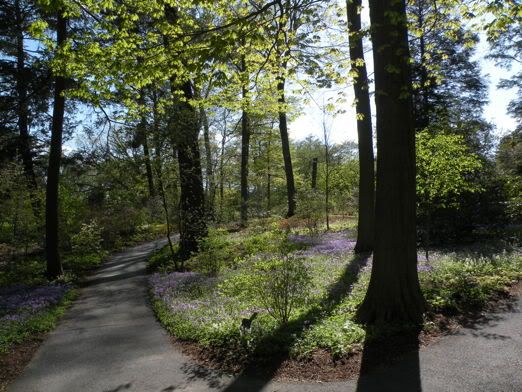 …or a homo relaxus.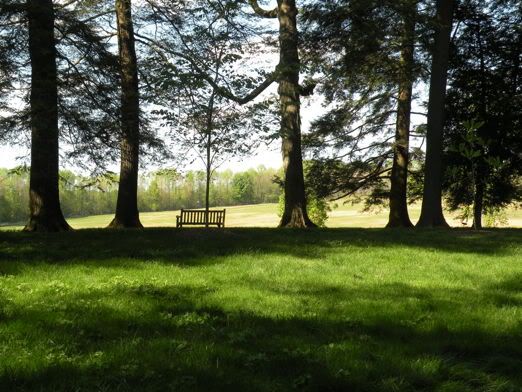 An Italian Garden.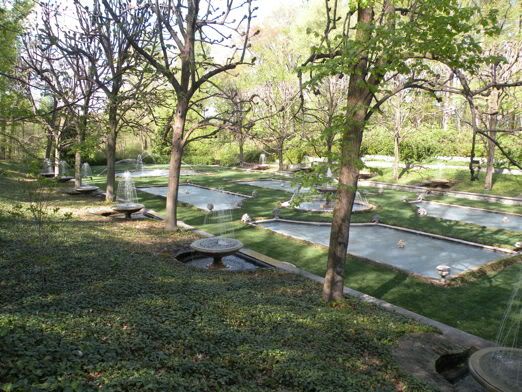 Chimes Tower.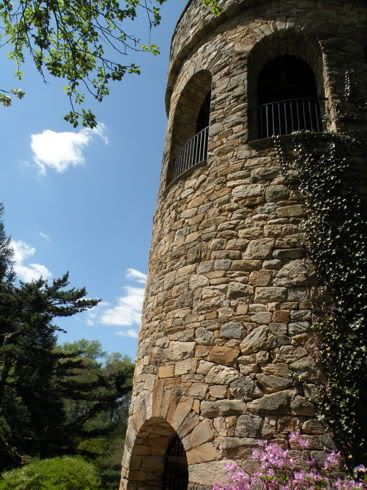 Inside the conservatory now.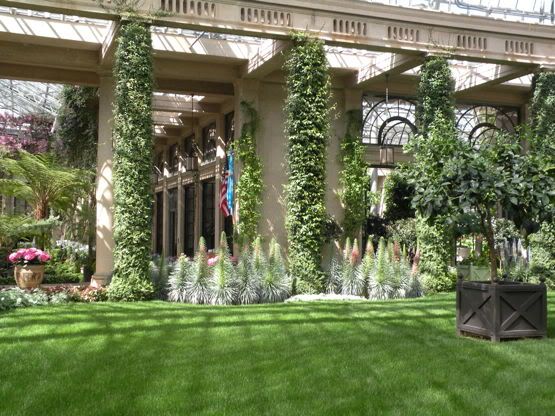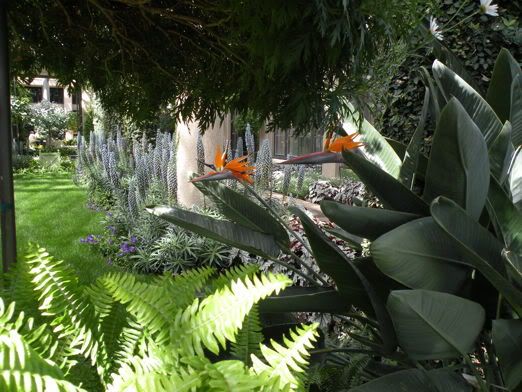 There were lots of water features, spouting out of walls, or dancing up ledges. It was whimsy taken to its fullest.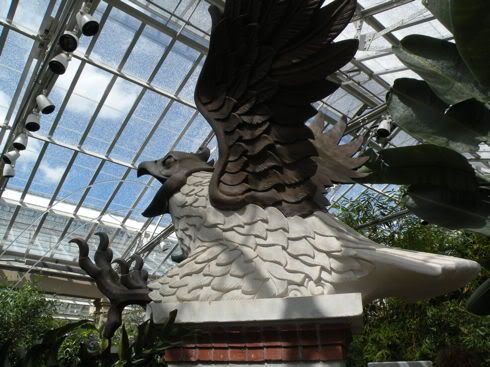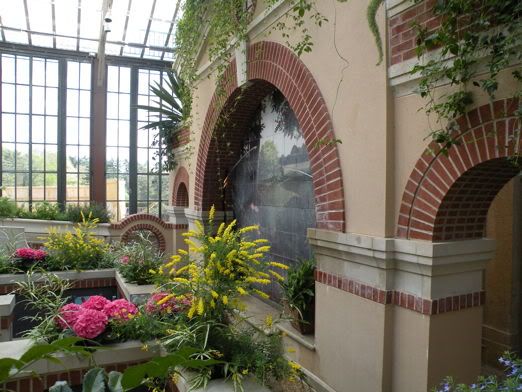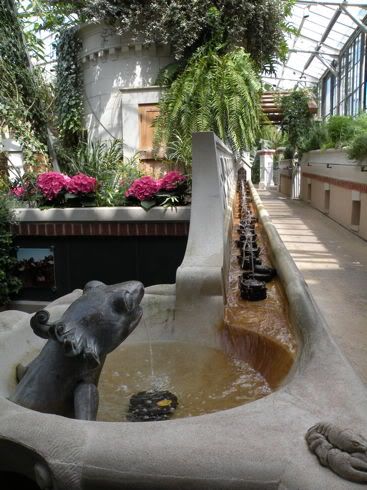 Just Gorgeous…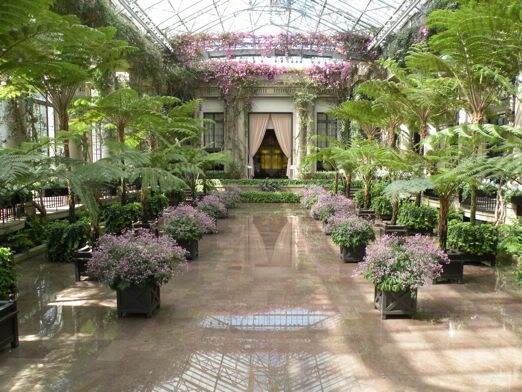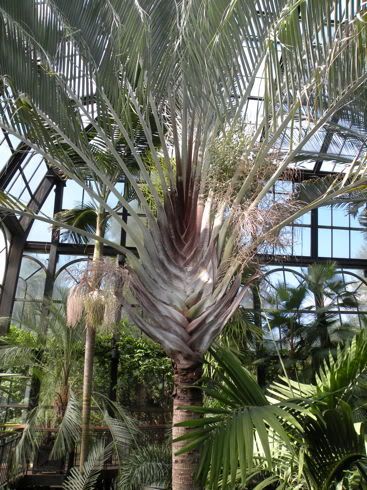 Behind the curtained doors in the picture above the palm, is this ballroom, which houses the console of a famous 10,010 pipe organ (under renovation, wouldn't you know).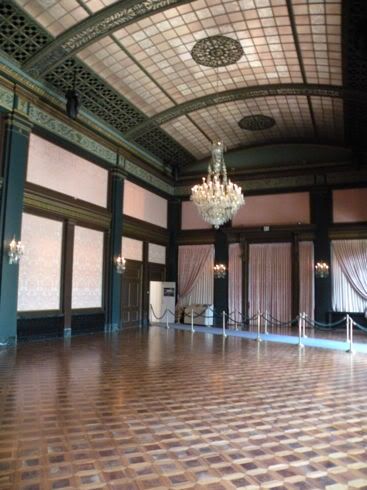 Still in the conservatory. Some flora.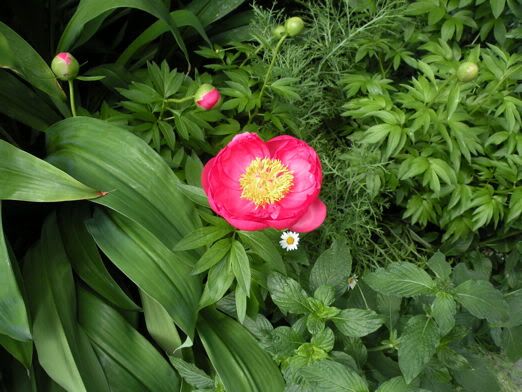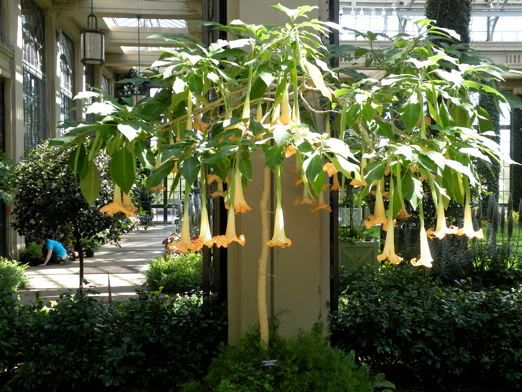 I always figured these things were bigger. Then again, they do prey on flies, duh.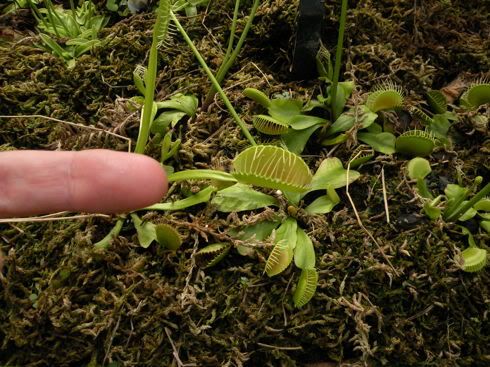 After the Longwood Gardens, it was across the county line, to, Lancaster County. First, the bumper stickers started getting really conservative. But; after that typical rural shift, there was a bigger change!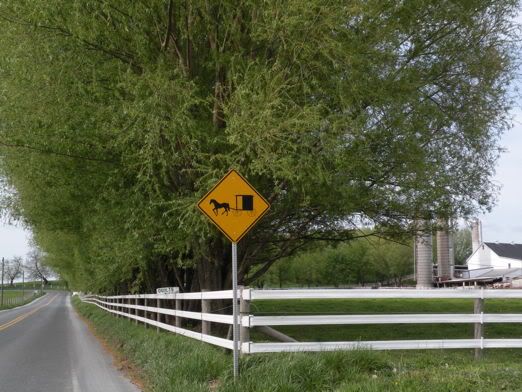 Traffic jam!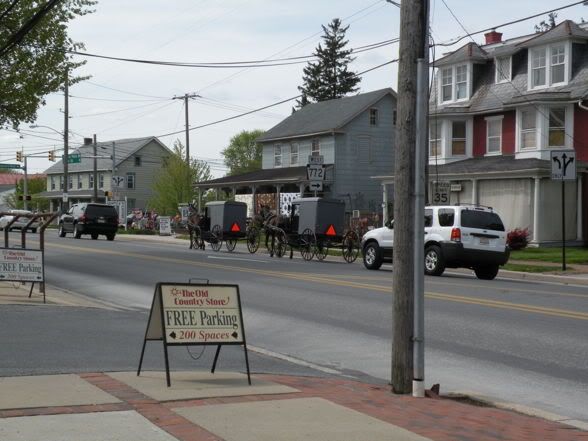 Parking?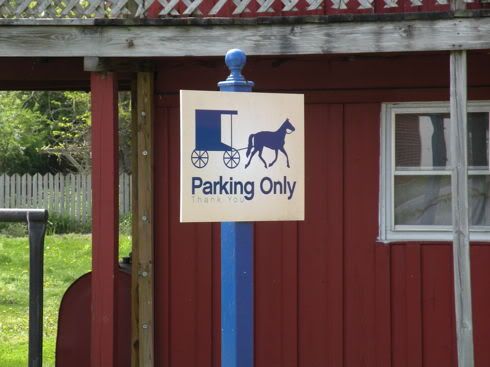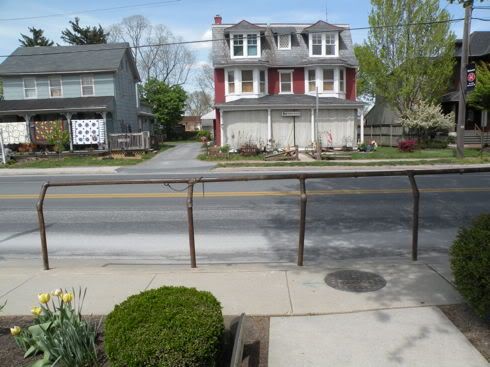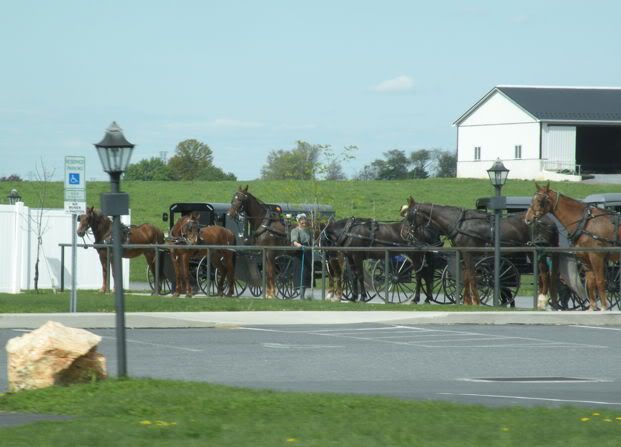 Workin' it with good old fashioned horsepower.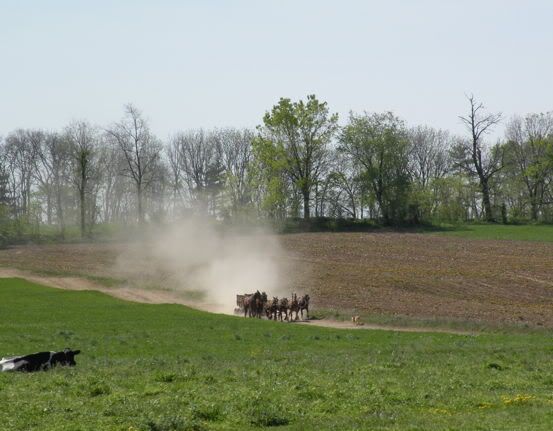 And the newer kind. Yes, they have ways of rationalizing this. I couldn't keep up…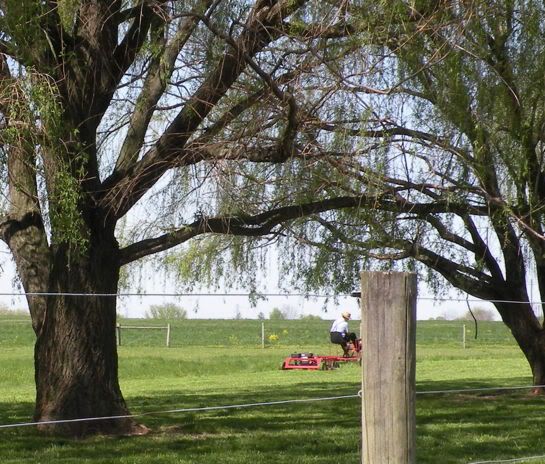 Like I never saw a horse before. They did have some magnificent horses though.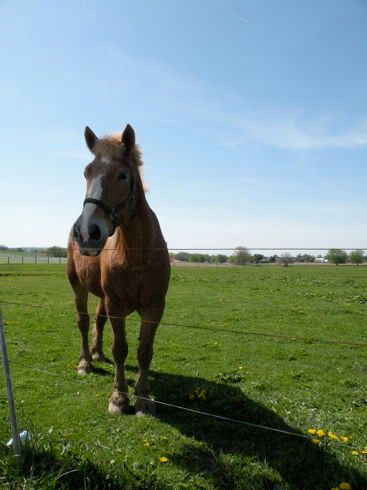 Amish scooters lined up outside of a schoolhouse. I barely snapped this before all of the kids came out to play and have lunch. Would've loved to have gotten this shot from the other side of the fence. The thing about Amish of all ages, they generally looked genuinely content and happy. Should give us all pause…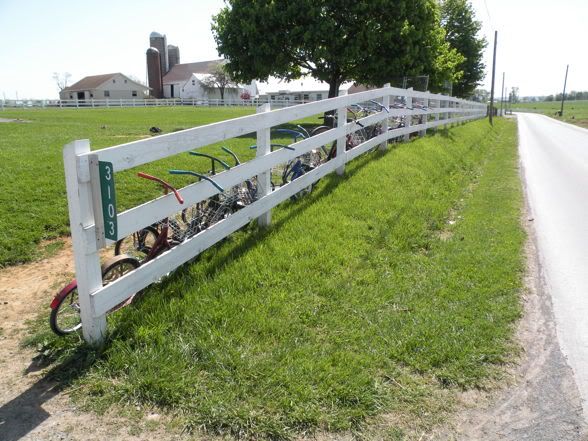 A bookstore well off the beaten path. Inside were lots of wonderful German books, including school grammars, still printed in Fraktur typeface, which fell out of favor in Germany after the Second World War. The US history books left much to be desired, though. This is minimal education, after all. Their duties are to the farm, or to work with their hands, period. Many more shops adjoined farms. If you ever go to Amish Country, a travel tip: don't go anywhere with "Amish" in the name. It won't be. They don't advertise; it's not the Amish Way.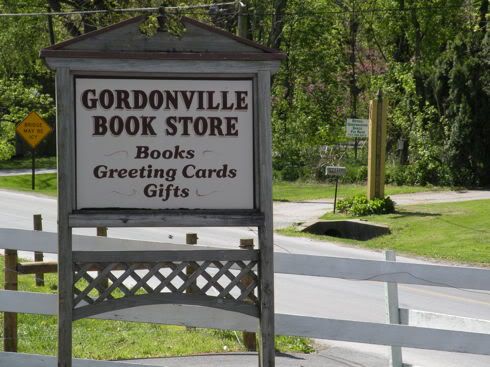 This is a bench wagon. The Amish do not have churches. They meet in each others homes. This carries benches from one house to another.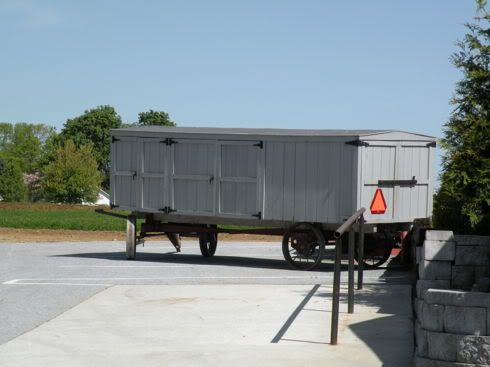 An Amish cemetery. All the headstones are in German. They are, of course, simple.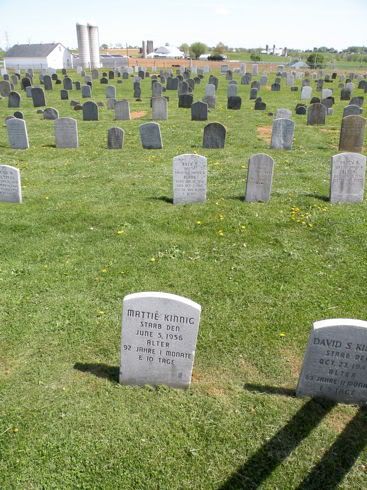 The Stoltzfus Farm, where I ate two nights in a row. Simple, fresh fare, like "chow-chow" – no menu save for drinks and desserts (Here's what's served). The Amish also make the best homemade root beer and pretzels you'll ever have, and they are famous for shoofly pie. I sampled these at a store on the back roads.
The pregnant hostess in her early 20s heard "Arizona," and her eyes grew wide with wonder, like I might as well have been from China. She said she'd never been outside of Lancaster County. I doubt she'll ever get beyond Pennsylvania. A few cute waitresses were still young enough though. I hope they can get out. While beautiful to visit, I don't imagine Amish Country is a place for a non-Amish young person.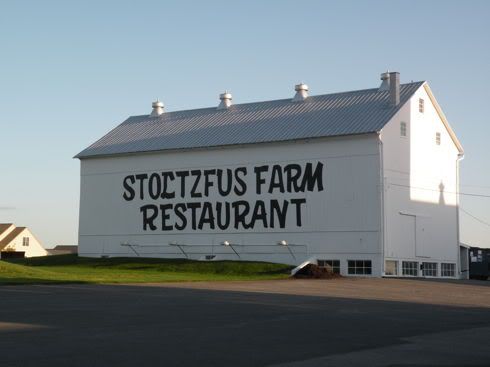 Case in point.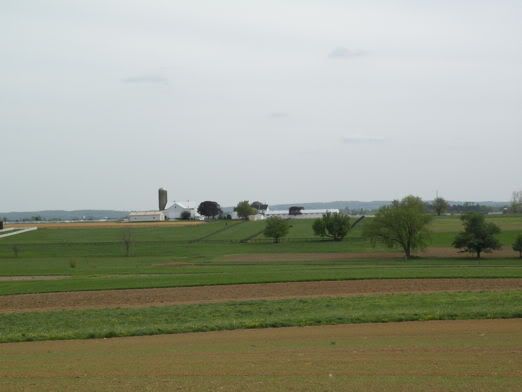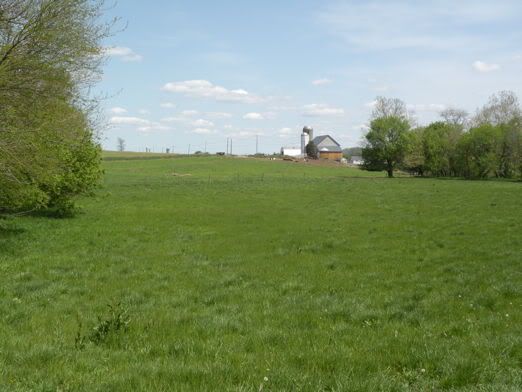 These residents looked happy enough, though. Dude, whatya lookin' at?!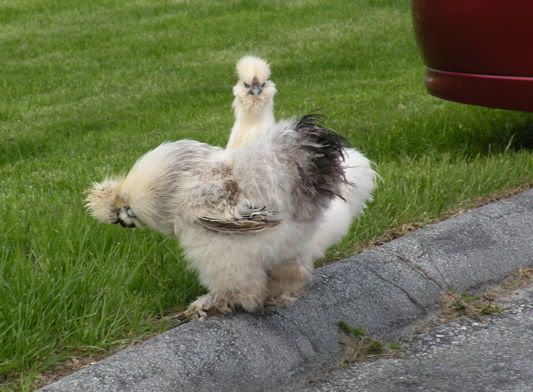 On the bridge above, maybe the clearest shot I got of an Amish person in a buggy. Oh, the shots I wish I had gotten. I was polite in respecting their customs, and also creeped out by viewing them too much as anthropological subjects, or tourist props. I tried to respect their privacy as much as possible. In doing so, I missed out on some fantastic shots. Especially one of two adorable blond boys framed perfectly by a buggy. It was a postcard, I tell you.
They varied in shapes, and from battleship gray to black gloss. Some were the equivalent of Mercedes, even. Just don't try to outrun the police!
Here are buggies parked in one of the characteristic farms where you'll find poorly marked shops, which you probably would need a guide, like I had, to find.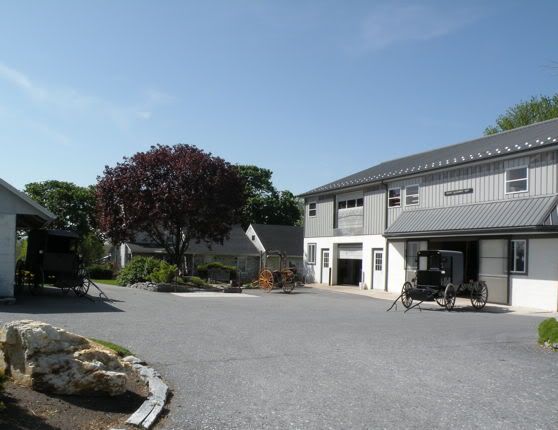 A mill.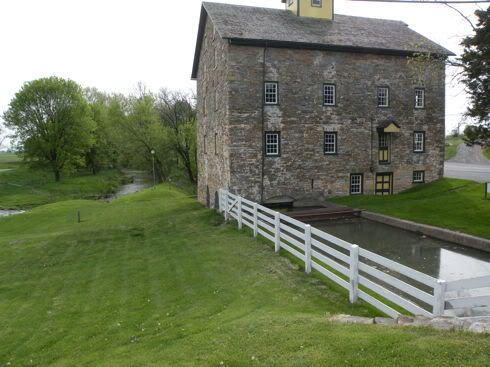 Though not seen on Amish homes (always remember, 'modesty' is the operative word), here are some Hex signs. If not for the Hex signs, the yellow would have been a good clue too. They were introduced by the German Lutherans, rather than Mennonites. Among the Pennsylvania Dutch, I believe this Hex symbolizes fertility.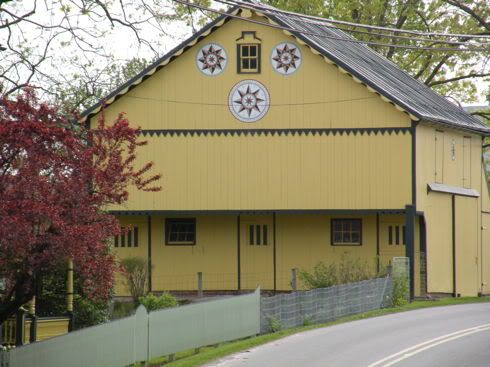 Two of the most interesting town names ever, and next to each other at that! Bird-in-Hand, and Intercourse.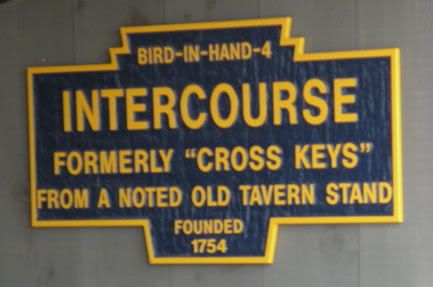 I love Intercourse!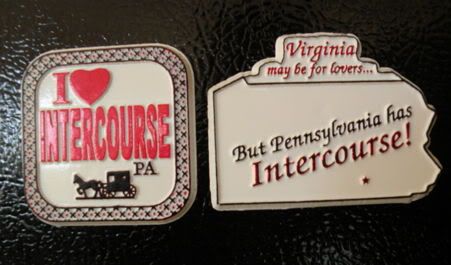 Now to go from the Junior High, to the Freudian.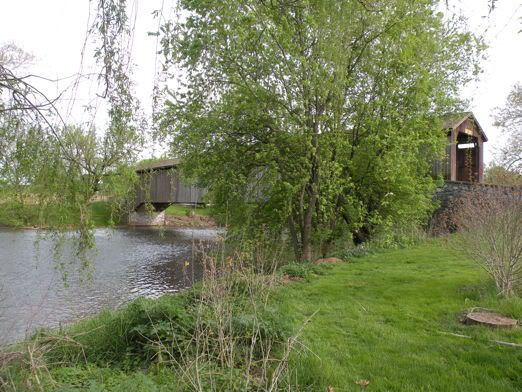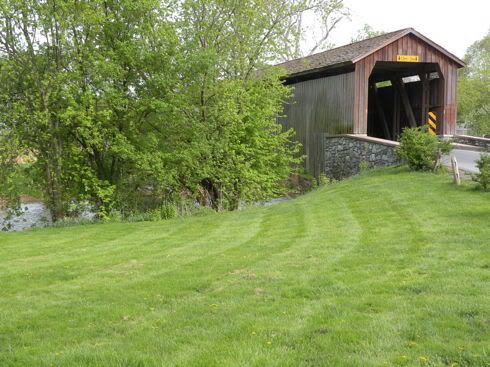 Miraculously, the residences near that covered bridge put the 'estate' back into real estate. Maybe something a little shorter?
Which reminds me, my time is short, and I must bid adieu to Lancaster County. Bis dann!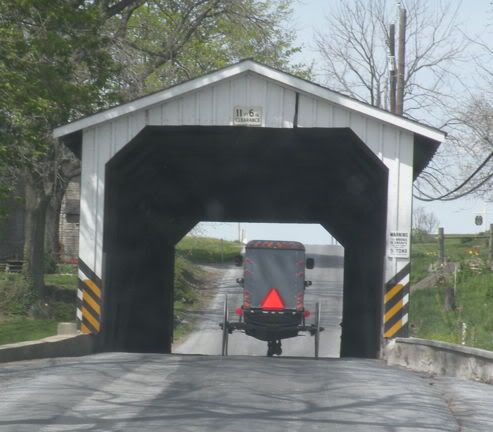 Before parting from Lancaster city, where I'd been staying, should I have checked out this place?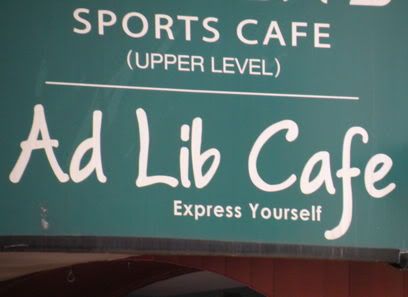 —
For a colorful look at Lancaster County, this is a fun article,
http://travel.nytimes.com/2008/06/20/travel/escapes/20rituals.html