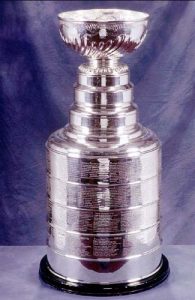 The Blackhawks!
What an exciting game that went into OT!
And the Blackhawks won the Stanley Cup away from home!
Trivia questions for hockey fans –
What are they going to do once the Cup gets too big for them all to hoist in the air and carry around?
Do you think that they will have to bring in another Cup?
How much does the Cup weigh?
Whose name is engraved the most times?
Does the Stanley Cup go to every member of the winning team?
And for how long?
Who started the growing of the beard thing and is there a reason that that was started?
And is OT for hockey still sudden death?
And is the 22 year old Blackhawk MVP winner the youngest captain of a hockey team?
Congratulations to the Blackhawks that have not won since 1961!!!!