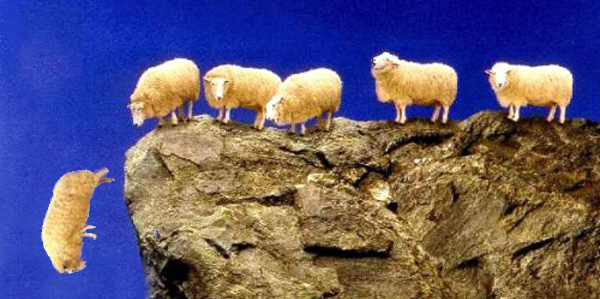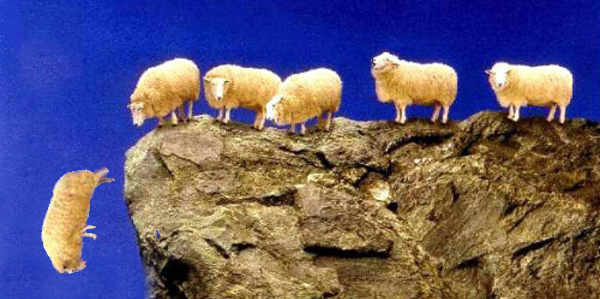 Come November, the Republican Party may need to change their mascot from the elephant to the lemming.
In the aftermath of Scott Brown's upset election in January, the GOP redoubled their bets on the failure of Health Care Reform. As they had for the last year, they showed no hesitation or remorse in spouting outrageous lies to frighten the public, incite hatred and caricature Pres. Obama as a socialist who is bent on destroying America by turning it into the USSR…and is also Hitler, the Antichrist, Dr. Evil and an arugula farmer all rolled into one.
It was and continues to be a scorched earth campaign to destroy Americans' belief in their democracy, their government and the concept of doing what's right for our entire society  instead of "me". But this strategy may already be backfiring once their Sherman's March across the soul of America ran into the month of March.
Sen. DeMint was the first to connect "Waterloo" with trying to pass HCR, towards Pres. Obama of course. It would be ironic if it did indeed turn out to be the GOP's Waterloo. Negative campaigning has historically proven to  be effective in the short term but can boomerang in the long run. The public can be stirred into fear, resentment and/or hatred far too easily as a kneejerk reaction to negative campaigning. Emotion trumps reason for many in the immediacy of the moment. However, as time passes, emotion wanes. The public which has been whipped up to feel negative emotions by politicians…can start to associate those feelings with the source of them and feel greater distaste towards those politicians  than their targets.
Aiding this is the debunking of the terrible, trumped up accusations that the passage of time can expose. When the sky doesn't fall and we don't have our guns taken away on our way to government work camps after being taught our new official language of Russian…at least some will begin to recognize that they've been a sheep in lemming's clothing.
Let's take a look at where public opinion is today, after passage of HCR per Gallup: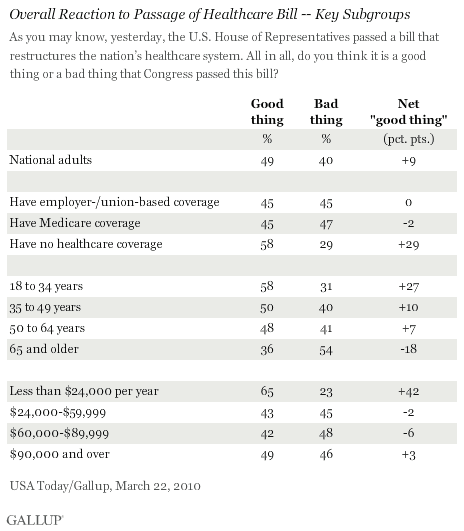 http://www.gallup.com/poll/126959/Majority-Poor-Young-Uninsured-Back-Healthcare-Bill.aspx
Hmm…what was the hue and cry of Republicans over the last week? Listen to the majority and follow their wishes or you undermine our democracy. So, now that a greater number favor HCR, does that mean we can expect John Boehner to start crying in regret at opposing HCR? I wouldn't bet my tanning bed on it.
What's interesting about the above poll is that the main demographic that is opposed to HCR is that of Senior Citizens. This seems to be very intuitive. No offense to Granny but she is likely still trembling a bit about that death panel that's coming for her. It is well established that Seniors are the biggest target for scammers, they are naturally easier to scare, intimidate, convince and manipulate.  So,  it would seem that the above poll is actually good news for Pres. Obama and Dems and bad news for the GOP.
At a time when they've thrown all the fear and hatred they could at HCR, most favor it. And the biggest demo opposing it who we know can be easier to convince, will soon get $250 checks, drug payment donut holes closed and health care guaranteed for all of their grandchildren and in 4 years, all of their children too. They're going to vote in November for Repubs who want to take that away from them?
By the time November rolls around, will the emotions and the lies surrounding HCR  still be as resonant with the majority of the public or will they have moved on? With the short attention span of today's MSM and society, will an 8 month old bill be on the front burner still? Nothing else like the economy, jobs or anything that pops up in the meantime might get the focus? And in the end, might not people simply come to accept and appreciate HCR even more once they personally experience the benefits and protections and/or the lack of terrible things that the GOP insisted would occur?
Yes, the GOP will keep beating that nasty drum from now until then but instead of marching to the beat, might not Seniors just begin to complain about all that racket? Especially after buying that new box of hard candy they can afford since they are saving a fortune with the donut hole being mostly closed.
And where will that leave the GOP, the party of "hell" and "no"? As is typical, the party out of power is likely to pick up some seats in Nov. The GOP will doubtlessly claim a landslide mandate no matter how common the number of the pickup is. In truth though, given a near-depression, rampant home foreclosures and job losses and a dishonestly vicious campaign against the Dems and Pres. Obama, if the Repubs' pickup is unremarkable for an off year election, will they not have lost hugely?
After all that's transpired, if the best the GOP can do in Nov is perform typically, they will have sacrificed their identity and whatever moderates would have considered them worthy of leading the nation in a futile, self-destructive (and intended to be destructive to the nation and or democracy) campaign.
Instead of this mutated GOP succeeding in a scorched earth campaign, they may instead be marching like flaming lemmings right off the edge of the political cliff.