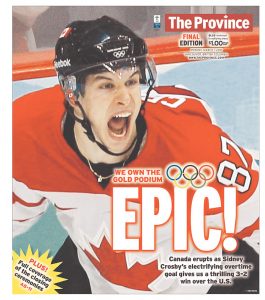 It was a GREAT day to be a Canadian!
It is not an exaggeration to say that the entire country lived, died, then lived again. At least *I* did!
I honestly cannot explain what hockey means to Canadians, because I don't fully understand it myself. It is simply too hard to put it in words. I felt like I was witnessing history. Maybe that's hyperbolic as hell, but the Summit Series of 1972 is still considered a huge, historic moment 38 years later in Canada. Where were you during the Miracle on Ice? I bet you remember. This was no miracle, but it was a similar moment for Canada.
I can tell you that Canadians were definitely NOT cocky going into the U.S. game. They were scared spitless of the Americans and of particular Ryan Miller. I can tell you that after Zach Parise scored with 24 seconds left, 33 million Canadians fully expected to lose that match. Canadians are very, very much like Red Sox fans that way.
It was such an exciting and well-played game … and well, OK, I'll say it — EPIC. Miller was amazing. Don't feel too sorry for Ryan Miller. Formerly a star goalie for the Buffalo Sabres, the dude is now an off-the-charts megastar second-most famous hockey player in the world. The U.S. players were amazing, and really, while they were all NHL guys, only seven or eight U.S. guys are what I would call genuine stars — Parise and Miller being the biggest two. That team was made up of a lot of NHL second- and third-line guys.
Luongo was … something, intermittently amazing and then sloppy. It was like he was playing with a cast on his hand. I've never seen a goalie drop so many pucks … and yet play so well. I asked people in our suite if he normally had so much trouble handling the puck (I'd seen him play maybe a dozen times total), and I got a resounding, "NO!" Luongo's best play was a staggeringly spectacular save on a tipped shot at the very end of the Slovakia game in the semifinals to even get Canada into the gold medal game to begin with.
Canadians are also deeply protective. We watched the women's game at a nice pizza place that was very packed. When the head of the IOC complained about the Canadian women drinking beer and champagne on the ice after they won the gold medal, the entire nation rose up in outrage. Those our OUR women! Leave them be! What a dumbass! The guy literally had to change hotels. I kid you not.


I also believe that if the Canadian women had been men, no one would have complained about their behaviour on the ice after they won. (Remember, the women came out on the ice and drank and goofed off after the arena had emptied. There was literally no one in in the arena but a sole AP photographer.) That was actually quite funny.
I have an admission to make. I didn't see Crosby's goal! I wasn't paying attention. I was getting ready to go get another beer, getting prepared for 20 full minutes of overtime when it happened. It was so bang-bang. An innocent little play by Iginla, getting the puck free from a corner scrum, then Sid knocked it in with barely any daylight between Miller and the post.
We watched the game from a CIBC corporate suite. They own a bank of about 10 of these suites and we lucked into it through a cousin. There was a suite just for little kids with too much junk food and pop.
I hope people noticed a few things. That the second loudest cheer in the arena during the medal ceremony was for Ryan Miller. That another loud cheer was for Ryan Kessler, an American who plays for the Vancouver Canucks. There was a cute photo in the Vancouver paper of a guy dressed in a Canadian flag walking up to a guy dressed in an American flag and giving him a hug after the game. This game genuinely wasn't like the Miracle on Ice or the Summit Series. As much as Canadians hate U.S. politics, they had nothing but respect for Team USA. There were no politics at that game. Canadians, they do have class.
That 200,000 people jammed the little peninsula of downtown Vancouver afterward and there were no problems. No firebombs. No mountie cars being overturned. And believe me, there had been copious — COPIOUS — amounts of beer and weed consumed that day. In fact, there were people smoking weed right in front of the mounties, because the mounties had much bigger things to worry about (Weed is sort of, kind of legal in Vancouver — sort of, but you definitely don't smoke it in front of mounties unless there's 200,000 people around you.).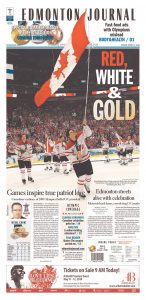 Some estimates say 27 million Canadians were watching that game Sunday. 20,000 were in the arena, and 200,000 downtown. I read another story saying 500 million people watched it worldwide, but honestly, I find that hard to believe.
We had to walk 12 blocks through that mass of drunken, stoned Canadians to get back to our hotel. My cousins from Richmond and Mission were genuinely screwed. All the streets in and out of downtown were closed for a few hours, so they walked with us. Normally, that was about a 30-minute walk, but it took us nearly 90 minutes, because we had to go down some side streets to avoid Robson Square, where there were some big Jumbotrons set up.


I carried kiddo on my shoulders until we got to within 2 blocks, and those 60 pounds were starting to feel like 60 pounds of wet cement after 9 blocks. Finally, after high-fiving a few hundred people the entire way, people in our group were tired and we stopped at a busy little bistro and ate and hoped the crowd would thin out. Instead of carrying kiddo on my shoulders, I resorted to a cradle carry because it was getting too hard on my neck. A mountie saw this and thought she was sick or injured and asked if we needed help.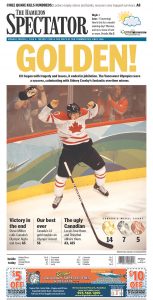 I told her she was just exhausted and we only had two more blocks to go to our hotel. Well, the mounties very politely and very matter-of-factly drove a mountie snowplow through the crowd for us for two blocks right up to the hotel door. We shook their hands and thanked them and told them they were doing an amazing job under the circumstances. They had known downtown was going to go crazy, but NO ONE had expected this.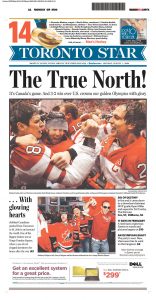 We watched the truly, genuinely BIZARRE closing ceremonies back at the hotel. Really, I can't explain that. Some people said it was Canadians making fun of Canadians, but I couldn't make heads or tails out of it. The Bill Shatner monologue was my favourite part. That was DEFINITELY tongue-in-cheek.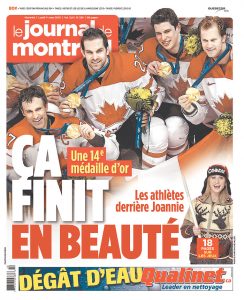 My one cousin, the CIBC bigwig, got home at about 11 p.m. The other cousin in Mission didn't get home until 1 a.m.
A rundown of front pages from all around Canada:
The Vancouver Province
Edmonton Journal
Le Soleil (Montreal)
Calgary Herald
Toronto Star
Hamilton Spectator
Le Journal de Montreal
And my favourite, even though it is a smaller paper, the Waterloo Record: